Ben Whishaw on the Intimidation of Playing the New Q in 'Skyfall'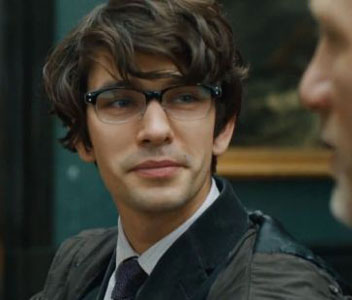 Not many actors have to step into a role that was at one time played by an actor in seventeen films previously, so perhaps it's fair to say that Ben Whishaw has it more difficult than most young actors by appearing as James Bond's personal armorer Q in Skyfall.
After Desmond Llewelyn played the role in seventeen of the first nineteen Bond movies (Llewelyn died in 1999), John Cleese appeared as Q (though as a different character holding the Q position) in 2002's Die Another Day, but the character has been missing from the series since. 
Because of that, it's no surprise that Whishaw admits he was apprehensive about appearing as Q in Skyfall.  He confesses, "I suppose I was intimidated a bit.  But I also thought, this is such a good opportunity because I'm so much younger than the character. I mean, I can't really be compared, and I wouldn't try. Desmond [Llewelyn] and John Cleese were so tremendous, so I thought it had to be new and fresh."
Though Whishaw may not break Llewelyn's record anytime soon, he hopes to stick with the series as long as possible.  He says, "I don't know how many I'm due to do. I want to do it as much as I can. I had such a wonderful time."  Still, while it might be Whishaw's first Bond film, it isn't the first time he's working with Bond — that is, current James Bond Daniel Craig.  He says, "I have worked with Daniel before. I first worked with Daniel when I was 17 on a film called The Trench and then I did Layer Cake with him, and I did a film called Enduring Love, so I [feel] like I know him fairly well, so it was wonderful to be reunited with him."
via Yahoo! News
http://www.dailyactor.com/wp-content/uploads/2016/04/julia-louis-dreyfus-veep.jpg
Julia Louis-Dreyfus: "Opportunity for women in television has increased. It's because the landscape has widened"
"I did not come out of SNL as any kind of name. I didn't do anything particularly great when I was there. I didn't. It's fine. But I learned a tremendous amount."
http://www.dailyactor.com/tv/julia-louis-dreyfus/
http://www.dailyactor.com/wp-content/uploads/2016/04/Tituss-Burgess-Unbreakable-Kimmy-Schmidt.jpg
Tituss Burgess on How He Landed His 'Unbreakable Kimmy Schmidt' Role
Burgess reveals how his role on 30 Rock led to 'Kimmy Schmidt' and whether or not he'd consider returning to Broadway.
http://www.dailyactor.com/tv/tituss-burgess-unbreakable-kimmy-schmidt-role/
http://www.dailyactor.com/wp-content/uploads/2016/04/Christine-Baranski-The-Good-Wife.jpg
Christine Baranski on the End of 'The Good Wife' and Going Back to Theatre
The final episode of The Good Wife airs on May 8, and it's been several weeks since series star Christine Baranski shot the final episode with her co-stars. She spoke to The Hollywood Reporter about the end of the series she has spent the last seven years working on and what she plans to do […]
http://www.dailyactor.com/tv/christine-baranski-the-good-wife-theatre/
http://www.dailyactor.com/wp-content/uploads/2016/04/jake-gyllenhaal-demolition.jpg
Jake Gyllenhaal on 'Demolition', Working with Chris Cooper and Directors Who Want Nothing to Do With Him
"I think storytelling is the most important part of movie-making over performance." - Jake Gyllenhaal
http://www.dailyactor.com/film/jake-gyllenhaal-demolition-chris-cooper/
http://www.dailyactor.com/wp-content/uploads/2016/04/don-cheadle-miles-davis.jpg
Don Cheadle: "Be scared. Be on the edge of your creativity"
"Be willing to fall flat on your face and be in an unknown place. If you're doing that, you're probably growing" - Don Cheadle
http://www.dailyactor.com/film/don-cheadle-scared-creativity/