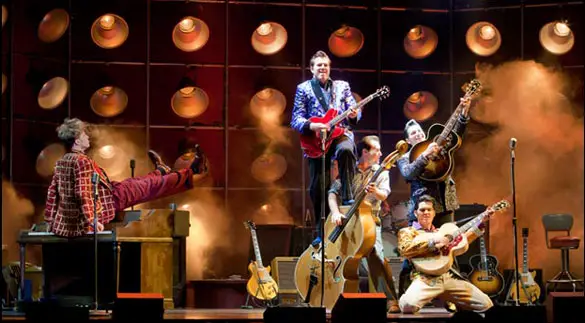 I love most anything from the 50's, especially the music. Growing up, I listened to Elvis and Jerry Lee Lewis, read their biographies and even grew to love that awful Lewis biopic, Great Balls of Fire, starring Dennis Quaid. And a couple years back, I even went to that grand mecca of rock and roll, Sun Studios in Memphis.
I loved – and still do love – the music so I'm not sure why, when I had the opportunity to see Million Dollar Quartet on Broadway a handful of times, I always decided to see another show. It won a Tony Award for Levi Kress who played Jerry Lee Lewis and was also nominated for Best Musical and Best Book of a Musical.  
After finally seeing the show last night at the San Diego Civic Theatre, I'm admitting that I'm a big dummy because the show is wonderful.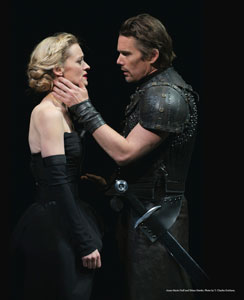 New York City must have a strong appetite for Macbeth.  In just the past five years, Macbeth has already been on Broadway twice: in 2008 starring Patrick Stewart in the title role and earlier this year starring Alan Cumming in his rather unorthodox nearly one-man show version. During that time there have also been several Off-Broadway productions, dozens of Off-Off-Broadway reinventions, and even the celebrated interactive adaptation Sleep No More that has been running at the McKittrick Hotel for nearly three years (I always thought my last name made a charming name for a hotel, even a fake one.  But I digress…)  The next major production has already been announced too: Kenneth Branagh will be bringing his celebrated production from the Manchester International Festival to make his New York theater debut.
So the question of the current production of Macbeth starring Ethan Hawke at Lincoln Center's Vivan Beaumont Theater is not so much what the production does, but what it does differently.  After all, everyone in the audience likely knows the story – it is one of Shakespeare's most widely-known plays and deeply ingrained in our culture – so in many ways those tackling it end up focusing on style over substance. Read more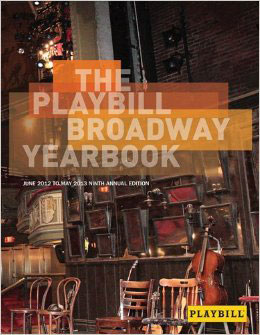 Getting The Playbill Broadway Yearbook every year is a true joy, especially this year's edition (June 2012 through May 2013). I was only able to get to New York once during the season and missed some fantastic shows.
The new edition of helped me both relive those shows and, to be honest, made me a bit sad of the ones I missed (I'm talking to you Death of a Salesman and Lucky Guy!)
The book features new shows like Matilda, Motown: The Musical, Bring It On! and the usual long-running suspects like Wicked, The Book of Mormon and Once (all three wonderful shows!)
The first thing that you'll notice about the book is the ton of pictures it features; both on-stage and off, candid pictures, group pics, headshots and more. Who has the best headshots of the book? That's easy! The past season had some actors of the furry variety – Annie's Sandy , played by Sunny, and his understudy (played by Mikey) and the three cats, Montie, Moo and Vito Vincent from Breakfast at Tiffany's. I have no idea how they got the cats to pose for headshots, I can barely get my cats to stay still for even a small amount of time. Read more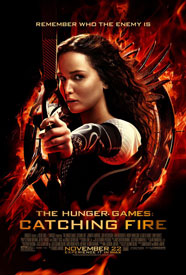 I'm happy to say that The Hunger Games: Catching Fire is pretty darn good. It tops the first film in every category, most notably… there's no shaky cam!
What's shaky cam? Think back to the first film and all of the action sequences. When I was sitting in the audience, I couldn't tell one thing that was happening during any of those sequences. It was beyond frustrating and I haven't bothered watching it a second time because of that.
What a difference Director Francis Lawrence has made in this top notch sequel.
At the beginning of the story, the 74th Hunger Games has ended and Katniss Everdeen (Jennifer Lawrence) and Peeta Mellark (Josh Hutcherson) are now home but not for long because they are forced to go on a victory tour to all of the other districts. Along the way though, things start to get out of hand with the prisoners. Uh, I mean residents of the districts. President Snow wants none of this and comes up with The Quarter Quell.
The Quarter Quell happens once every twenty-five years and the goal is to get rid of all of the previous Hunger Game winners… especially ones who are causing trouble for Mr. President. Read more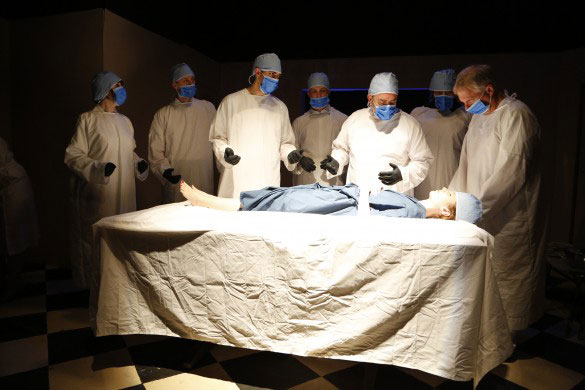 Indie theater is a tough business (like I really need to tell you that), so often there is a reliance on trotting out well-known classics in order to pack the house.  Even Broadway isn't immune to this either (when Kenneth Branagh brings his production of Macbeth to New York next year it will be the fourth major revival in less than a decade), so it's refreshing to see an indie theater company — particular one that is already worthy of admiration like The Seeing Place — revive a rarely-produced eighty year-old Pulitzer Prize winning play. The Seeing Place made an excellent choice in reviving Sidney Kingsley's hospital drama Men In White, which not only is a great fit for the company's strengths but is surprisingly timely with its focus on the stresses (both personal and economic) placed on medical professionals. Read more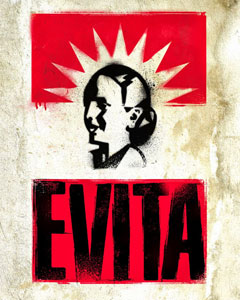 I'm not the biggest fan of Andrew Lloyd Webber. I mean, I appreciate him and his body of work but as far as musicals go, I prefer some dialogue in between my songs. That doesn't stop me from checking out any of his shows though – well, not if they star Ricky Martin , who was Che in the Broadway revival of Evita. You couldn't drag me to that production.  
In this national tour of Evita (now playing in San Diego), the producers thankfully ditch the stunt casting and hired some powerhouse actors for the roles of Eva, Peron and Che.
You know the story of Evita, I'm sure: Eva Perón rises from the slums of Argentina to become the First Lady of the country all the while singing songs that you will be humming for the rest of the week; "Don't Cry for Me Argentina," "Buenos Aires,"  and "Another Suitcase in Another Hall." Read more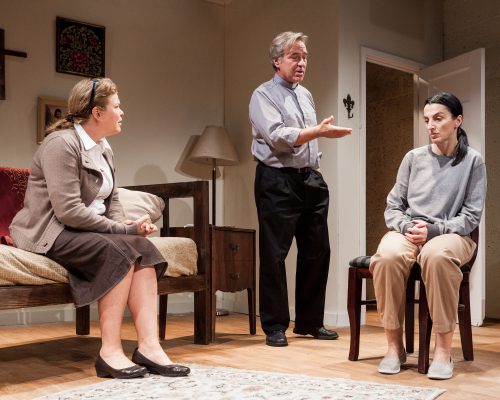 The Catholic Church is one of the most preeminent providers of immigration services in the U.S., even to those who do not adhere to the Church's teachings. However, in Cloven Tongues by writer/producer Victor Lesniewski, which is being performed at The Wild Project in the East Village of New York City, a priest and a social worker attempt to help a foreign woman with an unknown past seek asylum but find that their attempts to heal her both mentally and physically shake their concepts of trust and faith. Read more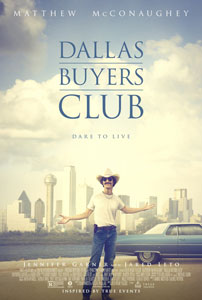 One of the things about having an incredibly interesting story to draw on for a biopic is that sometimes the filmmakers feel the need to squeeze every single detail into that film.
That's what's happened with Dallas Buyers Club, the story of Ron Woodruff (Matthew McConaughey), a good ole boy from Texas. It's 1985 and Woodruff, an electrician and rodeo cowboy, is living the life; drinking and drugs with his buddies and one-night stands with random women. And when he's not having all of that fun, he's nailing hookers.
All of that comes crashing to a halt when he's diagnosed with AIDS and is told that he's got 30 days to live.
Screw that. Woodruff takes his life into his own hands and looks for some kind, any kind, of treatment. He goes into Mexico to find drugs that aren't approved by the FDA. With the help of a ex-pat Doctor (Griffin Dunne), he finds medication to help him survive. Always trying to wheel and deal, he comes up with the idea to form a 'club' where he would sell memberships to people so they could get access to these meds. He smuggles the illegal medication over the border and begins looking for ways to sell the stuff. Read more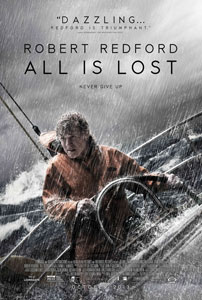 It takes some balls to set a movie in the middle of the ocean and only have one character who speaks almost no lines of dialogue.
You've got to have a director who is supremely confident in himself and an actor who can command the screen with a glance or a tilt of his head.
We get that in Writer/Director J.C. Chandor and Robert Redford.
All Is Lost tells the story of a man who is sailing the Indian Ocean. One morning, he wakes up to discover that his boat has rammed against an old floating shipping container that's left a hole on the side of his boat. As it starts to take on water, he loses his navigation equipment, his radio and electricity. He's now lost at sea and uses every bit of will and his seamanship knowledge to survive. Read more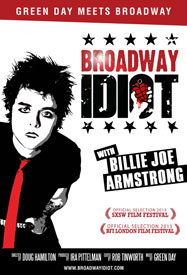 Let's just get this out of the way: I'm a huge sucker for Broadway documentaries. From the great PBS documentary Broadway or Bust that aired last year to In The Heights: Chasing Broadway Dreams or One Night Stand (about the 24-hour musical), I gladly watch any doc that deals with theatre. 
I'll even watch one about a musical that I didn't like.
I've seen American Idiot on Broadway and the touring production earlier this year and both times I walked away with a big shrug. The actors in the Broadway production were great (the touring production were just OK) and the music is freaking phenomenal but the story just stinks. It's full of energy and the set is total eye-candy but if you don't have a story to hook the audience, you lost me.
That's not at all the case with Broadway Idiot, director Doug Hamilton's chronicling of Green Day's Billie Joe Armstrong and American Idiot director Michael Mayer's quest to turn the bands album into a Broadway musical. Read more