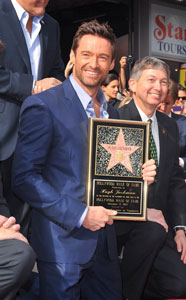 Last Thursday was a good day for Hugh Jackman. In the morning, he was nominated for a Golden Globe for Best Actor in a Musical or Comedy for his role in the upcoming Les Miserables and then later that afternoon, he received his star on the Hollywood Walk of Fame.
He's fantastic in Les Miz and he deserves all the praise he's getting.
The only bad part of the day? Jay Leno introduced him at the Walk of Fame ceremony.
Check it out below! Read more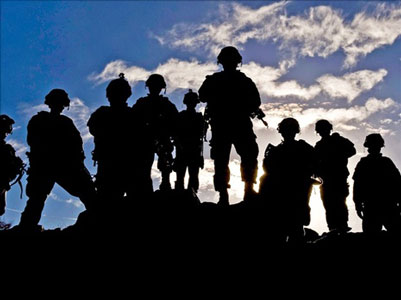 Acting isn't just a career option for those who want to appear on stage or screen, it has been a huge benefit for the medical community.  In fact, people who have lost their limbs play an important role in training soldiers and others on the battlefield how to treat severe injuries.
June and Ted DiStefano, who both lost their left legs when their motorcycle was hit by a car fifteen years ago, now work as actors for Strategic Operations (STOPS), which conducts a "hostile environment training course."  Kit Lavell, a Vietnam war veteran who runs STOPS, points out that individuals in the course become shocked when they see the DiStefanos.  He explains, "The individuals who are going through the training here are not expecting to see an amputee.  And so the shock effect of seeing that happen is priceless."  The hope is that the initial shock of seeing people who are missing limbs will help those in the course become experienced with that surprise. Read more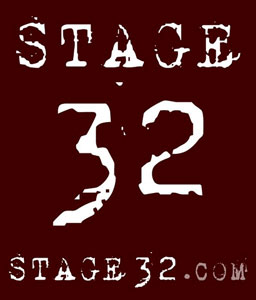 Let's say you are looking to connect with a writer for a film project or maybe you're in need of a director of photography who has their own camera package to shoot your project, you might want to look at Stage 32. 
Be it someone looking to join a class, meet like-minded creative individuals, get advice or share vital experience and industry insight in the blog area, Stage 32 was built to connect everyone in the industry with each other. It's a free network where creatives can join and they get linked up with their individual Facebook account, giving them easy access to their existing contacts and colleagues to invite them in a specifically designed social platform where they can rap about show business.
Richard "RB" Botto is the CEO and driving force behind the endeavor plus co-founder of the network and in little over a year, the network has grown to have over 80,000 members from over 180 different countries around the world. "There are basically two full-time workers for the day-to-day of the entire network," said Botto. He believes the universal appeal of creating is the catapult for its great pickup and growth. Read more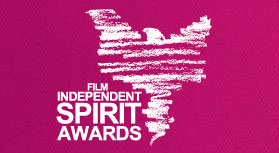 2013 FILM INDEPENDENT SPIRIT AWARD NOMINATIONS
BEST FEATURE
Beasts of the Southern Wild
Bernie
Keep the Lights On
Moonrise Kingdom
Silver Linings Playbook
BEST FEMALE LEAD
Linda Cardellini, Return
Emayatzy Corinealdi, Middle of Nowhere
Jennifer Lawrence, Silver Linings Playbook
Quvenzhané Wallis, Beasts of the Southern Wild
Mary Elizabeth Winstead, Smashed
BEST MALE LEAD
Jack Black, Bernie
Bradley Cooper, Silver Linings Playbook
John Hawkes, The Sessions
Thure Lindhardt, Keep the Lights On
Matthew McConaughey, Killer Joe
Wendell Pierce, Four Read more
Matthew Fox was busy filing two movies simultaneously early this year—World War Z and Alex Cross. Despite the horrible scheduling conflicts, he said in order to work on projects that excited him, it was definitely worth it.
"When you find things you want to be a part of, you want to be a part of them," Fox told Movieline.  "You get to the point, for me anyway, where once you click over to a certain project you're like, I have to do this, and I felt that way about both World War Z and Alex Cross.  I was bummed that there was so much overlap just because of how crazy it was going to be to travel.  But it didn't end up being too bad, it was doable."
Fox chose Alex Cross because of the opportunity to play a villain, an assassin named Picasso—a long cry from his days as the ultimate hero, Jack, on Lost.  When asked if Fox took some of Picasso home with him after shooting, he said, "I'm not a tremendously easy person to live with.  I think I'm very aware of that, though, so I do my very best.  I'm just one of those people, that—and I've worked with people in both camps, people who can emotionally just shine in front of a camera and the minute they say 'Cut' they're like, 'Let's grab a Coke!'  And then there are people that I've worked with who, to bring that emotional intensity to the screen it bleeds over for a while." Read more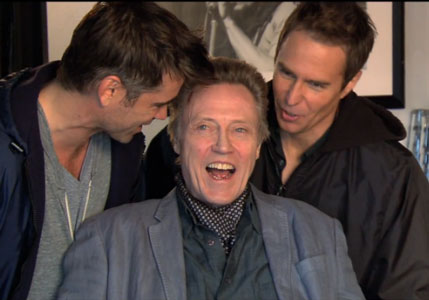 Here's a behind-the-scenes look at Martin McDonagh's Seven Psychopaths that features interviews with its stars Christopher Walken, Colin Farrell, Sam Rockwell and Woody Harrelson.
They all chat about the film and working together but the best part is how they show their love for Walken, who has his best role and performance that he's had in a while.
The film is about a struggling screenwriter (Farrell) who finds himself in trouble after his best friend (Rockwell) and partner (Walken) steal the dog of a pissed-off gangster (Harrelson).
Check it out below! Read more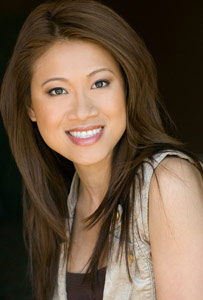 It's been some time since we have had an update on the lawsuit filed by actress Huang "Junie" Hoang against IMDb for posting her actual date of birth on the internet's most popular movie website.  Major parts of Hoang's case were dismissed back in April, including Hoang's charges of fraud and that Amazon.com (which is the owner of IMDb), her claim that IMDb violated the Washington Privacy Act, and, most significantly, Hoang's asking of $1 million in damages for lost work because of her age (the judge pointed out Hoang would have to produce witnesses to testify that they did not hire her specifically because of IMDb's revelation of her actual age, something that was very unlikely to happen).  Nonetheless, Hoang's claim that Amazon gleaned her true age from her private credit card information remained in the case.
But new developments might change all that.  According to The Hollywood Reporter, Hoang's original lawyer, John Dozier, passed away unexpectedly in August and her new lawyers, led by Keith Scully of the firm Newman Du Wors, have decided to take a different approach to the suit by broadening it, focusing on how the age information revealed on IMDb hurts the industry as a whole and continuing to question whether or not IMDb's staff commits any wrongdoing while probing for private information for its listings.  This would include calling industry professionals to the stand as witnesses to talk about ageism in the industry, with Gil Junger (director of 10 Things I Hate About You and dozens of television episodes) reportedly already agreeing to take the stand. Read more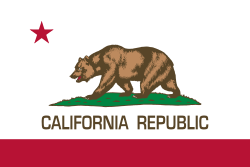 It should be a no-brainer, but there were no laws on the books in California that prevented convicted child molesters from working with children in the entertainment industry.  Back in April, former child actors Corey Feldman and Todd Bridges (who played Willis on Diff'rent Strokes) testified before the California legislature on the physical and sexual abuse they faced as child stars, and the various industry unions were united in their support for measures to prevent such abuse.
Finally, on Thursday, September 27, California Governor Jerry Brown signed AB 1660, a bill which bars registered sex offenders from working with child actors and requires background checks for behind-the-scenes personnel who work directly with children, ranging from managers to photographers.  Now these Hollywood personnel will be under the same strict regulations as those in many other positions that involve working with children. Read more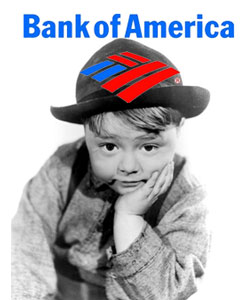 In the last several years Bank of America, one of the largest banks in the United States, has come under fire for a number of its business practices.  The latest complaint aimed at Bank of America involves child actors, with the banking giant facing a class action lawsuit for charging child actors' trust accounts with monthly service fees.
According to the lawsuit filed by the law firm Markun Zusman & Compton, Bank of America is illegally withdrawing money from child actors' so-called "Coogan Accounts," a special type of trust fund created by the California legislature with the Coogan Act.   The Coogan Act was named after Jackie Coogan (a child actor who starred alongside Charlie Chaplin as the titular scamp in The Kid), who sued his mother in 1938 after discovering that the millions of dollars he had earned as a child actor had been spent by his mother and stepfather on luxuries (even after the lawsuit, Coogan only ended up with a fraction of earnings).  The California Child Actor's Bill, known as "The Coogan Act", was passed the following year and ensures that 15% of a child actor's earnings are placed in a trust fund that can only be accessed when the child actor turns 18 or is legally emancipated from his or her parents.  Read more
The Butler is currently filming and Oprah, who has a role in the film, has provided our first looks at the cast of the upcoming Lee Daniels film.

Based on a true story, The Butler stars Forest Whitaker as White House butler Eugene Allen who served under 8 Presidents. Alan Rickman and Jane Fonda (as Ronald and Nancy Regan), Robin Williams (Dwight Eisenhower), James Marsden and Minka Kelly (John F. and Jackie Kennedy), Liev Schreiber (Lyndon B. Johnson) and David Oyelowo, Cuba Gooding Jr, Mariah Carey (?), Alex Pettyfer, Melissa Leo, Vanessa Redgrave, Terrence Howard and Nelsan Ellis also star.

In the following pics, you can see Director Daniels, Oprah and Fonda and Rickman in full Reagan makeup. The second picture features Oprah and Lenny Kravitz (James Holloway).
The cast is fantastic and I'm incredibly curious to see how it turns out. Read more