Bill Nighy is an award-winning actor of the stage and screen. His more recent film work includes the blockbuster Harry Potter and the Deathly Hallows – Part 1, in the role of Minister of Magic Rufus Scrimgeour. Nighy earlier won a BAFTA Award, a London Film Critics Circle Award, and an Evening Standard British Film Award for his performance as an aging rock star in Richard Curtis's 2003 ensemble comedy hit Love Actually. He also won a Los Angeles Film Critics Award for his collective work in that film, as well as AKA, I Capture the Castle and Lawless Heart.
His long list of film credits also includes Wild Target, with Rupert Grint and Emily Blunt; Pirate Radio, which reunited him with Richard Curtis; Bryan Singer's Valkyrie, with Tom Cruise; Richard Eyre's Notes on a Scandal, for which he earned a London Film Critics Circle Award nomination; Underworld and Underworld: Evolution; Fernando Meirelles' The Constant Gardener, garnering a British Independent Film Award (BIFA) nomination; Lawless Heart, which brought him a BIFA nomination; and Still Crazy, for which he won an Evening Standard British Film Award. He is also unrecognizable as the tentacled pirate captain Davy Jones in Pirates of the Caribbean: Dead Man's Chest and Pirates of the Caribbean: At World's End, and lent his voice to several animated features, including Flushed Away. Read more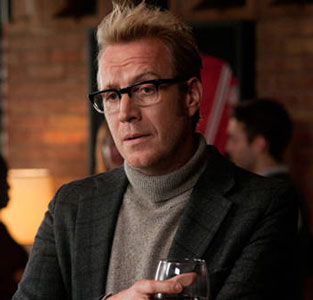 Rhys Ifans is a gifted actor known for his enduring presence, his distinctive approach to comedy, and his ability to elegantly disappear into compelling and complex roles that are always memorable.
Ifans stars as the villain Dr. Curt Connors/The Lizard in the highly anticipated upcoming reboot of the Spider-Man franchise, The Amazing Spider-Man. A far cry from his comedic castings, Ifans portrays a sickened character controlled by his alter ego personality. The film is slated for release July 3, 2012.
Ifans is currently in production on an independent film set during the Great Depression in North Carolina, Serena, directed by Susanne Bier. He stars opposite Jennifer Lawrence and Bradley Cooper as Galloway, Serena's (Lawrence) vicious Appalachian guide and bodyguard. The indie film is scheduled for release in 2013. Ifans can also be seen in HBO's upcoming miniseries The Corrections, directed by Noah Baumbach and produced by Scott Rudin, based on Jonathan Franzen's critically acclaimed book of the same name. Ifans stars alongside Ewan McGregor, Chris Cooper and Maggie Gyllenhaal in the 40-hour series. Read more
John Cusack  has evolved into one of the most accomplished and respected actors of his generation, garnering prestigious accolades for his dramatic and comedic roles. Cusack will next be seen in Mikael Håfström's Shanghai, a period piece in which he stars opposite Gong Li and Chow Yun-Fat. In this remake of the 1935 thriller of the same name, Cusack plays an American man who explores a corrupt, Japanese-occupied Shanghai four months before Pearl Harbor in order to solve the murder of his friend.
Cusack recently starred in Hot Tub Time Machine, a comedy co-starring Rob Corddry, Craig Robinson and Clark Duke about friends who return to the ski lodge where they partied as youths and are transported back in time to 1987. Cusack produced the film through his New Crime Productions banner, which has produced several of his recent cinematic outings.
He also starred in Roland Emmerich's apocalyptic epic 2012. This international blockbuster, which grossed more than $766 million worldwide, co-starred Chiwetel Ejiofor, Thandie Newton, Woody Harrelson, Danny Glover, Amanda Peet and Oliver Platt. Read more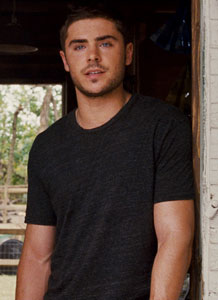 Zac Efron will next be seen in Lee Daniel's thriller The Paperboy, alongside Nicole Kidman, John Cusack, Matthew McConaughey and Scott Glenn. He also recently worked alongside Dennis Quaid in Ramin Bahrani's latest film and appears in the comedy Liberal Arts, Josh Radnor's directorial debut, which premiered to rave reviews at the Sundance Film Festival.
Previously, Efron starred in Garry Marshall's ensemble romantic comedy New Year's Eve and lent his voice to the animated feature Dr. Seuss' The Lorax. He also starred in the title roles of the fantasy romance Charlie St. Cloud and the comedy 17 Again, both from director Burr Steers, and as the lovable Link Larkin in 2007′s smash hit musical Hairspray, directed by Adam Shankman. As part of the all-star cast he shared a Critics Choice Award for Best Acting Ensemble, the 2007 Hollywood Film Festival Award for Ensemble of the Year, and was honored with a Screen Actors Guild Award® nomination for Outstanding Motion Picture Cast. In addition, he won an MTV Movie Award for Breakthrough Performance.
Efron also starred in Richard Linklater's Me and Orson Welles, an adaptation of the novel by Robert Kaplow, which premiered to rave reviews at the 2008 Toronto Film Festival. More recently, he starred in Kenny Ortega's High School Musical 3: Senior Year, which set a box office record for the highest grossing opening weekend for a musical. Read more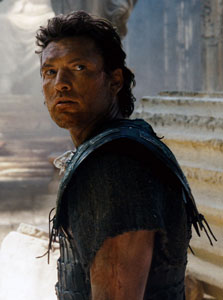 Sam Worthington, one of today's busiest leading men, reprises the part he created in the 2010 hit Clash of the Titans. He more recently starred in the title role of the dramatic thriller Man on a Ledge. Worthington's upcoming films include Simon West's Iraq War drama Thunder Run, with Gerard Butler, and the Australian film Drift.
Worthington was catapulted to global stardom with his performance in the 2009 mega blockbuster Avatar. Director James Cameron had hand-picked the actor to play the central role of Jake Scully in his groundbreaking science fiction adventure, which went on to earn more than $2.7 billion worldwide, making it the highest-grossing motion picture of all time.
A native of Australia, Worthington graduated from Sydney's prestigious National Institute of Dramatic Art (NIDA) in 1998. He began his career on the stage, appearing in a production of Judas Kiss, directed by Neil Armfield for Company B at the Belvoir Street Theatre. Read more
Ralph Fiennes recently completed his portrayal of the evil Lord Voldemort in Harry Potter and the Deathly Hallows – Part 2, the finale of the blockbuster film franchise. Fiennes had also played Voldemort in Harry Potter and the Goblet of Fire, Harry Potter and the Order of the Phoenix and Harry Potter and the Deathly Hallows – Part 1.
Upcoming, Fiennes stars in Mike Newell's screen adaptation of Charles Dickens' Great Expectations, with Helena Bonham Carter and Jeremy Irvine, and in the highly anticipated Skyfall, the next film in the Bond series, from director Sam Mendes. He recently made his feature film directorial debut with a contemporary version of Shakespeare's political thriller Coriolanus, in which he also starred with Gerard Butler and Vanessa Redgrave. In 2010, Fiennes first played Hades in the hit Clash of the Titans, with Liam Neeson and Sam Worthington.
Fiennes has been honored with two Academy Award® nominations, the first in 1994 for his performance in Steven Spielberg's Oscar®-winning Best Picture, Schindler's List. Fiennes' chilling portrayal of Nazi Commandant Amon Goeth also brought him a Golden Globe nomination and a BAFTA Award, as well as Best Supporting Actor honors from numerous critics groups, including the National Society of Film Critics, and the New York, Chicago, Boston and London Film Critics associations. Four years later, Fiennes earned his second Oscar® nomination, for Best Actor, in another Best Picture winner, Anthony Minghella's The English Patient. He also garnered Golden Globe and BAFTA Award nominations, as well as two Screen Actors Guild (SAG) Award® nominations, one for Best Actor and another shared with the film's ensemble cast. Read more
Edgar Ramirez garnered acclaim for his performance in Olivier Assayas' Carlos, which aired as a three-part miniseries on the Sundance Channel and was also released as a theatrical feature internationally. Ramirez's portrayal of Venezuelan revolutionary Ilich Ramirez Sanchez brought him Emmy, Golden Globe and Screen Actors Guild Award® nominations for Best Actor in a Miniseries or Television Movie.
He also won a César Award for Most Promising Actor and received Best Actor nominations from the Los Angeles Film Critics, London Film Critics Circle, and National Society of Film Critics.
Ramirez is currently filming Kathryn Bigelow's thriller about the hunt for Osama Bin Laden, culminating with the perilous mission to capture or kill him. His upcoming films also include the French film A Monkey on My Shoulder, opposite Juliette Binoche.
He previously co-starred with Benicio del Toro in Steven Soderbergh's Ernesto "Che" Guevara biopic, Che – Part One, which premiered at the 2008 Cannes Film Festival. Ramirez's other recent film credits include the political thriller Vantage Point and Paul Greengrass's The Bourne Ultimatum, with Matt Damon. He also starred in Cyrano Fernandez, a Venezuelan-Spanish production based on the classic play Cyrano de Bergerac. His performance in the film's title role brought him Best Actor Awards at the Amien International Film Festival and the Malaga Spanish Film Festival, where the film also won the Audience Award. Read more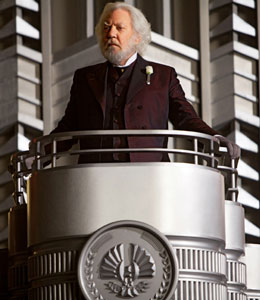 Donald Sutherland is one of the most prolific and versatile of motion picture actors, with an astonishing resume of well over one hundred and thirty films, including such classics as Robert Aldrich's "The Dirty Dozen;" Robert Altman's "M*A*S*H;" John Schlesinger's "The Day of the Locust;" Robert Redford's "Ordinary People;" Bernardo Bertolucci's "1900;" Philip Kaufman's "Invasion of the Body Snatcher;"  Nicolas Roeg's "Don't Look Now" with Julie Christie; Alan Pakula's "Klute" with Jane Fonda; Federico Fellini's "Fellini's Casanova" and  in Brian Hutton's "Kelly's Heroes" with Clint Eastwood, who later directed him in "Space Cowboys."
Sutherland has appeared as Nicole Kidman's father in Anthony Minghella's "Cold Mountain," as Charlize Theron's father in F. Gary Gray's "The Italian Job," and as 'Mr. Bennett,' Keira Knightley's father, in "Pride and Prejudice."  For the latter he received a Chicago Film Critics nomination.
Recently he starred in the highly-successful long form adaptation of Ken Follett's best-seller, "The Pillars of the Earth;" in the Roman epic adventure, "The Eagle," opposite Channing Tatum and Jamie Bell for director Kevin Macdonald; in Simon West's "The Mechanic" with Jason Statham and Ben Foster; in Seth Gordon's "Horrible Bosses" as Colin Farrell's father; in Mary McGuckian's "Man on the Train" with U2's Larry Mullen, Jr.; and  in a new film adaptation of "Moby Dick," with William Hurt, Ethan Hawke and Gillian Anderson. Read more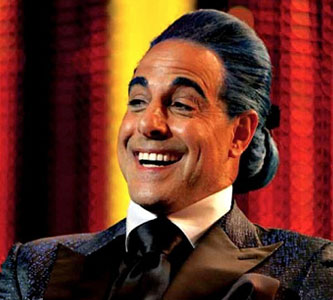 Stanley Tucci has appeared in over 50 films and countless television shows.  In the past few years he has appeared in films such as "Captain America: The First Avenger," "The Devil Wears Prada," "The Terminal" and "Road to Perdition." He is no stranger to the theater; and has appeared in over a dozen plays, on and off Broadway.
The year of 2008 was an extremely busy year. Stanley appeared in the soon to be classic, "Julie & Julia," opposite Meryl Streep and directed by Nora Ephron and "The Lovely Bones," for which he earned his first Academy Award® nomination along with Golden Globe®, BAFTA, SAG and Broadcast Film Critics nominations.
He recently finished filming "Jack and the Giant Killer," which is a modern day fairy tale in which the long-standing peace between men and giants is threatened, as a young farmer leads an expedition into the giants' kingdom in hopes of rescuing a kidnapped princess.  Bryan Singer is directing and it is currently slated for June 15, 2012. Read more
Liam Hemsworth recently completed production on "The Expendables 2," starring opposite Sylvester Stallone, Bruce Willis and Arnold Schwarzenegger, amongst several others. 
He also stars as 'Wright,' in the independent feature film "AWOL," opposite Teresa Palmer.  This April, he will begin production on the feature film "Empire State," with Dwayne Johnson.
Hemsworth's break out role as 'Will Blakelee' in Disney's smash hit "The Last Song" earned him a 2010 Young Hollywood Award as well as three Teen Choice Award nominations, and the win for Choice Movie: Male Breakout.  Starring opposite Miley Cyrus, Greg Kinnear and Kelly Preston, "The Last Song" is based on best-selling author Nicholas Sparks' novel, who also co-wrote the screenplay.
In television, Liam has played several roles on Australian series, including 'Josh Taylor' on the longest running popular drama series entitled "Neighbours." Read more