Catherine Zeta-Jones received an Academy Award®, Broadcast Film Critics Association Critic's Choice Award, Screen Actors Guild (SAG) Award® and a Golden Globe nomination for Best Supporting Actress for her performance as the murderous Velma Kelly in the film adaptation of the Broadway musical Chicago. Previously, Zeta-Jones earned a Golden Globe nomination for her portrayal of the wife of a drug-runner in Steven Soderbergh's Traffic, also sharing a SAG Award® for Outstanding Performance by the Cast of a Theatrical Motion Picture.
On stage, she recently won a Tony Award for Lead Actress in a Musical for her critically acclaimed debut on Broadway, opposite Angela Lansbury, as Desirée Armfeldt in Stephen Sondheim's A Little Night Music. Read more
Edward Norton has acted in such films as Gregory Hoblit's Primal Fear, Woody Allen's Everyone Says I Love You, Milos Forman's The People vs. Larry Flynt, Tony Kaye's American History X, John Dahl's Rounders, David Fincher's Fight Club, Frank Oz's TheScore, Danny De Vito's Death to Smoochy, Julie Taymor's Frida, Brett Ratner's Red Dragon, Spike Lee's 25th Hour, F. Gary Gray's The Italian Job, David Jacobson's Down in the Valley, Ridley Scott's Kingdom of Heaven, Neil Burger's The Illusionist, John Curran's The Painted Veil and Stone, Louis Leterrier's The Incredible Hulk, Gavin O'Connor's Pride & Glory, Tim Blake Nelson's Leaves of Grass, and Tony Gilroy's upcoming The Bourne Legacy.
He has been nominated for two Academy Awards, for Primal Fear and American History X; and won a Golden Globe Award for the former, along with numerous other awards for his performances.
Mr. Norton produced and directed the feature film Keeping the Faith. He founded and runs Class 5 Films, in partnership with Academy Award nominated screenwriter Stuart Blumberg and producer Bill Migliore. Class 5's first two features, David Jacobson's Down in theValley and John Curran's The Painted Veil, were released in 2006.Class 5 more recently produced Leaves of Grass, written and directed by Tim Blake Nelson; and Mr. Blumberg's directorial debut, Thanks for Sharing. The company is developing adaptations of Dan O'Brien's Buffalo for the Broken Heart and Jonathan Lethem's Motherless Brooklyn, for which Mr. Norton is writing the screenplay. Read more
Bill Murray's portrayal of Herman Blume in Wes Anderson's Rushmore brought him the New York Film Critics Circle, National Society of Film Critics, Los Angeles Film Critics Association, and Independent Spirit Awards for Best Supporting Actor. He has acted inall of Mr. Anderson's subsequent features, including The Royal Tenenbaums, The Life Aquatic with Steve Zissou, The Darjeeling Limited, and Fantastic Mr. Fox (in voiceover).
Born in Chicago, he began his acting career there with the improvisational troupe Second City. He joined the cast of NBC's Saturday Night Live in the show's second season, and shortly thereafter won an Emmy Award as one of the show's writers. He later authored the book Cinderella Story: My Life in Golf.
After making his screen debut in Ivan Reitman's Meatballs, Mr. Murray reteamed with the director on Stripes and the Ghostbusters movies. His film credits also include Harold Ramis' Caddyshack and Groundhog Day; Art Linson's Where the Buffalo Roam; Sydney Pollack's Tootsie; John Byrum's The Razor's Edge (1984); Richard Donner's Scrooged; Frank Oz's What About Bob?; John McNaughton's Mad Dog and Glory and Wild Things; Tim Burton's Ed Wood; Peter and Bobby Farrelly's Kingpin; Jon Amiel's The Man Who Knew Too Little; Tim Robbins' Cradle Will Rock; Michael Almereyda's Hamlet (2000); Gil Kenan's City of Ember; Aaron Schneider's Get Low, for which he received Spirit and Satellite Award nominations; Mitch Glazer's Passion Play; and, upcoming, Roman Coppola's A Glimpse Inside the Mind of Charles Swan III. Read more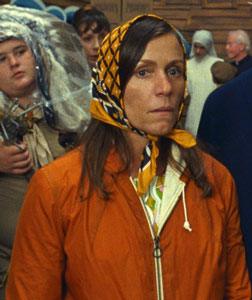 Frances McDormand recently returned to Broadway in the Daniel Sullivan-directed hit staging of David Lindsay-Abaire's play Good People. Her portrayal of Margie Walsh earned her the Drama League, Drama Desk, Outer Critics Circle, and Tony Awards for Leading Actress.
Ms. McDormand has established a worldwide cinema audience with roles in a variety of films, including her Academy Award-winning portrayal of Marge Gunderson in the acclaimed Coen Brothers film Fargo. With the Coen Brothers, she has made four other films; Blood Simple, Raising Arizona, The Man Who Wasn't There, and Burn After Reading.
Other films include Bharat Nalluri's Miss Pettigrew Lives for a Day; Nicole Holofcener's Friends with Money (Spirit Award for Supporting Actress); Niki Caro's North Country (Academy Award, Golden Globe, and SAG Award nominations); Lisa Cholodenko's Laurel Canyon; Nancy Meyers' Something's Gotta Give; Cameron Crowe's Almost Famous (Golden Globe, BAFTA, and Academy Award nominations, as well as several critics' awards); Curtis Hanson's Wonder Boys; Michael Caton-Jones' City by the Sea; Daisy von Scherler Mayer's Madeline; Gregory Hoblit's Primal Fear; John Sayles' Lone Star; Alan Taylor's Palookaville; Mick Jackson's Chattahoochee, opposite Gary Oldman; Sam Raimi's Darkman, opposite Liam Neeson; Ken Loach's Hidden Agenda; Robert Altman's Short Cuts (Venice International Film Festival Award and special Golden Globe Award for Best Ensemble Cast); John Boorman's Beyond Rangoon; Bruce Beresford's Paradise Road; and Alan Parker's Mississippi Burning (Academy Award nomination). Read more
Tilda Swinton started making films with the English director Derek Jarman in 1985; their first was Caravaggio. They made seven more films together, including The Last of England, The Garden,War Requiem, Edward II (for which she was named Best Actress at the Venice International Film Festival), and Wittgenstein, before Mr. Jarman's death in 1994.
Ms. Swinton gained wider international recognition in 1992 with her portrayal of Orlando, based on the novel by Virginia Woolf under the direction of Sally Potter. She established rewarding ongoing filmmaking relationships with Lynn Hershman-Leeson, teaming on Conceiving Ada, Teknolust (playing four roles), and Strange Culture; with John Maybury, on Man 2 Man and Love is the Devil; with Jim Jarmusch, on Broken Flowers and The Limits of Control, both also for Focus Features; with Luca Guadagnino, on The Protagonists, The Love Factory, and the widely acclaimed I Am Love, which she also produced. Read more
Bruce Willis has demonstrated career versatility with diverse characterizations in memorable motion pictures.
Among these have been Quentin Tarantino's Pulp Fiction, which won the Palme d'Or at the 1994 Cannes International Film Festival; Robert Benton's Nobody's Fool, opposite Paul Newman; Terry Gilliam's 12 Monkeys, with Brad Pitt and Madeleine Stowe; Norman Jewison's In Country, for which Mr. Willis received a Golden Globe Award nomination; M. Night Shyamalan's phenomenon The Sixth Sense, for which he won the People's Choice Award; and, as Detective John McClane, four globally popular Die Hard movies directed by John McTiernan (the first and third installments), Renny Harlin, and Len Wiseman, respectively. He is reprising the latter role for a movie that he is executive producing, directed by John Moore, to be released in 2013.
Following studies at Montclair State College's prestigious theater program, the New Jersey native honed his craft in several stage plays and countless television commercials. In 1984, he took on the lead role in Fool for Love, under the direction of the play's author Sam Shepard, in a run which lasted for 100 performances off-Broadway. Read more
Jason Schwartzman made his motion picture acting debut for Wes Anderson, starring as Max Fischer in the acclaimed comedy Rushmore, opposite Bill Murray. His performance earned him a nomination for Most Promising Actor from the Chicago Film Critics Association, among other honors. He again starred for Mr. Anderson in The Darjeeling Limited, which the two wrote with Roman Coppola; in the short film Hotel Chevalier; and, in voiceover, on Fantastic Mr. Fox. He appears in the upcoming A Glimpse Inside the Mind of Charles Swan III, written and directed by Mr. Coppola.
His other movies include Judd Apatow's Funny People, opposite Adam Sandler, Seth Rogen, Jonah Hill, and Aubrey Plaza; Edgar Wright's Scott Pilgrim vs. the World; Sofia Coppola's Marie Antoinette, alongside Kirsten Dunst; David O. Russell's I Heart Huckabees; Roman Coppola's C.Q.; Jonas Åkerlund's Spun; Andrew Niccol's Simone, with Al Pacino; and Anand Tucker's Shopgirl, adapted by Steve Martin from the latter's book of the same name, for which Mr. Schwartzman received a Satellite Award nomination. Read more
Two-time Academy Award® nominee Will Smith (Agent J) has enjoyed unprecedented success in a career encompassing films, television, and multi-platinum records.  For his memorable portrayal of Muhammad Ali in Michael Mann's Ali, he received his first Academy Award® nomination and that was followed by his second nomination for the true-life drama, The Pursuit of Happyness.
Smith is currently filming and producing After Earth under his Overbrook Entertainment production banner costarring Jaden Smith and directed by M. Night Shyamalan.
His extraordinary list of blockbusters includes I Am Legend and Hancock. He also thrilled audiences in such huge hits such as I, Robot, Independence Day, Men in Black and Men in Black II.  He does not limit his work to acting and, along with partner James Lassiter of Overbrook Entertainment, he produced, among others, Hitch, The Pursuit of Happyness, The Secret Life of Bees, Seven Pounds, Lakeview Terrace and The Human Contract, which marked the feature directorial debut of Jada Pinkett Smith. Overbrook's most recent success was Columbia Pictures' The Karate Kid, which was released June 11, 2010 and grossed over $343 million worldwide. Read more
Kristen Stewart will soon be seen on the big screen in Walter Salles' On the Road, based on the Jack Kerouac novel. Stewart is recognizable around the world for her role as Bella Swan, the human girl who falls in love with a vampire in Twilight, The Twilight Saga: New Moon, The Twilight Saga: Eclipse, The Twilight Saga: Breaking Dawn—Part 1 as well as in the upcoming The Twilight Saga: Breaking Dawn— Part 2, which will be released in November 2012.
Stewart recently starred as Joan Jett in The Runaways, the rock 'n' roll biopic of the 1970s all-girl band. She starred in the independent film Welcome to the Rileys, opposite James Gandolfini and Melissa Leo, which was nominated for the Grand Jury Prize at the 2010 Sundance Film Festival.
Stewart was introduced to worldwide audiences with her outstanding performance alongside Jodie Foster in Panic Room. She starred in Adventureland, opposite Jesse Eisenberg, for director Greg Mottola; the independent film The Yellow Handkerchief, alongside William Hurt and Maria Bello; and The Cake Eaters, for director Mary Stuart Masterson. She gave a memorable portrayal as Tracy Tatro in director Sean Penn's Into the Wild, in which she also performs two songs, including one that she wrote. Read more