Christopher Durang's 'Vanya and Sonia and Masha and Spike', starring Sigourney Weaver & David Hyde Pierce, is headed to Broadway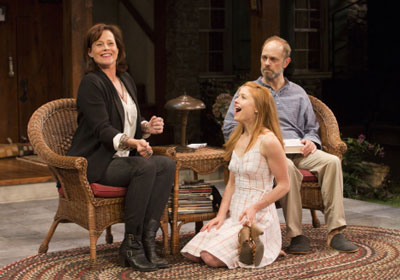 Christopher Durang's Vanya and Sonia and Masha and Spike is headed to Broadway after its sold-out premiere at Lincoln Center. 
The 17-week limited engagement is set to begin on Tuesday, March 5th at Broadway's Golden Theatre. 
Directed by Nicholas Martin, the Broadway production will feature the entire original company, which includes Sigourney Weaver, David Hyde Pierce, Kristine Nielsen, Genevieve Angelson, Shalita Grant, and Billy Magnussen. 
Opening night is set for Thursday, March 14, 2013.
Synopsis: Vanya (Pierce) and Sonia (Nielsen) have never left the confines of their childhood home – a rambling farmhouse in Bucks County, PA – while having to witness the glamorous exploits of their sister, Masha (Weaver), a famous movie actress, from afar.  A surprise visit from Masha and her 20-something boy toy, Spike (Magnussen), throws the normally quiet household int0 utter upheaval as its residents and visitors get swept up in an intoxicating mixture of lust, rivalry, regret, and the sudden possibility of escape.  Only one thing is certain: no one will get out of this without looking absolutely ridiculous!
Tickets, ranging from $60 to $130 will be available beginning on Monday, February 4th via telecharge.com or by calling (212) 239-6200. 
http://www.dailyactor.com/wp-content/uploads/2016/08/imperium_daniele_radcliffe.jpg
Daniel Radcliffe on Playing a Neo-Nazi in 'Imperium': "It's still just horrible to say some of this stuff"
Radcliffe reveals how he played such a layered character and what it felt like to say his character's hate-filled dialogue.
http://www.dailyactor.com/actors-on-acting/daniel-radcliffe-playing-a-neo-nazi-imperium/
http://www.dailyactor.com/wp-content/uploads/2016/08/John-Cho-Star-Trek-Beyond.jpg
How John Cho Took A Stand for Diversity Early in His Career
"When one does speak one's mind, one might be surprised at how receptive people are." - Actor John Cho
http://www.dailyactor.com/actors-on-acting/john-cho-took-a-stand-for-diversity/
http://www.dailyactor.com/wp-content/uploads/2016/08/simon-helberg-florence-foster-jenkins.jpg
Simon Helberg on His 'Florence Foster Jenkins' Role: "I'm an actor and I want to stretch different muscles"
Helberg spoke about portraying his character in the film and whether or not he feels typecast by his Big Bang Theory role.
http://www.dailyactor.com/actors-on-acting/simon-helberg-florence-foster-jenkins-role/
http://www.dailyactor.com/wp-content/uploads/2016/08/Will-Chase-Something-Rotten.jpg
The Role That Got Away: Will Chase on Returning to 'Something Rotten!'
"I know that I am a poor man's fill-in-the-blank. And I know that there are poor man's Will Chases out there. That's just the nature of the business" - Will Chase
http://www.dailyactor.com/actors-on-acting/will-chase-something-rotten-role-that-got-away/
http://www.dailyactor.com/wp-content/uploads/2016/08/Julia-Stiles-Jason-Bourne.jpg
Julia Stiles on the Jason Bourne Series and Growing as an Actress: "There's always room for improvement"
"I like a director that encourages me to be playful. I don't really like being restricted or controlled by a director." - Julia Stiles
http://www.dailyactor.com/actors-on-acting/julia-stiles-growing-as-an-actress/