Broadway's New 'Annie', Lilla Crawford, talks about working with 'Sandy' the Dog and who she wants to be when she grows up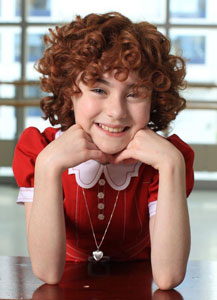 Broadway has found its newest Annie in 11-year-old Lilla Crawford, who has been acting since she was five.
Her first professional gig was "a commercial for Cool Whip when I was seven," she told The New York Times.  "I had no lines.  My fake dad lifted me onto a table next to Cool Whip, and then at the end there's a cookie with Cool Whip on it, and I'm licking it, and then there's a little on my face, so I lick it off my face.  When I first saw it on TV, I was, like, oh my God, that's me!"
Crawford has worked steadily over the past few years, after landing a role in the Broadway production of Billy Elliot.  "It taught me the life of a show, a real one," she said.  "And that I could actually do ballet—I wasn't sure about that.  And that you have to be really careful about backstage safety: there are a lot of set pieces moving around, so you could get hurt."
The native of Los Angeles already sounds confident about living the life of a theater actress.  "Everything was pretty easy [in rehearsal]," she said.  "But working with the dog Sunny was new to me.  The dog trainer Bill Berloni tells me I have to become the trainer.  With movies and TV, he could just stand behind the camera and coach the dog, but I have to learn all these rules to get the dog to do things that I want for the show."
Although she hasn't even reached adolescence, Crawford is already planning the rest of her career. Citing desired roles like Glinda or Elphaba in Wicked, she said, "When I get older I want to be a Kristin Chenoweth and Sutton Foster—you know how they do all of it?  I just want to do anything that has to do with performing."
http://www.dailyactor.com/wp-content/uploads/2016/08/imperium_daniele_radcliffe.jpg
Daniel Radcliffe on Playing a Neo-Nazi in 'Imperium': "It's still just horrible to say some of this stuff"
Radcliffe reveals how he played such a layered character and what it felt like to say his character's hate-filled dialogue.
http://www.dailyactor.com/actors-on-acting/daniel-radcliffe-playing-a-neo-nazi-imperium/
http://www.dailyactor.com/wp-content/uploads/2016/08/John-Cho-Star-Trek-Beyond.jpg
How John Cho Took A Stand for Diversity Early in His Career
"When one does speak one's mind, one might be surprised at how receptive people are." - Actor John Cho
http://www.dailyactor.com/actors-on-acting/john-cho-took-a-stand-for-diversity/
http://www.dailyactor.com/wp-content/uploads/2016/08/simon-helberg-florence-foster-jenkins.jpg
Simon Helberg on His 'Florence Foster Jenkins' Role: "I'm an actor and I want to stretch different muscles"
Helberg spoke about portraying his character in the film and whether or not he feels typecast by his Big Bang Theory role.
http://www.dailyactor.com/actors-on-acting/simon-helberg-florence-foster-jenkins-role/
http://www.dailyactor.com/wp-content/uploads/2016/08/Will-Chase-Something-Rotten.jpg
The Role That Got Away: Will Chase on Returning to 'Something Rotten!'
"I know that I am a poor man's fill-in-the-blank. And I know that there are poor man's Will Chases out there. That's just the nature of the business" - Will Chase
http://www.dailyactor.com/actors-on-acting/will-chase-something-rotten-role-that-got-away/
http://www.dailyactor.com/wp-content/uploads/2016/08/Julia-Stiles-Jason-Bourne.jpg
Julia Stiles on the Jason Bourne Series and Growing as an Actress: "There's always room for improvement"
"I like a director that encourages me to be playful. I don't really like being restricted or controlled by a director." - Julia Stiles
http://www.dailyactor.com/actors-on-acting/julia-stiles-growing-as-an-actress/