Broadway's New 'Annie', Lilla Crawford, talks about working with 'Sandy' the Dog and who she wants to be when she grows up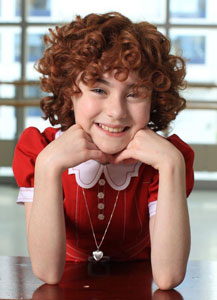 Broadway has found its newest Annie in 11-year-old Lilla Crawford, who has been acting since she was five.
Her first professional gig was "a commercial for Cool Whip when I was seven," she told The New York Times.  "I had no lines.  My fake dad lifted me onto a table next to Cool Whip, and then at the end there's a cookie with Cool Whip on it, and I'm licking it, and then there's a little on my face, so I lick it off my face.  When I first saw it on TV, I was, like, oh my God, that's me!"
Crawford has worked steadily over the past few years, after landing a role in the Broadway production of Billy Elliot.  "It taught me the life of a show, a real one," she said.  "And that I could actually do ballet—I wasn't sure about that.  And that you have to be really careful about backstage safety: there are a lot of set pieces moving around, so you could get hurt."
The native of Los Angeles already sounds confident about living the life of a theater actress.  "Everything was pretty easy [in rehearsal]," she said.  "But working with the dog Sunny was new to me.  The dog trainer Bill Berloni tells me I have to become the trainer.  With movies and TV, he could just stand behind the camera and coach the dog, but I have to learn all these rules to get the dog to do things that I want for the show."
Although she hasn't even reached adolescence, Crawford is already planning the rest of her career. Citing desired roles like Glinda or Elphaba in Wicked, she said, "When I get older I want to be a Kristin Chenoweth and Sutton Foster—you know how they do all of it?  I just want to do anything that has to do with performing."
http://www.dailyactor.com/wp-content/uploads/2016/04/jake-gyllenhaal-demolition.jpg
Jake Gyllenhaal on 'Demolition', Working with Chris Cooper and Directors Who Want Nothing to Do With Him
"I think storytelling is the most important part of movie-making over performance." - Jake Gyllenhaal
http://www.dailyactor.com/actors-on-acting/jake-gyllenhaal-demolition-chris-cooper/
http://www.dailyactor.com/wp-content/uploads/2016/04/don-cheadle-miles-davis.jpg
Don Cheadle: "Be scared. Be on the edge of your creativity"
"Be willing to fall flat on your face and be in an unknown place. If you're doing that, you're probably growing" - Don Cheadle
http://www.dailyactor.com/actors-on-acting/don-cheadle-scared-creativity/
http://www.dailyactor.com/wp-content/uploads/2016/04/jessie-eisenberg-louder-than-bombs.jpg
What is Jesse Eisenberg's "Most Fulfilling Acting Experience"?
"My absolute favorite thing to do is to write a play and then, after I finish, do the first reading of it with my friends around the table"- Jesse Eisenberg
http://www.dailyactor.com/actors-on-acting/jesse-eisenberg-most-fulfilling-acting-experience/
http://www.dailyactor.com/wp-content/uploads/2016/03/Lupita-Nyong'o-eclipsed.jpg
Lupita Nyong'o on Her Broadway Debut: "When we get up on that stage, you do not know what will happen"
"I think theater offers a chance to flex muscles that then only help to sustain cinematic work." - Lupita Nyong'o
http://www.dailyactor.com/actors-on-acting/lupita-nyongo-eclipsed-broadway/
http://www.dailyactor.com/wp-content/uploads/2016/03/jake-gyllenhaal-demolition.jpg
Jake Gyllenhaal on Missed Superhero Opportunities and Portraying "Antisocial" Characters
"I've always wanted to have the opportunity to play a number of different roles, and I knew it wasn't necessarily the role, but how you played them" - Jake Gyllenhaal
http://www.dailyactor.com/actors-on-acting/jake-gyllenhaal-antisocial-characters/