Clint Eastwood on How He Still Does It: "I just never let the old man in"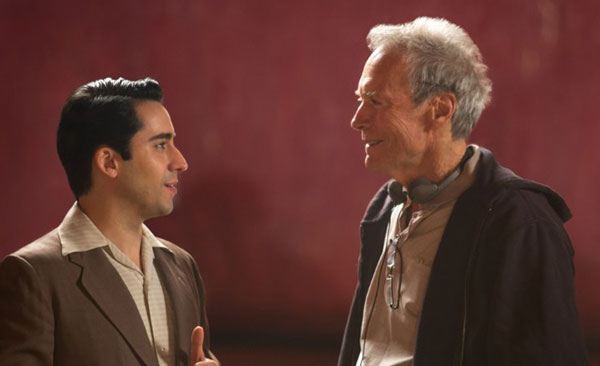 The term "icon" is often tossed around a bit too loosely by hyperbolic writers, but Clint Eastwood is certainly a person who deserves the term. He is not only a legendary actor, but has proven to be one of the most talented directors in Hollywood history. Now in his seventh decade in the industry, Eastwood has taken one of the biggest risks in his career by directing the film adaptation of the Broadway musical Jersey Boys with a cast mostly made up of actors from the stage productions, including John Lloyd Young, who won a Tony for originating the role of Frankie Valli on Broadway. In interviews to promote the film, Eastwood had much to say about how his role in Hollywood has changed over the last seven decades and how he sympathizes with actors based on his own experience.
So how does he maintain such a productive schedule in his mid-80s? Eastwood quips, "I just never let the old man in. I was always looking for new things to do. I rightfully or wrongly always thought I could do anything."
Nonetheless, not many people pegged Eastwood as a natural choice to direct a musical like Jersey Boys. However, Eastwood admits that all it took was a spark of interest in the group's history to make him want to direct the film. He explains, "The whole secret in life in any profession, regardless of whether it's entertainment or anything else, is just being interested. Are you interested in life? Are you interested in what's going on? Are you interested in new kinds of music?"
In fact, Eastwood was surprised that previous movie adaptations of the Broadway musical — including one that was to be directed by Jon Favreau — fell apart. He points out, "I couldn't understand quite why after nine years on Broadway, somebody didn't want to do it."
Even if it is an unlikely move for Eastwood, it's only the latest in a constant series of unlikely moves throughout his life. For example, Eastwood once swore off acting before he ever got a professional job. He confesses, "As a kid, I didn't know what I wanted to do. I was forced to do a one-act play when I was in an English class. … We had to put it on for the senior high school. This was junior high school. Jesus. We were all talking about cutting school and not showing up. And I did the play and it was successful. Everybody kept going around saying, 'Oh that was fun.' And I said, 'Yeah, but I never want to do that again, ever.' I was adamant about it. And here I am."
However, he's comfortable enough with his career in front of the camera to say that he doesn't miss it (his last acting role was 2012's Trouble with the Curve, which was directed by his longtime producer Robert Lorenz). He notes, "There are less parts as you get older. But you can also do things like Gran Torino where you can experiment with some of your past things."
At least one thing that Eastwood definitely doesn't miss is the process of auditioning for roles. He says, "Selling yourself as an actor is tough to do. You go in there, you do interviews. There's 10, 15 guys your height, weight, everything and they all want the same thing. You're going, 'Oh, s—. What are the odds?' The odds were against me for quite a few years, say from '53 to '59. I did a lot of other jobs other than acting, that's for sure. That's why when I'm casting, I always cast off-types for stuff. Otherwise, I'd hire everybody. Because I've been there."
Latest Videos
Watch: Cristin Milioti Talks 'A to Z', 'Once' and 'How I Met Your Mother'
Few actresses have the kind of rise as Cristin Milioti has had in the last few years. A virtual unknown in 2011, she became a bona fide Broadway star in the 2012 hit Once, appeared in a supporting role in the 2013 film The Wolf of Wall Street, and was featured as the titular mother […]
http://www.dailyactor.com/2014/10/watch-cristin-milioti-a-to-z-once-how-i-met-your-mother/
http://www.dailyactor.com/wp-content/uploads/2014/10/watch-bryan-cranstons-acting-adv.jpg
Watch: Bryan Cranston's Acting Advice
With Breaking Bad: The Complete Series Barrel being released on Blu-ray with all kinds of goodies today, it gives us yet another opportunity to reflect on the series' star Bryan Cranston and all of the incredible advice he has offered actors in the wake of his success. In a video he filmed in 2013 for […]
http://www.dailyactor.com/2014/10/bryan-cranston-acting-advice-video/
http://www.dailyactor.com/wp-content/uploads/2014/10/alex-sharp-curious-incident-of-the-dog.jpg
Alex Sharp Talks About His Broadway Debut in 'The Curious Incident of the Dog in the Night-Time' (video)
Alex Sharp went from working in a call-center and renovating houses to going to Julliard. And now, he's starring in one of the most talked about shows of the season, The Curious Incident of the Dog in the Night-Time. Check out this great, inspiring video!
http://www.dailyactor.com/2014/10/alex-sharp-broadway-debut-the-curious-incident-of-the-dog-in-the-night-time-video/
http://www.dailyactor.com/wp-content/uploads/2014/10/Its-only-a-play.jpg
Watch a Scene From Terrance McNally's, 'It's Only a Play', Featuring Nathan Lane and Micah Stock
Here's a quick scene from Terrance McNally's It's Only a Play, currently on Broadway at the Schoenfeld Theater. In this scene, Nathan Lane and Micah Stock meet for the first time. The show, about the opening night of a new play, also stars Matthew Broderick, Stockard Channing, F. Murray Abraham, Rupert Grint and Megan Mullally.
http://www.dailyactor.com/2014/10/watch-a-scene-terrance-mcnally-its-only-a-play-nathan-lane-micah-stock/
http://www.dailyactor.com/wp-content/uploads/2014/10/birdman-director-alejandro-g-ina.jpg
'Birdman' Director Alejandro G. Iñárritu Narrates a Scene from the Film Featuring Michael Keaton and Edward Norton
Director Alejandro G. Iñárritu narrates a scene from Birdman or The Unexpected Virtue of Ignorance that features stars Michael Keaton and Edward Norton. The film is wonderful and if it's playing in your town, definitely check it out!
http://www.dailyactor.com/2014/10/birdman-director-alejandro-g-inarritu-michael-keaton-edward-norton/