James Franco on Not Getting a Tony Nomination and Why He Went After New York Times Critic Ben Brantley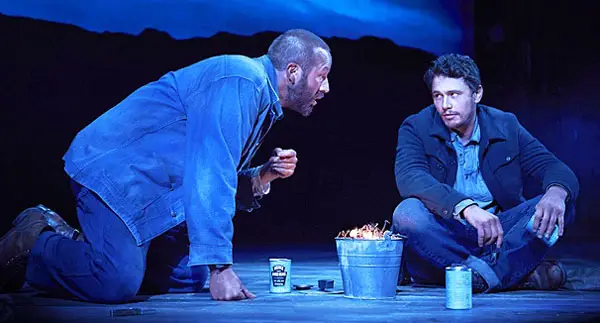 Between posting eye-rolling Instagram photos of himself and simply being James Franco (and everything that comes with his often-knocked persona), James Franco has found himself facing a lot of press recently — and most of it hasn't been good. Therefore, it isn't a surprise that Franco is doing a bit of damage control in his interview with The Daily Beast. He spoke about not being nominated for a Tony for his current performance in Broadway's Of Mice and Men and his now-infamous decision to go after the New York Times critic who gave the production a less than favorable review.
Though it's certainly not uncommon for Hollywood stars appearing on Broadway to be nominated for Tony Awards (for example, Tom Hanks was nominated last year for his role in Lucky Guy), the whims of nominating committee leave stars out in the cold more often than not. Franco didn't get a nomination, but he says he feels compensated enough by the play's success. He explains, "I felt like I was in good company being shunned with Ian McKellen, Denzel Washington, and Marisa Tomei. But to me, that attitude is so self-destructive. To have a play like Of Mice and Men, just a straight drama on Broadway, and to do as well as we're doing—we broke the house record at the Longacre—is unheard of. Seven out of 10 Broadway plays don't make their money back. So, to have the critics come in and, on top of those odds, hurt the production even more, it's like…what do you want? Twenty Aladdins? Because that's what you're gonna get!"
On that topic of critics, Franco also addressed his initial online reaction to New York Times critic Ben Brantley's review of the play (which Franco quickly deleted). He expresses a modicum of remorse for his reaction, saying, "I really normally don't read any reviews or any other stuff about me because it's just not healthy, but I read that one because I was new to the theater and it's a small community. You know what? Maybe I reacted too quickly. It just felt like a poorly written review; a poorly considered review. Also, when you do a movie like, say, Spider-Man, all the reviews are out. Andrew Garfield doesn't have to go and play Spider-Man now that the reviews are out. All the work is done. But in theater, we have to go on stage the next day. So I felt a little bad that I was pulling in these biased reviews because of my celebrity, and felt a little bit of a need to stand up for the rest of my group—the production—and say, 'We're not going to stand for this.' There was a part of me that just wanted to say, 'Hey, shut the fuck up! We don't care about you.' But maybe I shouldn't have done it… Too late now!"
Of course, it's worth noting that despite Franco's words Of Mice and Men received generally positive reviews from most critics and his co-star, Chris O'Dowd, was nominated for the Best Performance by a Leading Actor in a Play Tony Award (the production's lighting designer, Japhy Weideman, was also nominated). But if the "us against the world" mentality makes him feel better, well, he might as well stick with it!
Latest Videos
Watch: Anna Gunn, Jacki Weaver and Virginia Kull on 'Gracepoint' and Strong Female Roles on TV
The actresses also speak candidly about how they feel about their characters in the series and why its important for TV to feature series with strong female leads.Check out the conversation above!
http://www.dailyactor.com/2014/10/watch-anna-gunn-jacki-weaver-virginia-kull-gracepoint-strong-female-roles-on-tv/
http://www.dailyactor.com/wp-content/uploads/2014/10/watch-cristin-milioti-talks-a-to.jpg
Watch: Cristin Milioti Talks 'A to Z', 'Once' and 'How I Met Your Mother'
Few actresses have the kind of rise as Cristin Milioti has had in the last few years. A virtual unknown in 2011, she became a bona fide Broadway star in the 2012 hit Once, appeared in a supporting role in the 2013 film The Wolf of Wall Street, and was featured as the titular mother […]
http://www.dailyactor.com/2014/10/watch-cristin-milioti-a-to-z-once-how-i-met-your-mother/
http://www.dailyactor.com/wp-content/uploads/2014/10/watch-bryan-cranstons-acting-adv.jpg
Watch: Bryan Cranston's Acting Advice
With Breaking Bad: The Complete Series Barrel being released on Blu-ray with all kinds of goodies today, it gives us yet another opportunity to reflect on the series' star Bryan Cranston and all of the incredible advice he has offered actors in the wake of his success. In a video he filmed in 2013 for […]
http://www.dailyactor.com/2014/10/bryan-cranston-acting-advice-video/
http://www.dailyactor.com/wp-content/uploads/2014/10/alex-sharp-curious-incident-of-the-dog.jpg
Alex Sharp Talks About His Broadway Debut in 'The Curious Incident of the Dog in the Night-Time' (video)
Alex Sharp went from working in a call-center and renovating houses to going to Julliard. And now, he's starring in one of the most talked about shows of the season, The Curious Incident of the Dog in the Night-Time. Check out this great, inspiring video!
http://www.dailyactor.com/2014/10/alex-sharp-broadway-debut-the-curious-incident-of-the-dog-in-the-night-time-video/
http://www.dailyactor.com/wp-content/uploads/2014/10/Its-only-a-play.jpg
Watch a Scene From Terrance McNally's, 'It's Only a Play', Featuring Nathan Lane and Micah Stock
Here's a quick scene from Terrance McNally's It's Only a Play, currently on Broadway at the Schoenfeld Theater. In this scene, Nathan Lane and Micah Stock meet for the first time. The show, about the opening night of a new play, also stars Matthew Broderick, Stockard Channing, F. Murray Abraham, Rupert Grint and Megan Mullally.
http://www.dailyactor.com/2014/10/watch-a-scene-terrance-mcnally-its-only-a-play-nathan-lane-micah-stock/