Kevin Spacey on 'House of Cards' and Playing Villains with as "Much Honesty and Complexity" as He Can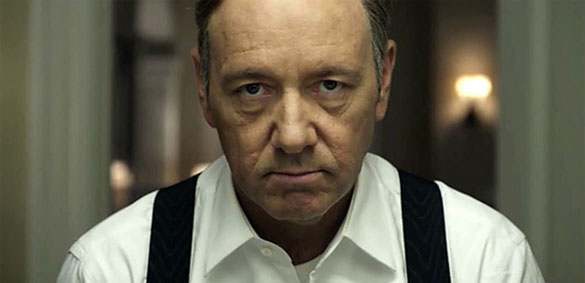 Though Netflix had had a number of original content series in the last three years, it is clear that House of Cards is the crown jewel of them all. Though the series as a whole has been a critical hit, star Kevin Spacey deserves a lot of credit for making the series so popular with audiences with his portrayal of politician Frank Underwood. In fact, Spacey is the first actor to be nominated for an Emmy Award for Oustanding Lead Actor for a web television series.
In an interview with The Wall Street Journal, Spacey spoke about playing villains, his thoughts on a third season of the show, and shares an interesting story about how he bought a Netflix subscription for Wood Allen.
Though Spacey's career is marked by a number of wonderful performances in villainous roles, he admits he doesn't actively seek "bad guy" roles. He explains, "When I play a character, part of what I feel is really valuable is to not label them as good or bad, but to just play them with as much honesty and complexity as I possibly can. And [with House of Cards] I try to just live in the world that both [showrunner] Beau Willimon and [co-executive producer] David Fincher and our team of writers have created and allow the chips to fall as they may. I started out doing stand-up comedy, so I do lots of things that are very funny. Only two years ago did I tackle Richard III, which is the first Shakespearean villain I have ever taken on in my career. So it's not about what I prefer or that I go out and pursue these things specifically because I want to be the Machiavellian guy."
But that doesn't mean he doesn't enjoy playing Underwood, even though he's coy about doing a third season of House of Cards. He explains, "I've had an incredible time doing the second season. I have the best relationship I could ever hope to have with a showrunner in Beau [Willimon]. He's a playwright, so he's right up my alley in terms of structure and understanding how things work and how you can create that thing that happens in a theater, where it's moving and changing constantly, not a flat line where you find a mood and stick with that mood for everything. So I've been having a great time. And my relationship with David Fincher is one I treasure. So, we'll see."
In addition to starring in the series, Spacey is doing what he can to promote Netflix as a platform for original content. That includes getting a Netflix subscription for a friend who still types his screenplays on a typewriter: Woody Allen. Spacey explains, "You know, I am one of these actors where I believe very strongly that if you want to get a part, you have to do anything within reason to get that part. I admire Woody Allen so much. I was at a point where every time he announces a new movie, I never get an audition and nobody ever calls me to come in. I was like, 'You know what? I am going to just write Woody Allen.' So, I introduced myself and sent him a Netflix subscription and said 'I don't know if you've seen my work, but you might want to watch this series.' He wrote me back a warm and wonderful letter, and thanked me for the Netflix. He said he'd seen me play lots of different roles and said he absolutely would consider me in a film."
As for what type of role he'd play in an Allen film, Spacey confesses that he'd be open to just about any role with anyone he wanted to work with with. He says, "I would be delighted and honored to do anything he might come up with. I am not the kind of actor who covets parts. What I like is when a director says to me, 'I want to see you do this role.' I would never have come up with doing Richard II. But Trevor Nunn wanted to see me play that role. The thing that put it over the top for me was that he had never directed a production of that play. So I thought, 'How incredible that we can both have our first experience doing Richard II together, as opposed to me being his seventh Richard II.' So that's why I did that play. It was an incredible experience. I had to convincingly play an English king. It's much more interesting when things don't come easy."
http://www.dailyactor.com/wp-content/uploads/2015/01/watch-al-pacino-talks-the-humbli.jpg
Watch: Al Pacino Talks 'The Humbling' and His Extraordinary Career
In this conversation with Al Pacino talks about his role in The Humbling -- including working with Greta Gerwig -- and his historic acting career
http://www.dailyactor.com/2015/01/watch-al-pacino-extraordinary-career/
http://www.dailyactor.com/wp-content/uploads/2015/01/watch-oscar-nominee-steve-carell.jpg
Watch: Oscar Nominee Steve Carell Talks Improv, Auditioning for 'The Office' and 'Foxcatcher'
Carell talks about his entire career as an actor, including his background in improv, how he landed the Michael Scott role on The Office, and Foxcatcher
http://www.dailyactor.com/2015/01/oscar-nominee-steve-carell-improv-auditioning-for-the-office-foxcatcher/
http://www.dailyactor.com/wp-content/uploads/2015/01/ethan-hawke-ellar-coltrane-boyhood.jpg
Ethan Hawke Calls 'Boyhood' the "most special endeavor of my life"
Ethan Hawke is riding high with his fourth Oscar nomination for the Richard Linklater-directed Boyhood. In a recent "Ask Me Anything" on Reddit, the 44-year-old actor gave some thoughtful insight into his career and the 12-year creative endeavor that became the biggest film of the Oscar season. When asked what was the most difficult thing about […]
http://www.dailyactor.com/2015/01/ethan-hawke-boyhood-reddit-amaife/
http://www.dailyactor.com/wp-content/uploads/2015/01/martha-plimpton-a-delicate-balance.jpg
Martha Plimpton Takes a Refreshing Approach to a Long-Lasting Career
Martha Plimpton is an actress who enjoys the work, she's not in it for the fame. The proof is in her continually excellent work that she is doing on-screen and on the stage. She's currently starring in A Delicate Balance on Broadway. It's the audience who gives her the ultimate thrill. "I try to get […]
http://www.dailyactor.com/2015/01/martha-plimpton-long-lasting-career/
http://www.dailyactor.com/wp-content/uploads/2015/01/watch-michael-keaton-talks-candi.jpg
Watch: Michael Keaton Talks Candidly About His Career and His Approach to Acting in 'Birdman'
In this nearly 90 minute conversation, Michael Keaton is his usual affable self but is also remarkably candid about his career and his approach to acting.
http://www.dailyactor.com/2015/01/michael-keaton-career-approach-to-acting-birdman/