Joseph Gordon-Levitt on 'HITRECORD' and Making the Successful Transition from Child Star to Adult Star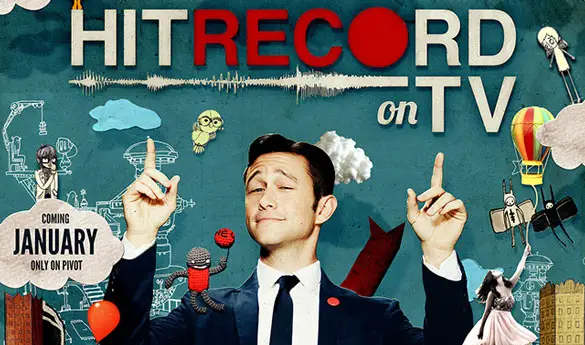 HITRECORD on TV might have just premiered, but Joseph Gordon-Levitt's variety show has not only been viewed online half a million times online but is also something that has existed for quite some time even before that. In fact, HITRECORD was a project that Gordon-Levitt would work on in between his acting projects (and now his writing and directing projects) when he wasn't as in demand as he is now. He spoke about where the HITRECORD name came from and how he became one of the few child stars who remained grounded with The Wrap.
The name itself served as Gordon-Levitt's sort-of mantra to himself "HITRECORD started – before it was a television show, or a production company or a website even, it was just something I would say to myself. A little kind of word of encouragement. Because I was in my early 20s, I'd been an actor my whole life, and I quit for a while, and then when I wanted to start back up, I couldn't get a job. I realized at that time I had to take responsibility for my own creativity. I couldn't just wait around for someone to allow me to make things. I love it too much. The record button, the red circle, became a symbol of that for me. And so this has been coming since then and it's an enormous wish fulfillment to have it now be this grand-scale television show and have the world watching it."
As for how Gordon-Levitt managed to have a successful, controversy-free acting career as an adult after starting his career as a child star (unlike, say, Shia LaBeouf), he explains, "I would credit my parents, my brother, my family, my close friends. A lot of cool people around me with good priorities. I've always just really loved acting and movies and stories and there's lots of other, as you say, trouble that can come along with show business. Those things can be seductive. But I've just never had that much interest in."
Latest Videos
http://www.dailyactor.com/wp-content/uploads/2014/08/audition-tapes-gerard-butler-aud.jpg
Audition Tapes: Gerard Butler Auditions for 'Dracula 2000′
Check out Gerard Butler auditioning for the role of Dracula in the movie, Dracula 2000. The film, about a group of thieves who break into a chamber expecting to find paintings, but instead find Dracula himself, also starred Christopher Plummer, Jonny Lee Miller and Nathan Fillion. Bulter has some sweet rock star hair, huh? [...]
http://www.dailyactor.com/2014/08/audition-tapes-gerard-butler-dracula-2000/
http://www.dailyactor.com/wp-content/uploads/2014/08/interview-matt-dillon-and-carla.jpg
Interview: Matt Dillon and Carla Gugino Talk 'Wayward Pines'
FOX has a new limited-series that's got a terrific cast and interesting premise. It's called Wayward Pines and stars Matt Dillon, Carla Gugino, Melissa Leo, Toby Jones, Terrance Howard, Juliette Lewis, Tim Griffin and Shannyn Sossamon. The show, whose pilot was directed by M. Night Shyamalan, is about a Secret Service agent (Dillon) goes to [...]
http://www.dailyactor.com/2014/08/interview-matt-dillon-carla-gugino-wayward-pines-comic-con/
http://www.dailyactor.com/wp-content/uploads/2014/08/interview-wayward-pines-stars-ti.jpg
Interview: 'Wayward Pines' Stars Tim Griffin and Shannyn Sossamon on the Show, Their Characters and More!
Griffin and Sossamonwere at Comic-Con where they sat in on some roundtable interviews to talk about the show.
http://www.dailyactor.com/2014/08/interview-wayward-pines-stars-tim-griffin-shannyn-sossamon-comic-con/
http://www.dailyactor.com/wp-content/uploads/2014/08/interview-m-night-shyamalan-talk.jpg
Interview: M. Night Shyamalan Talks 'Wayward Pines' and Why He Expanded a Young Actors Role on the Show
I talked to Shyamalan at Comic-Con in a roundtable interview where he talked about the cast, what he learned from working in TV and how young actor Charlie Tahan started out with a small part but as the story grew, so did his role.
http://www.dailyactor.com/2014/08/interview-m-night-shyamalan-wayward-pines-comic-con/
http://www.dailyactor.com/wp-content/uploads/2014/08/interview-wayward-pines-producer.jpg
Interview: 'Wayward Pines' Producers and Writer Talk Casting and the 10-Episode Format
FOX's upcoming limited series Wayward Pines looks very cool. The show is supposed to be very Twin Peaks-ish in tone which, just hearing that, definitely sparks my interest. The pilot was directed by M. Night Shyamalan and stars Matt Dillon, Carla Gugino, Melissa Leo, Toby Jones, Terrance Howard and Juliette Lewis and is about a [...]
http://www.dailyactor.com/2014/08/interview-wayward-pines-creators-comic-con/