Patrick Stewart on His Early Career Struggles and What He Learned About Acting from Working at a Furniture Store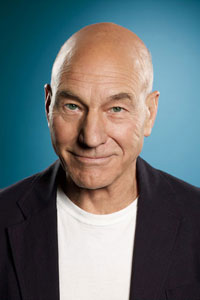 I'm not one to assume that so-and-so actor is awesome in "real life," but when it comes to a guy like Patrick Stewart exceptions must be made.  Though Stewart has always been a fan favorite since starring as Captain Jean-Luc Picard on Star Trek: The Next Generation, his popularity has exploded over the last dozen years as not only Professor Xavier in the X-Men movie franchise but being an all-around interesting guy.  Just in the last few weeks he and his colleague/friend Ian McKellen have starred together on Broadway, performing Waiting for Godot and No Man's Land in repertoire, and while in New York Stewart and McKellan have been posting a series of hysterical photos together in some iconic New York locations (including the legendary McSorley's).  Oh yeah, and on Halloween he sent out a photo of himself in a lobster costume.  So yes, I can make an exception for someone like Stewart. 
However, it took many years for Stewart to develop the fame he enjoys today.  Surprisingly, Stewart revealed to Esquire that after coming out of drama school he almost never became a professional actor.
Stewart points out that he learned a lot about acting from even non-acting jobs, even when he was a furniture salesman.  He recalls, "Hudson's, the best furniture store in Dewsbury. They quickly realized I was an asset, because I would station myself near the door. And I would make an instant decision as to what kind of salesman the customer would like to have. Did they look homely, middle-class, aristocratic? Did they look nervous or shy? And then I would pitch my sales. It was a kind of acting exercise. And I loved doing it."
Surprisingly, in something many actors might take solace in, Stewart admits that he almost went back to selling furniture because he was initially unsuccessful at attracting attention as an actor.  He says he almost went back two years later, "Because then I left drama school and I was about the only graduate from my year who hadn't got a job or an agent or a manager."
Stewart actually believes that he fared so poorly because he didn't do well when it counted.  He reveals, "I was very miscast in our final presentations, when agents and managers come to see the talent. No one wanted to see me. And one of the teachers found me and said, 'Why aren't you having fun drinking, dancing?' And I said, 'I feel I've failed.' And then he said that awful expression: 'Can I be frank with you?'"  He then adds the nearly prescient advice he was then told by that teacher: "You should always say no when people say that. Always say no. And I said, 'Yeah.' And he said, 'You're not a leading man. You're a character actor. And the next 20 years are going to be really tough before you come into your own.' I was 19. That was more years than I'd actually lived."
Though Stewart has become a beloved actor for his Star Trek and X-Men roles, he admits that it all comes back to his original goal of being a Shakespearean actor.  He says, "All I wanted to do was Shakespeare. These other things that happened were just flukes. I didn't look for them. Never have looked for them. Even X-Men. "
Latest Videos
http://www.dailyactor.com/wp-content/uploads/2014/10/watch-anna-gunn-jacki-weaver-and.jpg
Watch: Anna Gunn, Jacki Weaver and Virginia Kull on 'Gracepoint' and Strong Female Roles on TV
The actresses also speak candidly about how they feel about their characters in the series and why its important for TV to feature series with strong female leads.Check out the conversation above!
http://www.dailyactor.com/2014/10/watch-anna-gunn-jacki-weaver-virginia-kull-gracepoint-strong-female-roles-on-tv/
http://www.dailyactor.com/wp-content/uploads/2014/10/watch-cristin-milioti-talks-a-to.jpg
Watch: Cristin Milioti Talks 'A to Z', 'Once' and 'How I Met Your Mother'
Few actresses have the kind of rise as Cristin Milioti has had in the last few years. A virtual unknown in 2011, she became a bona fide Broadway star in the 2012 hit Once, appeared in a supporting role in the 2013 film The Wolf of Wall Street, and was featured as the titular mother […]
http://www.dailyactor.com/2014/10/watch-cristin-milioti-a-to-z-once-how-i-met-your-mother/
http://www.dailyactor.com/wp-content/uploads/2014/10/watch-bryan-cranstons-acting-adv.jpg
Watch: Bryan Cranston's Acting Advice
With Breaking Bad: The Complete Series Barrel being released on Blu-ray with all kinds of goodies today, it gives us yet another opportunity to reflect on the series' star Bryan Cranston and all of the incredible advice he has offered actors in the wake of his success. In a video he filmed in 2013 for […]
http://www.dailyactor.com/2014/10/bryan-cranston-acting-advice-video/
http://www.dailyactor.com/wp-content/uploads/2014/10/alex-sharp-curious-incident-of-the-dog.jpg
Alex Sharp Talks About His Broadway Debut in 'The Curious Incident of the Dog in the Night-Time' (video)
Alex Sharp went from working in a call-center and renovating houses to going to Julliard. And now, he's starring in one of the most talked about shows of the season, The Curious Incident of the Dog in the Night-Time. Check out this great, inspiring video!
http://www.dailyactor.com/2014/10/alex-sharp-broadway-debut-the-curious-incident-of-the-dog-in-the-night-time-video/
http://www.dailyactor.com/wp-content/uploads/2014/10/Its-only-a-play.jpg
Watch a Scene From Terrance McNally's, 'It's Only a Play', Featuring Nathan Lane and Micah Stock
Here's a quick scene from Terrance McNally's It's Only a Play, currently on Broadway at the Schoenfeld Theater. In this scene, Nathan Lane and Micah Stock meet for the first time. The show, about the opening night of a new play, also stars Matthew Broderick, Stockard Channing, F. Murray Abraham, Rupert Grint and Megan Mullally.
http://www.dailyactor.com/2014/10/watch-a-scene-terrance-mcnally-its-only-a-play-nathan-lane-micah-stock/