'The Walking Dead' star Norman Reedus Reveals His Non-traditional Path to a Successful Acting Career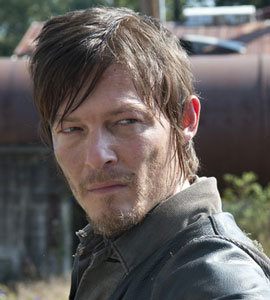 Some people have very traditional routes in pursuing their acting career by studying at a prestigious school, making their way out to Los Angeles and eventually getting their first big break. For The Walking Dead's Norman Reedus, his path was anything but traditional.
In an interview with the U.K.'s Metro, he talked about his journey as a working actor.
"I followed a girl I met in Japan to Los Angeles and ended up working in a motorcycle store. I quit the job one night, went to a party in the Hollywood Hills and ended up yelling at a bunch of people. Someone saw me yelling and asked me to be in a play," he said.
While he didn't even have to audition for the role, his path got even easier when he was scouted once the play went up.
Reedus continued, "The first night, there was an agent in the audience who took me on and sent me out for jobs."
After the play closed, he immediately was cast in another project.
"I did a film called Floating early on that had a scene which was similar to a real-life situation I was in at the time. It involved me having a conversation with my father, who was dying. It was close to home and it made me realize acting wasn't just making faces for the cameras, it was a real art form," shared the 44-year-old actor. "That scene opened my eyes and made me want to try harder at it. You need jumbo elephant balls to be an actor in the first place because there's a lot of rejection – so you need to believe in it."
It seems like the AMC star had it pretty easy in the beginning of his career, but not all of his jobs were glamorous. He talked about his least favorite jobs both in and out of the entertainment industry.
"The motorcycle store wasn't that much fun. It was a lot of grunt work – changing oil and tires," said Reedus. "As far as acting, I did a film early on which involved me crying and breaking down and making a confession. As I was doing it, I looked at the other actor in the scene, who was looking over my shoulder, saying: 'Can I get a cappuccino?' I was like: 'Is this how it works? Is this what you're supposed to do?' I was so new to it, I didn't know any better. Now I think: 'What a jerk…'"
Season 4 of AMC's The Walking Dead premiered on Oct. 13.
Latest Videos
http://www.dailyactor.com/wp-content/uploads/2014/07/bill-hader.jpg
Bill Hader: "I kind of fell into acting" (video)
Bill Hader, starring in the soon to be released The Skeleton Twins, talks about the film and how he fell into acting and then got "crazy lucky" in this quick video from USA Today. Share on Tumblr
http://www.dailyactor.com/2014/07/bill-hader-fell-into-acting-video/
http://www.dailyactor.com/wp-content/uploads/2014/07/director-john-carney-narrates-a.jpg
Director John Carney Narrates a Scene from 'Begin Again' Starring Kiera Knightley and Mark Ruffalo
Director John Carney (Once) narrates a scene from his new film, Begin Again. Starring Keira Knightley and Mark Ruffalo, the scene shows the first time the two characters meet. I haven't seen it yet but I've heard it's great.
http://www.dailyactor.com/2014/07/begin-again-scene-director-john-carney-keira-knightley-mark-ruffalo/
http://www.dailyactor.com/wp-content/uploads/2014/07/holler-if-you-hear-me-gma.jpg
Watch the Cast of Broadway's 'Holler If You Hear Me' Perform 'California Love' on GMA
The cast of Broadway's newest musical, Holler If You Hear Me with music from Tupac Shakur, performed on Good Morning America this morning. Singing 'California Love', the cast (including the teriffic Christopher Jackson – read our interview here), show why they're the most energetic and inspiring group of actors on Broadway. Holler If Ya Hear [...]
http://www.dailyactor.com/2014/07/watch-cast-broadways-holler-hear-perform-california-love-gma/
http://www.dailyactor.com/wp-content/uploads/2014/07/behind-the-scenes-of-dawn-of-the.jpg
Behind the Scenes of 'Dawn of the Planet of the Apes' with Performance Capture Actor Terry Notary
Actor Terry Notary is 1 of 5 actors playing the apes in the new Dawn of the Planet of the Apes. "When you see armies of apes," he says, that's "five of us." Check out the video where you can watch his performance capture work.
http://www.dailyactor.com/2014/07/dawn-planet-apes-performance-capture-actor-terry-notary/
http://www.dailyactor.com/wp-content/uploads/2014/07/melissa-mccarthy-daily-show.jpg
Melissa McCarthy and John Stewart Talk About Terrible Commercial Auditions on 'The Daily Show'
Melissa McCarthy stopped by The Daily Show last week to plug about her new movie, Tammy. She talked about how she loved working with her husband, Ben Falcone (director of Tammy) and then segued into talking about some horrible working situations. The always hilarious McCarthy then started to tell host John Stewart about a particular [...]
http://www.dailyactor.com/2014/07/melissa-mccarthy-john-stewart-commercial-auditions-the-daily-show/