'The Walking Dead' star Norman Reedus Reveals His Non-traditional Path to a Successful Acting Career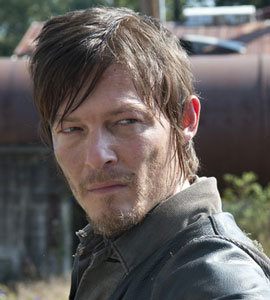 Some people have very traditional routes in pursuing their acting career by studying at a prestigious school, making their way out to Los Angeles and eventually getting their first big break. For The Walking Dead's Norman Reedus, his path was anything but traditional.
In an interview with the U.K.'s Metro, he talked about his journey as a working actor.
"I followed a girl I met in Japan to Los Angeles and ended up working in a motorcycle store. I quit the job one night, went to a party in the Hollywood Hills and ended up yelling at a bunch of people. Someone saw me yelling and asked me to be in a play," he said.
While he didn't even have to audition for the role, his path got even easier when he was scouted once the play went up.
Reedus continued, "The first night, there was an agent in the audience who took me on and sent me out for jobs."
After the play closed, he immediately was cast in another project.
"I did a film called Floating early on that had a scene which was similar to a real-life situation I was in at the time. It involved me having a conversation with my father, who was dying. It was close to home and it made me realize acting wasn't just making faces for the cameras, it was a real art form," shared the 44-year-old actor. "That scene opened my eyes and made me want to try harder at it. You need jumbo elephant balls to be an actor in the first place because there's a lot of rejection – so you need to believe in it."
It seems like the AMC star had it pretty easy in the beginning of his career, but not all of his jobs were glamorous. He talked about his least favorite jobs both in and out of the entertainment industry.
"The motorcycle store wasn't that much fun. It was a lot of grunt work – changing oil and tires," said Reedus. "As far as acting, I did a film early on which involved me crying and breaking down and making a confession. As I was doing it, I looked at the other actor in the scene, who was looking over my shoulder, saying: 'Can I get a cappuccino?' I was like: 'Is this how it works? Is this what you're supposed to do?' I was so new to it, I didn't know any better. Now I think: 'What a jerk…'"
Season 4 of AMC's The Walking Dead premiered on Oct. 13.
Latest Videos
http://www.dailyactor.com/wp-content/uploads/2014/08/bryan-cranston-emmy-award-speech.jpg
Watch: Bryan Cranston's Emmy Award Speech: "I love to act. It is a passion of mine and I will do it until my last breath."
The Emmy Awards weren't the most exciting awards show this year but with Bryan Cranston winning for Outstanding Actor in a Drama for Breaking Bad, we at least got to hear one heck of a fantastic acceptance speech. "I was a kid who always looked for the shortcut," he said. "I did happen to stumble […]
http://www.dailyactor.com/2014/08/watch-bryan-cranston-and-aaron-pauls-emmy-award-speeches/
http://www.dailyactor.com/wp-content/uploads/2014/08/audition-tapes-gerard-butler-aud.jpg
Audition Tapes: Gerard Butler Auditions for 'Dracula 2000′
Check out Gerard Butler auditioning for the role of Dracula in the movie, Dracula 2000. The film, about a group of thieves who break into a chamber expecting to find paintings, but instead find Dracula himself, also starred Christopher Plummer, Jonny Lee Miller and Nathan Fillion. Bulter has some sweet rock star hair, huh?
http://www.dailyactor.com/2014/08/audition-tapes-gerard-butler-dracula-2000/
http://www.dailyactor.com/wp-content/uploads/2014/08/interview-matt-dillon-and-carla.jpg
Interview: Matt Dillon and Carla Gugino Talk 'Wayward Pines'
FOX has a new limited-series that's got a terrific cast and interesting premise. It's called Wayward Pines and stars Matt Dillon, Carla Gugino, Melissa Leo, Toby Jones, Terrance Howard, Juliette Lewis, Tim Griffin and Shannyn Sossamon. The show, whose pilot was directed by M. Night Shyamalan, is about a Secret Service agent (Dillon) goes to […]
http://www.dailyactor.com/2014/08/interview-matt-dillon-carla-gugino-wayward-pines-comic-con/
http://www.dailyactor.com/wp-content/uploads/2014/08/interview-wayward-pines-stars-ti.jpg
Interview: 'Wayward Pines' Stars Tim Griffin and Shannyn Sossamon on the Show, Their Characters and More!
Griffin and Sossamonwere at Comic-Con where they sat in on some roundtable interviews to talk about the show.
http://www.dailyactor.com/2014/08/interview-wayward-pines-stars-tim-griffin-shannyn-sossamon-comic-con/
http://www.dailyactor.com/wp-content/uploads/2014/08/interview-m-night-shyamalan-talk.jpg
Interview: M. Night Shyamalan Talks 'Wayward Pines' and Why He Expanded a Young Actors Role on the Show
I talked to Shyamalan at Comic-Con in a roundtable interview where he talked about the cast, what he learned from working in TV and how young actor Charlie Tahan started out with a small part but as the story grew, so did his role.
http://www.dailyactor.com/2014/08/interview-m-night-shyamalan-wayward-pines-comic-con/