Dean Norris Talks Filming 'Breaking Bad' and Calling Bryan Cranston If He Has "Any Professional Choices to Make"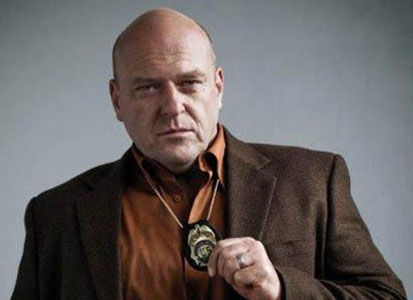 Breaking Bad returned last Sunday with a jaw-dropping episode, "Blood Money."  The first in the last eight episodes of the series was directed by star Bryan Cranston.  Dean Norris, who plays DEA agent Hank Schrader, describes filming the intense final scene of the episode.
"The last scene was really interesting.  The first take was really violent and hard.  That's how it was written in the script.  Bryan and I thought it turned out okay, but we weren't entirely satisfied," he said in an interview with Vulture.  "It was weird that this happened, because usually on Breaking Bad scripts you show up and it's written in such a way that you kind of flow right into it.  But we felt uncomfortable; it seemed like too much.  I talked about this with Vince [Gilligan, the show creator] last night.  The thing about Hank at that moment was that he feels such betrayal, like your best friend just cheated on your wife, some horrible thing like that.  The betrayal angle helped us see the scene as it really was, that it was hurt as much as rage, though the rage is there.
"And Vince asked me, 'What was that great thing where you grabbed the back of Walt's head?' when Hank says, 'All along it was you.'  It wasn't a specific reference, but I realized it was from The Godfather 2—Michael Corleone saying to his brother, 'I know it was you, Fredo.  You broke my heart.'  And it was like my best friend—well, not my best friend…Someone Hank's known for twenty years—a family member, which is even worse."
The scene, a culmination of the relationship between the two brother's-in-law, resonated emotionally with Norris.  "I did almost feel like crying, or Hank did at the time, because of the betrayal.  And that made the scene work for Bryan and me," Norris explained.  "I think [Bryan] might have had a tear in his eye.  I just saw it last night for the first time, but as I recall, shooting it, he, too, was almost in tears.  It was more like he was saying, 'Be careful.'  For real, be careful.  Like seriously, be careful!"
Norris' career has enjoyed a huge boost from the critical acclaim of the series, including helping him land a role on the CBS drama, Under the Dome.  But the actor insists there are many things he's taking away from the show, mainly the lessons he's learned from his costars.
"Subtle things, from Cranston mostly—craft-wise and profession-wise.  I have called and will still call Bryan in the future if I have any professional choices to make," Norris said.  "He was the guy who talked me into taking the part, and I see how he led the cast by example: never late, always the first one out there.  When we were preparing for the next season, we'd get an email from Cranston: 'Hey, let's see if we can step it up a little bit this season.'  And I would think, 'What the fuck? I thought last season was pretty good.'  There's not a split second when he wasn't completely present—every second onscreen was important.  He never stopped thinking about how to make a scene better, no matter whose scene it was."
Breaking Bad airs Sundays at 9 p.m. on AMC, and Under the Dome airs on CBS, Mondays at 10 p.m.
Latest Videos
http://www.dailyactor.com/wp-content/uploads/2014/04/director-david-gordon-greene-nar.jpg
Director David Gordon Green Narrates a Scene From 'Joe'
Director David Gordon Green narrates a sequence from his new film, Joe, featuring Nicolas Cage and Tye Sheridan. In the video, he mentions his reasons why he likes to hire non-traditional actors. He likes people who have real skill-sets and not actors who have the skills on their resume. He also talked about this in […]
http://www.dailyactor.com/2014/04/director-david-gordon-green-narrates-a-scene-from-joe/
http://www.dailyactor.com/wp-content/uploads/2014/04/david-gordon-green-joe.jpg
Director David Gordon Green: "I find actors in unusual places"
I keep missing screenings of director David Gordon Greene's new film, Joe. I hear it's really good so I'm looking forward to catching it at some point. Joe stars Nicholas Cage as ex-con Joe Ransom, who isn't the greatest of role models until he meets a 15-year-old boy (Mud's Tye Sheridan). In this featurette, Green […]
http://www.dailyactor.com/2014/04/director-david-gordon-green-i-find-actors-in-unusual-places/
http://www.dailyactor.com/wp-content/uploads/2014/04/judy-greer-i-dont-know-why-you-know-me-from.jpg
Please Don't Say These Things To Judy Greer (video)
Judy Greer - who we love here at Daily Actor – has a new book called, I Don't Know What You Know Me From (Confessions of a Co-Star), a series of essays about her life as an actress, friend and someone who everyone thinks they might know. Here's a blurb about the book: "Want to […]
http://www.dailyactor.com/2014/04/please-dont-say-these-things-to-judy-greer-video/
http://www.dailyactor.com/wp-content/uploads/2014/04/Captain-America-SamuelNick-Fury.jpg
How Samuel L. Jackson Learns His Lines for the Marvel Movies (video)
Samuel L. Jackson stopped by Good Morning America earlier this week to talk about Captain America: The Winter Soldier – which is terrific, by the way – and he told Robin Roberts that for the first Cap film, he had trouble learning his lines. "I sat at home and I did all my studying, and […]
http://www.dailyactor.com/2014/04/how-samuel-l-jackson-learns-his-lines-for-the-marvel-movies-video/
http://www.dailyactor.com/wp-content/uploads/2014/04/andy-karl-margot-seibert-rocky.jpg
Andy Karl and Margo Seibert Talk 'Rocky: The Musical' on 'Today'
Andy Karl and Margo Seibert, the stars of Rocky: The Musical, talked to Today's Matt Lauer about the new Broadway musical. Karl talks about the final fight and taking on the iconic role. This is Seibert's Broadway debut and she's asked about her callbacks (9 in all!) and more. Check it out!
http://www.dailyactor.com/2014/04/andy-karl-and-margo-seibert-talk-rocky-the-musical-on-today/