Dean Norris Talks Filming 'Breaking Bad' and Calling Bryan Cranston If He Has "Any Professional Choices to Make"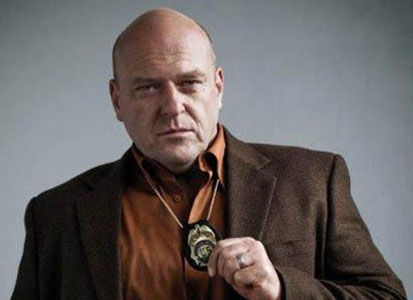 Breaking Bad returned last Sunday with a jaw-dropping episode, "Blood Money."  The first in the last eight episodes of the series was directed by star Bryan Cranston.  Dean Norris, who plays DEA agent Hank Schrader, describes filming the intense final scene of the episode.
"The last scene was really interesting.  The first take was really violent and hard.  That's how it was written in the script.  Bryan and I thought it turned out okay, but we weren't entirely satisfied," he said in an interview with Vulture.  "It was weird that this happened, because usually on Breaking Bad scripts you show up and it's written in such a way that you kind of flow right into it.  But we felt uncomfortable; it seemed like too much.  I talked about this with Vince [Gilligan, the show creator] last night.  The thing about Hank at that moment was that he feels such betrayal, like your best friend just cheated on your wife, some horrible thing like that.  The betrayal angle helped us see the scene as it really was, that it was hurt as much as rage, though the rage is there.
"And Vince asked me, 'What was that great thing where you grabbed the back of Walt's head?' when Hank says, 'All along it was you.'  It wasn't a specific reference, but I realized it was from The Godfather 2—Michael Corleone saying to his brother, 'I know it was you, Fredo.  You broke my heart.'  And it was like my best friend—well, not my best friend…Someone Hank's known for twenty years—a family member, which is even worse."
The scene, a culmination of the relationship between the two brother's-in-law, resonated emotionally with Norris.  "I did almost feel like crying, or Hank did at the time, because of the betrayal.  And that made the scene work for Bryan and me," Norris explained.  "I think [Bryan] might have had a tear in his eye.  I just saw it last night for the first time, but as I recall, shooting it, he, too, was almost in tears.  It was more like he was saying, 'Be careful.'  For real, be careful.  Like seriously, be careful!"
Norris' career has enjoyed a huge boost from the critical acclaim of the series, including helping him land a role on the CBS drama, Under the Dome.  But the actor insists there are many things he's taking away from the show, mainly the lessons he's learned from his costars.
"Subtle things, from Cranston mostly—craft-wise and profession-wise.  I have called and will still call Bryan in the future if I have any professional choices to make," Norris said.  "He was the guy who talked me into taking the part, and I see how he led the cast by example: never late, always the first one out there.  When we were preparing for the next season, we'd get an email from Cranston: 'Hey, let's see if we can step it up a little bit this season.'  And I would think, 'What the fuck? I thought last season was pretty good.'  There's not a split second when he wasn't completely present—every second onscreen was important.  He never stopped thinking about how to make a scene better, no matter whose scene it was."
Breaking Bad airs Sundays at 9 p.m. on AMC, and Under the Dome airs on CBS, Mondays at 10 p.m.
http://www.dailyactor.com/wp-content/uploads/2015/02/Larry-David.jpg
Larry David on Who he Wanted to Star in his Broadway Play 'Fish in the Dark': "Anybody but me"
"It's one of the reasons I didn't like acting. I don't like not being able to interject" – Larry David on acting with a script Who doesn't like Larry David? Well, to be honest, Larry David probably doesn't like Larry David. In fact, David didn't even want to cast himself in the lead of […]
http://www.dailyactor.com/2015/02/larry-david-on-who-he-wanted-to-star-broadway-play-fish-in-the-dark/
http://www.dailyactor.com/wp-content/uploads/2015/02/Helen-Mirren-The-Queen.jpg
Helen Mirren on Winning an Oscar: "It's an indescribable moment"
"It's hard to say, because you don't know what would have happened if you hadn't won" - Helen Mirren When Asked If Winning an Oscar Changed Her Career
http://www.dailyactor.com/2015/02/helen-mirren-on-winning-an-oscar/
http://www.dailyactor.com/wp-content/uploads/2015/02/anna-chlumsky-james-earl-jones.jpg
Anna Chlumsky on Her Broadway Debut: "For me, it was an opportunity to go in the direction that I hadn't played in a while"
"I think my personality lends itself to ensembles" - Anna Chlumsky
http://www.dailyactor.com/2015/02/anna-chlumsky-broadway-debut-ensemble/
http://www.dailyactor.com/wp-content/uploads/2015/02/joanne-froggatt-downton-abbey.jpg
'Downton Abbey' Star Joanne Froggatt on Creating Her Own Backstory and How She's "Not a Big-Budget Hollywood Type"
"They want the model type, classically beautiful, and I'm not" - Joanne Froggatt on Working in Hollywood
http://www.dailyactor.com/2015/02/downton-abbey-star-joanne-froggatt-character-backstory-hollywood/
http://www.dailyactor.com/wp-content/uploads/2015/01/al-pacino-the-humbling.jpg
Al Pacino on Acting: "It becomes such a part of your nature you rarely ever think about quitting"
After working infrequently in film over the last decade, Al Pacino appears in several films released in 2015, including The Humbling, an indie drama directed by Barry Levinson.
http://www.dailyactor.com/2015/02/al-pacino-on-acting-it-becomes-such-a-part-of-your-nature/