Dean Norris Talks Filming 'Breaking Bad' and Calling Bryan Cranston If He Has "Any Professional Choices to Make"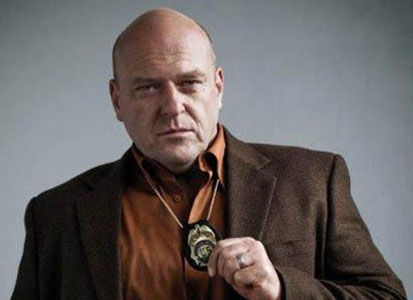 Breaking Bad returned last Sunday with a jaw-dropping episode, "Blood Money."  The first in the last eight episodes of the series was directed by star Bryan Cranston.  Dean Norris, who plays DEA agent Hank Schrader, describes filming the intense final scene of the episode.
"The last scene was really interesting.  The first take was really violent and hard.  That's how it was written in the script.  Bryan and I thought it turned out okay, but we weren't entirely satisfied," he said in an interview with Vulture.  "It was weird that this happened, because usually on Breaking Bad scripts you show up and it's written in such a way that you kind of flow right into it.  But we felt uncomfortable; it seemed like too much.  I talked about this with Vince [Gilligan, the show creator] last night.  The thing about Hank at that moment was that he feels such betrayal, like your best friend just cheated on your wife, some horrible thing like that.  The betrayal angle helped us see the scene as it really was, that it was hurt as much as rage, though the rage is there.
"And Vince asked me, 'What was that great thing where you grabbed the back of Walt's head?' when Hank says, 'All along it was you.'  It wasn't a specific reference, but I realized it was from The Godfather 2—Michael Corleone saying to his brother, 'I know it was you, Fredo.  You broke my heart.'  And it was like my best friend—well, not my best friend…Someone Hank's known for twenty years—a family member, which is even worse."
The scene, a culmination of the relationship between the two brother's-in-law, resonated emotionally with Norris.  "I did almost feel like crying, or Hank did at the time, because of the betrayal.  And that made the scene work for Bryan and me," Norris explained.  "I think [Bryan] might have had a tear in his eye.  I just saw it last night for the first time, but as I recall, shooting it, he, too, was almost in tears.  It was more like he was saying, 'Be careful.'  For real, be careful.  Like seriously, be careful!"
Norris' career has enjoyed a huge boost from the critical acclaim of the series, including helping him land a role on the CBS drama, Under the Dome.  But the actor insists there are many things he's taking away from the show, mainly the lessons he's learned from his costars.
"Subtle things, from Cranston mostly—craft-wise and profession-wise.  I have called and will still call Bryan in the future if I have any professional choices to make," Norris said.  "He was the guy who talked me into taking the part, and I see how he led the cast by example: never late, always the first one out there.  When we were preparing for the next season, we'd get an email from Cranston: 'Hey, let's see if we can step it up a little bit this season.'  And I would think, 'What the fuck? I thought last season was pretty good.'  There's not a split second when he wasn't completely present—every second onscreen was important.  He never stopped thinking about how to make a scene better, no matter whose scene it was."
Breaking Bad airs Sundays at 9 p.m. on AMC, and Under the Dome airs on CBS, Mondays at 10 p.m.
Latest Videos
http://www.dailyactor.com/wp-content/uploads/2014/10/alex-sharp-curious-incident-of-the-dog.jpg
Alex Sharp Talks About His Broadway Debut in 'The Curious Incident of the Dog in the Night-Time' (video)
Alex Sharp went from working in a call-center and renovating houses to going to Julliard. And now, he's starring in one of the most talked about shows of the season, The Curious Incident of the Dog in the Night-Time. Check out this great, inspiring video!
http://www.dailyactor.com/2014/10/alex-sharp-broadway-debut-the-curious-incident-of-the-dog-in-the-night-time-video/
http://www.dailyactor.com/wp-content/uploads/2014/10/Its-only-a-play.jpg
Watch a Scene From Terrance McNally's, 'It's Only a Play', Featuring Nathan Lane and Micah Stock
Here's a quick scene from Terrance McNally's It's Only a Play, currently on Broadway at the Schoenfeld Theater. In this scene, Nathan Lane and Micah Stock meet for the first time. The show, about the opening night of a new play, also stars Matthew Broderick, Stockard Channing, F. Murray Abraham, Rupert Grint and Megan Mullally.
http://www.dailyactor.com/2014/10/watch-a-scene-terrance-mcnally-its-only-a-play-nathan-lane-micah-stock/
http://www.dailyactor.com/wp-content/uploads/2014/10/birdman-director-alejandro-g-ina.jpg
'Birdman' Director Alejandro G. Iñárritu Narrates a Scene from the Film Featuring Michael Keaton and Edward Norton
Director Alejandro G. Iñárritu narrates a scene from Birdman or The Unexpected Virtue of Ignorance that features stars Michael Keaton and Edward Norton. The film is wonderful and if it's playing in your town, definitely check it out!
http://www.dailyactor.com/2014/10/birdman-director-alejandro-g-inarritu-michael-keaton-edward-norton/
http://www.dailyactor.com/wp-content/uploads/2014/10/the-cast-of-mad-men-on-the-final.jpg
The Cast of 'Mad Men' on the Final Season and More
Though the AMC television series Mad Men might not carry the same cultural weight that it did a few years ago (splitting your final season over two years might do that to you), the second half of the show's final season is expected to be full of powerful performances from its ensemble cast. With the […]
http://www.dailyactor.com/2014/10/cast-of-mad-men-final-season/
http://www.dailyactor.com/wp-content/uploads/2014/10/behind-the-scenes-of-a-sex-scene.jpg
Behind the Scenes of a Sex Scene with Patrick Wilson, Brooklyn Decker and Director Joe Carnahan
Director Joe Carnahan is giving viewers an inside look at what it is like to film a big screen Hollywood sex scene, as confirmed by Gawker. Carnahan released a brief video clip taken from the set of his latest film Stretch starring supermodel and actress Brooklyn Decker and Patrick Wilson. The video showcases the two […]
http://www.dailyactor.com/2014/10/behind-the-scenes-of-a-sex-scene-patrick-wilson-brooklyn-decker-director-joe-carnahan/