'Soul Doctor' Star Amber Iman Slept on a Dressing Room Cot and Couch Surfed Before Making Her Broadway Dreams Come True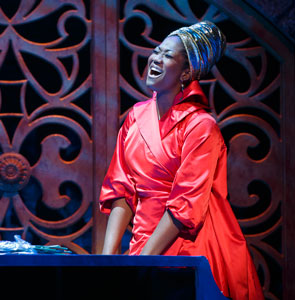 When artists say they will do what it takes to get the job, most actors are talking about being prepared in that audition room. For one Broadway star though, it meant leaving home, couch surfing and a bout of homelessness.
Amber Iman just made her Broadway debut playing legendary jazz singer Nina Simone in Soul Doctor. However, getting to the Great White Way wasn't that easy.
After graduating with a musical theater degree from Howard University, Iman dismissed moving to New York because fellow alumni who made the move before her "ended up working at Starbucks!"
Her boyfriend was the one who inspired her to make the move to the Big Apple.
She shared, "He said, 'If you don't leave for New York, I will break up with you because I don't want you to resent me and have any regrets in your life.' "
While those words resonated with her, something else happened.
The Broadway star laughed, "The funny thing is, he left first. He had a cruise-ship gig. So I thought, 'Now I really have to go!' "
Her mom helped her with relocating to an apartment in Harlem where she had a difficult roommate. On the day of her first important audition for the Off-Broadway show Rent, "she warmed up for the audition one 28-degree morning singing "Seasons of Love" while sitting in a park, swathed in blankets."
Sitting out in the cold was actually easier than listening to the complaints of her roommate.
However, the apartment situation was to be short-lived. A gig with Lauryn Hill in Europe saved her for a few months until she found herself homeless in New York upon her return.
After couch surfing for a bit, she found herself with a job in Rent. Her sublet wasn't expected to begin for another five days, so she called the New World Stages theater her home in the interim. A cot in the women's dressing room and the showers there was all she needed.
The 27-year-old wisely stated, "I was safe, I wasn't cold. Hey, you do what you have to do."
Those early struggles in New York set the stage for her Cinderella story a year later. She was cast as the understudy for the Nina Simone role until the lead dropped out and the part was hers.
It sounds like the beginnings of a Hollywood movie.
For tickets to Soul Doctor, click here.
Via the New York Post
Latest Videos
http://www.dailyactor.com/wp-content/uploads/2014/07/sir-ben-kingsley-talks-about-the.jpg
Sir Ben Kingsley Talks about the Unique Way He Voiced His Character in the Animated Film, 'The Boxtrolls' (video)
I could listen to Sir Ben Kingsley talk about acting and.. well, I could listen to him talk about anything. He's starring in the new Laika stop-motion animated film, The Boxtrolls, and he and some of the cast (along with the director) joined in on a Comic-Con panel about the film. The Boxtrolls is about [...]
http://www.dailyactor.com/2014/07/sir-ben-kingsley-the-boxtrolls-comic-con/
http://www.dailyactor.com/wp-content/uploads/2014/07/bill-hader.jpg
Bill Hader: "I kind of fell into acting" (video)
Bill Hader, starring in the soon to be released The Skeleton Twins, talks about the film and how he fell into acting and then got "crazy lucky" in this quick video from USA Today.
http://www.dailyactor.com/2014/07/bill-hader-fell-into-acting-video/
http://www.dailyactor.com/wp-content/uploads/2014/07/director-john-carney-narrates-a.jpg
Director John Carney Narrates a Scene from 'Begin Again' Starring Kiera Knightley and Mark Ruffalo
Director John Carney (Once) narrates a scene from his new film, Begin Again. Starring Keira Knightley and Mark Ruffalo, the scene shows the first time the two characters meet. I haven't seen it yet but I've heard it's great.
http://www.dailyactor.com/2014/07/begin-again-scene-director-john-carney-keira-knightley-mark-ruffalo/
http://www.dailyactor.com/wp-content/uploads/2014/07/holler-if-you-hear-me-gma.jpg
Watch the Cast of Broadway's 'Holler If You Hear Me' Perform 'California Love' on GMA
The cast of Broadway's newest musical, Holler If You Hear Me with music from Tupac Shakur, performed on Good Morning America this morning. Singing 'California Love', the cast (including the teriffic Christopher Jackson – read our interview here), show why they're the most energetic and inspiring group of actors on Broadway. Holler If Ya Hear [...]
http://www.dailyactor.com/2014/07/watch-cast-broadways-holler-hear-perform-california-love-gma/
http://www.dailyactor.com/wp-content/uploads/2014/07/behind-the-scenes-of-dawn-of-the.jpg
Behind the Scenes of 'Dawn of the Planet of the Apes' with Performance Capture Actor Terry Notary
Actor Terry Notary is 1 of 5 actors playing the apes in the new Dawn of the Planet of the Apes. "When you see armies of apes," he says, that's "five of us." Check out the video where you can watch his performance capture work.
http://www.dailyactor.com/2014/07/dawn-planet-apes-performance-capture-actor-terry-notary/