Terrence Howard Reveals That His One-Sided Contract Stopped Him From Starring in 'Iron Man 2′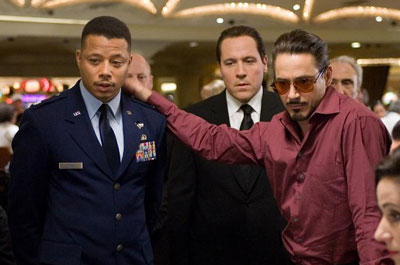 Being that Marvel Comics — which is now owned by Disney — has created an ongoing connected universe of franchises with its Avengers movies, it's become clear now that once you sign up to play a Marvel character your character will potentially pop up in other films.  For example, Robert Downey, Jr. does not only star as Tony Stark in the three Iron Man movies, but he also has appeared as Stark in The Avengers and The Incredible Hulk.  And it's well-known that if the film has anything to do with the Avengers, it's pretty much guaranteed that Samuel L. Jackson's Nick Fury will be showing his face.
However, one actor in particular seemed to have escaped the Avengers franchise — Terrence Howard, who played Stark's friend James "Rhodey" Rhodes in Iron Man, was replaced by Don Cheadle for Iron Man 2 and 3 (which allowed Cheadle to step into the armor of Rhodey's superhero alter ego, War Machine).  There were many rumors about why Howard didn't reprise the role in Iron Man 2, including ones that claimed Howard was the highest-paid actor in Iron Man and that he caused problems on the set.
Naturally, that's not how Howard sees it.  During a recent appearance on the radio show Sway in the Morning, Howard opened up on the issue and revealed, "[I was paid] about $4.5m [for the first film]. The second time, [the studio] said 'We think the movie will be successful with or without you. So, instead of the $8m that we said we were gonna pay you, we're going to let you come back for a million dollars.' We did a three-picture deal already, [but] I forgot, I didn't know it wasn't a mutually binding contract; it was only beneficial for them and they could bring me back or not. They can honor it or not."
He later joked about leave the franchise, and hinted that exiting the series led to attempts by Marvel to ruin his career.  He said, "(The) worst thing I witnessed was Iron Man killing my career. Or trying to. They tried to."
via IndieWire
Latest Videos
http://www.dailyactor.com/wp-content/uploads/2014/07/bill-hader.jpg
Bill Hader: "I kind of fell into acting" (video)
Bill Hader, starring in the soon to be released The Skeleton Twins, talks about the film and how he fell into acting and then got "crazy lucky" in this quick video from USA Today. Share on Tumblr
http://www.dailyactor.com/2014/07/bill-hader-fell-into-acting-video/
http://www.dailyactor.com/wp-content/uploads/2014/07/director-john-carney-narrates-a.jpg
Director John Carney Narrates a Scene from 'Begin Again' Starring Kiera Knightley and Mark Ruffalo
Director John Carney (Once) narrates a scene from his new film, Begin Again. Starring Keira Knightley and Mark Ruffalo, the scene shows the first time the two characters meet. I haven't seen it yet but I've heard it's great.
http://www.dailyactor.com/2014/07/begin-again-scene-director-john-carney-keira-knightley-mark-ruffalo/
http://www.dailyactor.com/wp-content/uploads/2014/07/holler-if-you-hear-me-gma.jpg
Watch the Cast of Broadway's 'Holler If You Hear Me' Perform 'California Love' on GMA
The cast of Broadway's newest musical, Holler If You Hear Me with music from Tupac Shakur, performed on Good Morning America this morning. Singing 'California Love', the cast (including the teriffic Christopher Jackson – read our interview here), show why they're the most energetic and inspiring group of actors on Broadway. Holler If Ya Hear [...]
http://www.dailyactor.com/2014/07/watch-cast-broadways-holler-hear-perform-california-love-gma/
http://www.dailyactor.com/wp-content/uploads/2014/07/behind-the-scenes-of-dawn-of-the.jpg
Behind the Scenes of 'Dawn of the Planet of the Apes' with Performance Capture Actor Terry Notary
Actor Terry Notary is 1 of 5 actors playing the apes in the new Dawn of the Planet of the Apes. "When you see armies of apes," he says, that's "five of us." Check out the video where you can watch his performance capture work.
http://www.dailyactor.com/2014/07/dawn-planet-apes-performance-capture-actor-terry-notary/
http://www.dailyactor.com/wp-content/uploads/2014/07/melissa-mccarthy-daily-show.jpg
Melissa McCarthy and John Stewart Talk About Terrible Commercial Auditions on 'The Daily Show'
Melissa McCarthy stopped by The Daily Show last week to plug about her new movie, Tammy. She talked about how she loved working with her husband, Ben Falcone (director of Tammy) and then segued into talking about some horrible working situations. The always hilarious McCarthy then started to tell host John Stewart about a particular [...]
http://www.dailyactor.com/2014/07/melissa-mccarthy-john-stewart-commercial-auditions-the-daily-show/