Terrence Howard Reveals That His One-Sided Contract Stopped Him From Starring in 'Iron Man 2'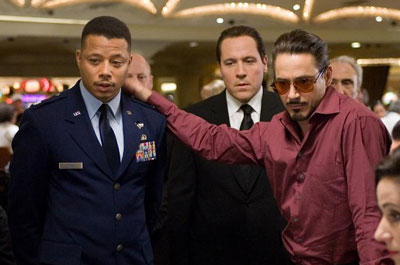 Being that Marvel Comics — which is now owned by Disney — has created an ongoing connected universe of franchises with its Avengers movies, it's become clear now that once you sign up to play a Marvel character your character will potentially pop up in other films.  For example, Robert Downey, Jr. does not only star as Tony Stark in the three Iron Man movies, but he also has appeared as Stark in The Avengers and The Incredible Hulk.  And it's well-known that if the film has anything to do with the Avengers, it's pretty much guaranteed that Samuel L. Jackson's Nick Fury will be showing his face.
However, one actor in particular seemed to have escaped the Avengers franchise — Terrence Howard, who played Stark's friend James "Rhodey" Rhodes in Iron Man, was replaced by Don Cheadle for Iron Man 2 and 3 (which allowed Cheadle to step into the armor of Rhodey's superhero alter ego, War Machine).  There were many rumors about why Howard didn't reprise the role in Iron Man 2, including ones that claimed Howard was the highest-paid actor in Iron Man and that he caused problems on the set.
Naturally, that's not how Howard sees it.  During a recent appearance on the radio show Sway in the Morning, Howard opened up on the issue and revealed, "[I was paid] about $4.5m [for the first film]. The second time, [the studio] said 'We think the movie will be successful with or without you. So, instead of the $8m that we said we were gonna pay you, we're going to let you come back for a million dollars.' We did a three-picture deal already, [but] I forgot, I didn't know it wasn't a mutually binding contract; it was only beneficial for them and they could bring me back or not. They can honor it or not."
He later joked about leave the franchise, and hinted that exiting the series led to attempts by Marvel to ruin his career.  He said, "(The) worst thing I witnessed was Iron Man killing my career. Or trying to. They tried to."
via IndieWire
http://www.dailyactor.com/wp-content/uploads/2016/08/imperium_daniele_radcliffe.jpg
Daniel Radcliffe on Playing a Neo-Nazi in 'Imperium': "It's still just horrible to say some of this stuff"
Radcliffe reveals how he played such a layered character and what it felt like to say his character's hate-filled dialogue.
http://www.dailyactor.com/actors-on-acting/daniel-radcliffe-playing-a-neo-nazi-imperium/
http://www.dailyactor.com/wp-content/uploads/2016/08/John-Cho-Star-Trek-Beyond.jpg
How John Cho Took A Stand for Diversity Early in His Career
"When one does speak one's mind, one might be surprised at how receptive people are." - Actor John Cho
http://www.dailyactor.com/actors-on-acting/john-cho-took-a-stand-for-diversity/
http://www.dailyactor.com/wp-content/uploads/2016/08/simon-helberg-florence-foster-jenkins.jpg
Simon Helberg on His 'Florence Foster Jenkins' Role: "I'm an actor and I want to stretch different muscles"
Helberg spoke about portraying his character in the film and whether or not he feels typecast by his Big Bang Theory role.
http://www.dailyactor.com/actors-on-acting/simon-helberg-florence-foster-jenkins-role/
http://www.dailyactor.com/wp-content/uploads/2016/08/Will-Chase-Something-Rotten.jpg
The Role That Got Away: Will Chase on Returning to 'Something Rotten!'
"I know that I am a poor man's fill-in-the-blank. And I know that there are poor man's Will Chases out there. That's just the nature of the business" - Will Chase
http://www.dailyactor.com/actors-on-acting/will-chase-something-rotten-role-that-got-away/
http://www.dailyactor.com/wp-content/uploads/2016/08/Julia-Stiles-Jason-Bourne.jpg
Julia Stiles on the Jason Bourne Series and Growing as an Actress: "There's always room for improvement"
"I like a director that encourages me to be playful. I don't really like being restricted or controlled by a director." - Julia Stiles
http://www.dailyactor.com/actors-on-acting/julia-stiles-growing-as-an-actress/