After a Nationwide Casting Call, 'Motown the Musical' Finds its Young Michael Jackson and Stevie Wonder
Following a nationwide casting search, Motown the Musical has found its young Michael Jackson and Stevie Wonder.
Raymond Luke Jr. and Jibreel Mawry will be making their Broadway debuts as Jackson, Wonder and also young Berry Gordy. Big shoes to fill!
Bryan Terrell Clark will also make his Broadway debut portraying as Marvin Gaye. Clark is a co-writer on Mary J. Blige's new album "Irreversible," and has performed with such music royalty as Gladys Knight and Patti LaBelle.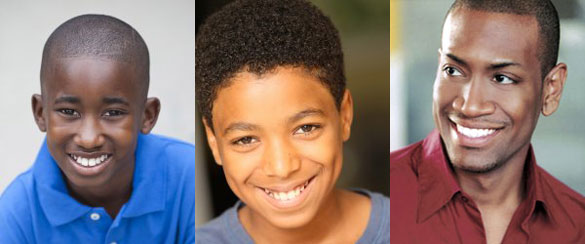 As previously announced, Tony Award® nominee Brandon Victor Dixon (The Color Purple) and Valisia LeKae (The Book of Mormon) will star in the leading roles of Berry Gordy and Diana Ross and Charl Brown (Jersey Boys) will play Smokey Robinson, leading an ensemble cast of 40.
Motown the Musical will begin preview performances March 11 and open on Broadway on April 14, 2013 at The Lunt-Fontanne Theatre (205 West 46 Street).
Directed by Charles Randolph-Wright, the show will feature a book by Berry Gordy and music and lyrics from the legendary Motown catalogue.
The show is the real story of the one-of-a-kind sound that hit the airwaves in 1959 and changed our culture forever. This exhilarating show charts Motown Founder Berry Gordy's incredible journey from featherweight boxer to the heavyweight music mogul who launched the careers of Diana Ross, Michael Jackson, Stevie Wonder, Smokey Robinson, Marvin Gaye, and so many more.  
http://www.dailyactor.com/wp-content/uploads/2015/05/Caitriona-Balfe-Outlander.jpg
Outlander's Caitriona Balfe On The Emotional Toll of Filming Violent Scenes
"Having to put yourself in that place is tough. To sit in that emotional space, especially when you're doing it day after day." - Caitriona Balfe
http://www.dailyactor.com/2015/05/outlander-catriona-balfe-emotional-toll-of-filming-violent-scenes/
http://www.dailyactor.com/wp-content/uploads/2015/05/Chrissie-Fit.jpg
Chrissie Fit on How She Landed Her Role in 'Pitch Perfect 2′
"I remember getting the audition and being like, "This might not happen," just because it is such a massive movie." - Chrissie Fit
http://www.dailyactor.com/2015/05/chrissie-fit-on-how-she-landed-her-role-in-pitch-perfect-2/
http://www.dailyactor.com/wp-content/uploads/2015/05/Sam-Elliott.jpg
Sam Elliot on How he "F–ked" Himself Out of a Career as a Lead Actor
The rugged Sam Elliot has most often cast in character actor roles throughout his long career in film, though the 70 year-old Elliot thinks it wasn't always meant to be that way.
http://www.dailyactor.com/2015/05/sam-elliot-on-how-he-f-ked-himself-out-of-a-career-as-a-lead-actor/
http://www.dailyactor.com/wp-content/uploads/2015/05/Anna-Kendrick-Pitch-Perfect-2.jpg
Anna Kendrick Talks Hollywood and its Gender Bias
"As an actress you're perpetually about to be unemployed." - Anna Kendrick
http://www.dailyactor.com/2015/05/anna-kendrick-talks-hollywood-and-its-gender-bias/
http://www.dailyactor.com/wp-content/uploads/2015/05/tom-hardy-mad-max-fury-road.jpg
Tom Hardy on Fame, Acting School, and His 'Mad Respect' for Michael Fassbender
"Do what you love doing, do it well—everything should fit into place." - Tom Hardy
http://www.dailyactor.com/2015/05/tom-hardy-fame-acting-school-michael-fassbender/