After a Nationwide Casting Call, 'Motown the Musical' Finds its Young Michael Jackson and Stevie Wonder
Following a nationwide casting search, Motown the Musical has found its young Michael Jackson and Stevie Wonder.
Raymond Luke Jr. and Jibreel Mawry will be making their Broadway debuts as Jackson, Wonder and also young Berry Gordy. Big shoes to fill!
Bryan Terrell Clark will also make his Broadway debut portraying as Marvin Gaye. Clark is a co-writer on Mary J. Blige's new album "Irreversible," and has performed with such music royalty as Gladys Knight and Patti LaBelle.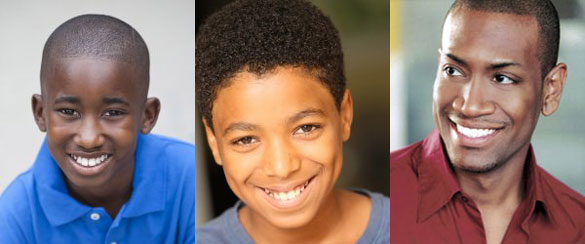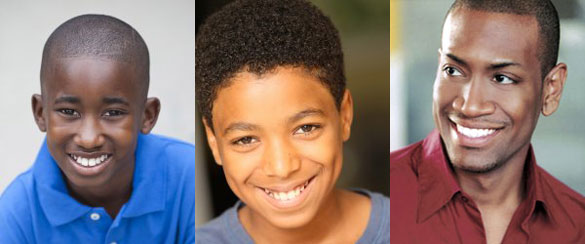 As previously announced, Tony Award® nominee Brandon Victor Dixon (The Color Purple) and Valisia LeKae (The Book of Mormon) will star in the leading roles of Berry Gordy and Diana Ross and Charl Brown (Jersey Boys) will play Smokey Robinson, leading an ensemble cast of 40.
Motown the Musical will begin preview performances March 11 and open on Broadway on April 14, 2013 at The Lunt-Fontanne Theatre (205 West 46 Street).
Directed by Charles Randolph-Wright, the show will feature a book by Berry Gordy and music and lyrics from the legendary Motown catalogue.
The show is the real story of the one-of-a-kind sound that hit the airwaves in 1959 and changed our culture forever. This exhilarating show charts Motown Founder Berry Gordy's incredible journey from featherweight boxer to the heavyweight music mogul who launched the careers of Diana Ross, Michael Jackson, Stevie Wonder, Smokey Robinson, Marvin Gaye, and so many more.  
http://www.dailyactor.com/wp-content/uploads/2016/02/alicia-Vikander-Ex-machina.jpg
Alicia Vikander on the Her First Trip to L.A. and the Acting Tip 'Ex-Machina' Director Alex Garland Gave Her
"You [get immersed in] a film and of course you think that that is it. And then you go away and you read a new script and you have a new crush" - Alicia Vikander
http://www.dailyactor.com/actors-on-acting/alicia-vikanderacting-tip-ex-machina-director-alex-garland-gave-her/
http://www.dailyactor.com/wp-content/uploads/2016/02/Channing-Tatum-Hail-Caesar.jpg
Channing Tatum Talks 'Hail, Caesar!': "I've been beating on the Coens' door for years, man"
"It's the most I've ever prepped for a six-minute section in a movie." - Channing Tatum
http://www.dailyactor.com/actors-on-acting/channing-tatum-hail-caesar-tap-dancing/
http://www.dailyactor.com/wp-content/uploads/2016/01/Isidora-Goreshter-Shameless-audition.jpg
Isidora Goreshter Remembers Her Audition for 'Shameless'
Goreshter recently recalled that her audition for the 'Shameless' was by far her worst ever.
http://www.dailyactor.com/actors-on-acting/isidora-goreshter-audition-for-shameless/
http://www.dailyactor.com/wp-content/uploads/2016/01/Sutton-Foster-Younger.jpg
Sutton Foster: "Sometimes I won't even find a character until I put on the costume"
"I never had grand aspirations to be a movie star, to be famous or to be on TV. The theater was what I wanted." - Sutton Foster
http://www.dailyactor.com/actors-on-acting/sutton-foster-younger-character-costume/
http://www.dailyactor.com/wp-content/uploads/2016/01/Paul-Giamatti-Billions.jpg
Paul Giamatti on Building His Career: "I was always willing to just go, 'OK, sure, I'll do that'"
"I've done everything an actor can do except porn and performing in an amusement park" - Paul Giamatti
http://www.dailyactor.com/actors-on-acting/paul-giamatti-billions-building-an-acting-career/