Matt Damon on Portraying Liberace's Lover in 'Behind the Candelabra'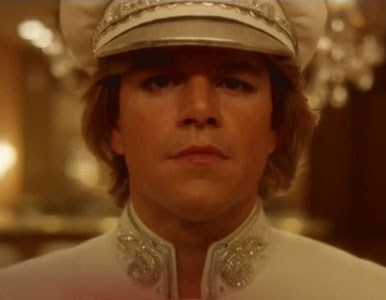 When director Steven Soderbergh begin working on the long-in-development biopic about flamboyant entertainer Liberace, he didn't have to look far for an actor who would play Liberace's lover Scott Thorson.  Soderbergh turned to frequent collaborator Matt Damon to star as Thorson in Behind the Candelabra, based on the titular book by Thorson, opposite Michael Douglas as the world-famous entertainer.  During a press event at the Television Critics Association Winter Tour with Douglas and Damon, Damon talked about getting into such a campy character without portraying him disrespectfully.
One of the things that surprised Damon was how he got into the costuming — something that isn't typical for him — which helped him get into Thorson's mindset.  He explains, "I've always been somebody who goes into the wardrobe fitting and I just try to get out. I try to get out as fast as I can. When they ask me what kind of shoes — at this point — I look for the most comfortable shoes, I look for the most comfortable clothes. I just kind of can't be bothered with it, but this was a very specific thing and I probably spent more time in the wardrobe fittings on this thing than I had, had on the previous 15 projects. Literally days and days and days.  And I really enjoyed it… And also, reading the book that the character that I play wrote — he really was taken with the glamour of this lifestyle. That was one thing that he really — even when writing the book — he talked about how impressed he was and how excited he was to be involved in that kind of thing."
Once he got into character, Damon enjoyed exploring the absurdities of the life Liberace and Thorson shared.  He says, "There are aspects of their relationship that were absurd, but for me it just kind of pointed out that there are aspects of all of our lives that are absurd, they're just not absurd to us because they're our lives. And we [had] fun making it, but… when you've made a lot of movies it's really rare to even see a script this good. It was so complex."
Nevertheless, despite the absurdities Damon didn't want to simply poke fun at the eccentric relationship the two men shared.  He explains, "What it felt like was if this was a relationship between a man and a woman, you'd feel moments like, 'This is too intimate, maybe I shouldn't be here.' But it's between a man and a man and I've never seen that movie before.  So it was fun, but we weren't giggling about it. We took it very seriously. These are people's lives and we wanted to get it right… because we know how rare something like this is."
via Yahoo! News
Latest Videos
http://www.dailyactor.com/wp-content/uploads/2014/07/bill-hader.jpg
Bill Hader: "I kind of fell into acting" (video)
Bill Hader, starring in the soon to be released The Skeleton Twins, talks about the film and how he fell into acting and then got "crazy lucky" in this quick video from USA Today. Share on Tumblr
http://www.dailyactor.com/2014/07/bill-hader-fell-into-acting-video/
http://www.dailyactor.com/wp-content/uploads/2014/07/director-john-carney-narrates-a.jpg
Director John Carney Narrates a Scene from 'Begin Again' Starring Kiera Knightley and Mark Ruffalo
Director John Carney (Once) narrates a scene from his new film, Begin Again. Starring Keira Knightley and Mark Ruffalo, the scene shows the first time the two characters meet. I haven't seen it yet but I've heard it's great.
http://www.dailyactor.com/2014/07/begin-again-scene-director-john-carney-keira-knightley-mark-ruffalo/
http://www.dailyactor.com/wp-content/uploads/2014/07/holler-if-you-hear-me-gma.jpg
Watch the Cast of Broadway's 'Holler If You Hear Me' Perform 'California Love' on GMA
The cast of Broadway's newest musical, Holler If You Hear Me with music from Tupac Shakur, performed on Good Morning America this morning. Singing 'California Love', the cast (including the teriffic Christopher Jackson – read our interview here), show why they're the most energetic and inspiring group of actors on Broadway. Holler If Ya Hear [...]
http://www.dailyactor.com/2014/07/watch-cast-broadways-holler-hear-perform-california-love-gma/
http://www.dailyactor.com/wp-content/uploads/2014/07/behind-the-scenes-of-dawn-of-the.jpg
Behind the Scenes of 'Dawn of the Planet of the Apes' with Performance Capture Actor Terry Notary
Actor Terry Notary is 1 of 5 actors playing the apes in the new Dawn of the Planet of the Apes. "When you see armies of apes," he says, that's "five of us." Check out the video where you can watch his performance capture work.
http://www.dailyactor.com/2014/07/dawn-planet-apes-performance-capture-actor-terry-notary/
http://www.dailyactor.com/wp-content/uploads/2014/07/melissa-mccarthy-daily-show.jpg
Melissa McCarthy and John Stewart Talk About Terrible Commercial Auditions on 'The Daily Show'
Melissa McCarthy stopped by The Daily Show last week to plug about her new movie, Tammy. She talked about how she loved working with her husband, Ben Falcone (director of Tammy) and then segued into talking about some horrible working situations. The always hilarious McCarthy then started to tell host John Stewart about a particular [...]
http://www.dailyactor.com/2014/07/melissa-mccarthy-john-stewart-commercial-auditions-the-daily-show/