Matt Damon on Portraying Liberace's Lover in 'Behind the Candelabra'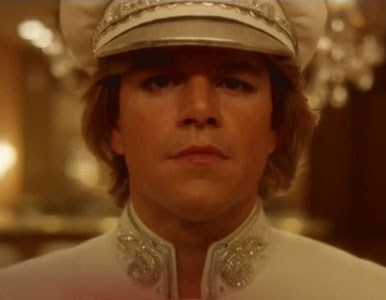 When director Steven Soderbergh begin working on the long-in-development biopic about flamboyant entertainer Liberace, he didn't have to look far for an actor who would play Liberace's lover Scott Thorson.  Soderbergh turned to frequent collaborator Matt Damon to star as Thorson in Behind the Candelabra, based on the titular book by Thorson, opposite Michael Douglas as the world-famous entertainer.  During a press event at the Television Critics Association Winter Tour with Douglas and Damon, Damon talked about getting into such a campy character without portraying him disrespectfully.
One of the things that surprised Damon was how he got into the costuming — something that isn't typical for him — which helped him get into Thorson's mindset.  He explains, "I've always been somebody who goes into the wardrobe fitting and I just try to get out. I try to get out as fast as I can. When they ask me what kind of shoes — at this point — I look for the most comfortable shoes, I look for the most comfortable clothes. I just kind of can't be bothered with it, but this was a very specific thing and I probably spent more time in the wardrobe fittings on this thing than I had, had on the previous 15 projects. Literally days and days and days.  And I really enjoyed it… And also, reading the book that the character that I play wrote — he really was taken with the glamour of this lifestyle. That was one thing that he really — even when writing the book — he talked about how impressed he was and how excited he was to be involved in that kind of thing."
Once he got into character, Damon enjoyed exploring the absurdities of the life Liberace and Thorson shared.  He says, "There are aspects of their relationship that were absurd, but for me it just kind of pointed out that there are aspects of all of our lives that are absurd, they're just not absurd to us because they're our lives. And we [had] fun making it, but… when you've made a lot of movies it's really rare to even see a script this good. It was so complex."
Nevertheless, despite the absurdities Damon didn't want to simply poke fun at the eccentric relationship the two men shared.  He explains, "What it felt like was if this was a relationship between a man and a woman, you'd feel moments like, 'This is too intimate, maybe I shouldn't be here.' But it's between a man and a man and I've never seen that movie before.  So it was fun, but we weren't giggling about it. We took it very seriously. These are people's lives and we wanted to get it right… because we know how rare something like this is."
via Yahoo! News
http://www.dailyactor.com/wp-content/uploads/2015/01/watch-al-pacino-talks-the-humbli.jpg
Watch: Al Pacino Talks 'The Humbling' and His Extraordinary Career
In this conversation with Al Pacino talks about his role in The Humbling -- including working with Greta Gerwig -- and his historic acting career
http://www.dailyactor.com/2015/01/watch-al-pacino-extraordinary-career/
http://www.dailyactor.com/wp-content/uploads/2015/01/watch-oscar-nominee-steve-carell.jpg
Watch: Oscar Nominee Steve Carell Talks Improv, Auditioning for 'The Office' and 'Foxcatcher'
Carell talks about his entire career as an actor, including his background in improv, how he landed the Michael Scott role on The Office, and Foxcatcher
http://www.dailyactor.com/2015/01/oscar-nominee-steve-carell-improv-auditioning-for-the-office-foxcatcher/
http://www.dailyactor.com/wp-content/uploads/2015/01/ethan-hawke-ellar-coltrane-boyhood.jpg
Ethan Hawke Calls 'Boyhood' the "most special endeavor of my life"
Ethan Hawke is riding high with his fourth Oscar nomination for the Richard Linklater-directed Boyhood. In a recent "Ask Me Anything" on Reddit, the 44-year-old actor gave some thoughtful insight into his career and the 12-year creative endeavor that became the biggest film of the Oscar season. When asked what was the most difficult thing about […]
http://www.dailyactor.com/2015/01/ethan-hawke-boyhood-reddit-amaife/
http://www.dailyactor.com/wp-content/uploads/2015/01/martha-plimpton-a-delicate-balance.jpg
Martha Plimpton Takes a Refreshing Approach to a Long-Lasting Career
Martha Plimpton is an actress who enjoys the work, she's not in it for the fame. The proof is in her continually excellent work that she is doing on-screen and on the stage. She's currently starring in A Delicate Balance on Broadway. It's the audience who gives her the ultimate thrill. "I try to get […]
http://www.dailyactor.com/2015/01/martha-plimpton-long-lasting-career/
http://www.dailyactor.com/wp-content/uploads/2015/01/watch-michael-keaton-talks-candi.jpg
Watch: Michael Keaton Talks Candidly About His Career and His Approach to Acting in 'Birdman'
In this nearly 90 minute conversation, Michael Keaton is his usual affable self but is also remarkably candid about his career and his approach to acting.
http://www.dailyactor.com/2015/01/michael-keaton-career-approach-to-acting-birdman/