'Evita' Closes on Broadway Without Turning a Profit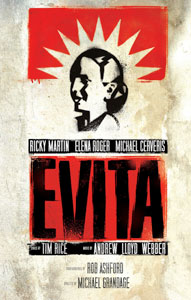 Even though Evita — starring Ricky Martin and Elena Roger — was the top-selling show of the 2012 Broadway season, it closed on Saturday.  Why?  Looking at the show's expenses tells a similar story to other large revival musical productions with big-name stars: there is a very small margin of profit.
The original 1979 Broadway production, which starred Patti LuPone and Mandy Patinkin, ran for almost four years.  In contrast, this revival ran just under a year (46 weeks).  It would have taken at least 63 weeks for the production to break even, though it would have likely taken longer because of declining sales.  Sales were expected to decline even further when Martin opted not to renew his expiring one-year contract and a performer of similar drawing power could not be found.
Even though the show averaged about $1.03 million per week in ticket sales grosses, it still could not recoup investors $9.6 million investment.  That's because the weekly expenses of the production were about $880,000.  Many of these expenses are attributed to the fact that since Evita was a revival, money was owed to the creators of the musical.   These expenses included significant payments to composer Andrew Lloyd Webber's Really Useful Group, which received fees and royalties of about $70,000 a week in addition to an upfront payment of $100,000 (part of the royalty money went to lyricist Tim Rice).  Really Useful also received 15% of merchandise sales. 
Star salaries also were a significant chunk of the weekly costs.  While Martin's base salary has not been disclosed, he received ten percent of the weekly box office whenever it topped $700,000.  That was in addition of the $170,000 per week that the five main cast members received, not counting perquisites.  As a result, the production needed to gross $1.18 million per week for a year to break even — and while it was close, it was not close enough, and likely wouldn't be moving forward without Martin.
So Evita stands as another example of a Broadway revival that didn't turn a profit despite casting a popular (and expensive) lead actor.  It's curious that while sometimes "stunt casting" works for Broadway productions, other times it does not.  Producers will have to continue asking themselves if the investment will bear out.
via Bloomberg
Latest Videos
http://www.dailyactor.com/wp-content/uploads/2014/07/sir-ben-kingsley-talks-about-the.jpg
Sir Ben Kingsley Talks about the Unique Way He Voiced His Character in the Animated Film, 'The Boxtrolls' (video)
I could listen to Sir Ben Kingsley talk about acting and.. well, I could listen to him talk about anything. He's starring in the new Laika stop-motion animated film, The Boxtrolls, and he and some of the cast (along with the director) joined in on a Comic-Con panel about the film. The Boxtrolls is about [...]
http://www.dailyactor.com/2014/07/sir-ben-kingsley-the-boxtrolls-comic-con/
http://www.dailyactor.com/wp-content/uploads/2014/07/bill-hader.jpg
Bill Hader: "I kind of fell into acting" (video)
Bill Hader, starring in the soon to be released The Skeleton Twins, talks about the film and how he fell into acting and then got "crazy lucky" in this quick video from USA Today.
http://www.dailyactor.com/2014/07/bill-hader-fell-into-acting-video/
http://www.dailyactor.com/wp-content/uploads/2014/07/director-john-carney-narrates-a.jpg
Director John Carney Narrates a Scene from 'Begin Again' Starring Kiera Knightley and Mark Ruffalo
Director John Carney (Once) narrates a scene from his new film, Begin Again. Starring Keira Knightley and Mark Ruffalo, the scene shows the first time the two characters meet. I haven't seen it yet but I've heard it's great.
http://www.dailyactor.com/2014/07/begin-again-scene-director-john-carney-keira-knightley-mark-ruffalo/
http://www.dailyactor.com/wp-content/uploads/2014/07/holler-if-you-hear-me-gma.jpg
Watch the Cast of Broadway's 'Holler If You Hear Me' Perform 'California Love' on GMA
The cast of Broadway's newest musical, Holler If You Hear Me with music from Tupac Shakur, performed on Good Morning America this morning. Singing 'California Love', the cast (including the teriffic Christopher Jackson – read our interview here), show why they're the most energetic and inspiring group of actors on Broadway. Holler If Ya Hear [...]
http://www.dailyactor.com/2014/07/watch-cast-broadways-holler-hear-perform-california-love-gma/
http://www.dailyactor.com/wp-content/uploads/2014/07/behind-the-scenes-of-dawn-of-the.jpg
Behind the Scenes of 'Dawn of the Planet of the Apes' with Performance Capture Actor Terry Notary
Actor Terry Notary is 1 of 5 actors playing the apes in the new Dawn of the Planet of the Apes. "When you see armies of apes," he says, that's "five of us." Check out the video where you can watch his performance capture work.
http://www.dailyactor.com/2014/07/dawn-planet-apes-performance-capture-actor-terry-notary/