John Krasinski on Co-Writing 'Promised Land' with Matt Damon and the End of 'The Office'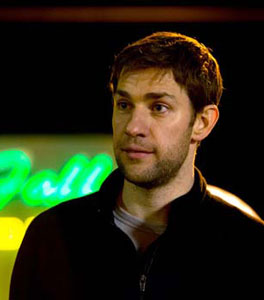 Though it'll be difficult, if not impossible, for John Krasinski to shake off the public perception of him as Jim from The Office (plus he'll have to get used to not mugging for a camera), Krasinski is certainly giving it a try as The Office wraps up its final season.  He not only stars with Matt Damon in the movie Promised Land, but he co-wrote the script with Damon.  He talks about how that project came together with USA Today and also touches on what the end of The Office means to him.
Krasinski explains that the pairing between him and Damon happened after the two met while Krasinski's wife, Emily Blunt, was starring with Damon in The Adjustment Bureau.  He says, "Matt was working on The Adjustment Bureau with Emily. We got to know each other and quickly became good friends. We did a whole lot of double-dating with Matt and (his wife) Lucy and we got along really well. Matt had mentioned that he wanted to direct and asked me if I was working on anything. I told him about this. And we started writing pretty much right away."
Though Promised Land shot during a break Krasinski had from The Office, soon he will not have that issue because the long-running NBC series will end this coming spring.  Naturally, Krasinski is reflecting on the effect the show has had on his career but also looking forward.  He says, "The majority of my adult life and the entirety of my career is coming to an end, in one respect. It feels like a daunting precipice. So I'm just really glad we got a chance to do [Promised Land]. I hope to just be working on quality stuff. My time on The Office has been everything. I was a waiter before. This is the show that's given me everything. To me, it's about continuing the level of quality and taking some chances."
Latest Videos
http://www.dailyactor.com/wp-content/uploads/2014/08/seth-rudetsky-reveals-the-5-wors.jpg
Seth Rudetsky Reveals the 5 Worst Musical Theater Audition Mistakes (video)
Seth Rudetsky, actor, musician and a host on SiriusXM's Broadway channel, has been teaching auditioning master classes this summer and he's seen his share of bad auditions lately. In this video, he reveals the 5 worst audition mistakes you can make in a musical theater audition and how to choose the perfect 16-bar audition song. [...]
http://www.dailyactor.com/2014/08/seth-rudetsky-5-worst-audition-mistakes/
http://www.dailyactor.com/wp-content/uploads/2014/07/sir-ben-kingsley-talks-about-the.jpg
Sir Ben Kingsley Talks about the Unique Way He Voiced His Character in the Animated Film, 'The Boxtrolls' (video)
I could listen to Sir Ben Kingsley talk about acting and.. well, I could listen to him talk about anything. He's starring in the new Laika stop-motion animated film, The Boxtrolls, and he and some of the cast (along with the director) joined in on a Comic-Con panel about the film. The Boxtrolls is about [...]
http://www.dailyactor.com/2014/07/sir-ben-kingsley-the-boxtrolls-comic-con/
http://www.dailyactor.com/wp-content/uploads/2014/07/bill-hader.jpg
Bill Hader: "I kind of fell into acting" (video)
Bill Hader, starring in the soon to be released The Skeleton Twins, talks about the film and how he fell into acting and then got "crazy lucky" in this quick video from USA Today.
http://www.dailyactor.com/2014/07/bill-hader-fell-into-acting-video/
http://www.dailyactor.com/wp-content/uploads/2014/07/director-john-carney-narrates-a.jpg
Director John Carney Narrates a Scene from 'Begin Again' Starring Kiera Knightley and Mark Ruffalo
Director John Carney (Once) narrates a scene from his new film, Begin Again. Starring Keira Knightley and Mark Ruffalo, the scene shows the first time the two characters meet. I haven't seen it yet but I've heard it's great.
http://www.dailyactor.com/2014/07/begin-again-scene-director-john-carney-keira-knightley-mark-ruffalo/
http://www.dailyactor.com/wp-content/uploads/2014/07/holler-if-you-hear-me-gma.jpg
Watch the Cast of Broadway's 'Holler If You Hear Me' Perform 'California Love' on GMA
The cast of Broadway's newest musical, Holler If You Hear Me with music from Tupac Shakur, performed on Good Morning America this morning. Singing 'California Love', the cast (including the teriffic Christopher Jackson – read our interview here), show why they're the most energetic and inspiring group of actors on Broadway. Holler If Ya Hear [...]
http://www.dailyactor.com/2014/07/watch-cast-broadways-holler-hear-perform-california-love-gma/