'Up All Night' Going on Hiatus to Convert to Multicamera Format with Live Studio Audience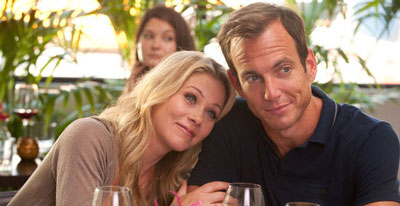 For most television shows a major change is adding or cutting a primary character.  Most television shows don't make a major production change in format, especially in the way the show is shot.  But NBC's Up All Night, which stars Christina Applegate and Will Arnett, is making a rare switch from its current single camera format to a multicamera format.
Next week Up All Night will shoot its final single camera episode on a closed set then shut down for three months as it converts to multicamera production.  Production will pick up again in February to shoot five additional episodes in multicamera episodes in front of a live studio audience.  The new episodes will air in the spring, meaning NBC now has a hole in its prime time schedule for a few months in 2013. 
NBC is likely hoping that the new format will "infuse the show with more energy," or, in other words, jumpstart the show's ratings, which haven't set the world on fire since the show debuted last season.  Series creator Emily Spivey is a veteran of Saturday Night Live and showrunner Tucker Cawley of Everybody Loves Raymond, so NBC feels comfortable making the switch.
While the move is rare, it isn't unprecedented: most famously, Happy Days permanently went from a single camera format with a laugh track to multicamera format with its third season.  The beloved sitcom eventually ran for eleven seasons and had several multicamera format sitcom spinoffs.  So yeah, the switch does have possibilities, but does Up All Night have the Fonz?
via Yahoo! News
Latest Videos
http://www.dailyactor.com/wp-content/uploads/2014/07/bill-hader.jpg
Bill Hader: "I kind of fell into acting" (video)
Bill Hader, starring in the soon to be released The Skeleton Twins, talks about the film and how he fell into acting and then got "crazy lucky" in this quick video from USA Today. Share on Tumblr
http://www.dailyactor.com/2014/07/bill-hader-fell-into-acting-video/
http://www.dailyactor.com/wp-content/uploads/2014/07/director-john-carney-narrates-a.jpg
Director John Carney Narrates a Scene from 'Begin Again' Starring Kiera Knightley and Mark Ruffalo
Director John Carney (Once) narrates a scene from his new film, Begin Again. Starring Keira Knightley and Mark Ruffalo, the scene shows the first time the two characters meet. I haven't seen it yet but I've heard it's great.
http://www.dailyactor.com/2014/07/begin-again-scene-director-john-carney-keira-knightley-mark-ruffalo/
http://www.dailyactor.com/wp-content/uploads/2014/07/holler-if-you-hear-me-gma.jpg
Watch the Cast of Broadway's 'Holler If You Hear Me' Perform 'California Love' on GMA
The cast of Broadway's newest musical, Holler If You Hear Me with music from Tupac Shakur, performed on Good Morning America this morning. Singing 'California Love', the cast (including the teriffic Christopher Jackson – read our interview here), show why they're the most energetic and inspiring group of actors on Broadway. Holler If Ya Hear [...]
http://www.dailyactor.com/2014/07/watch-cast-broadways-holler-hear-perform-california-love-gma/
http://www.dailyactor.com/wp-content/uploads/2014/07/behind-the-scenes-of-dawn-of-the.jpg
Behind the Scenes of 'Dawn of the Planet of the Apes' with Performance Capture Actor Terry Notary
Actor Terry Notary is 1 of 5 actors playing the apes in the new Dawn of the Planet of the Apes. "When you see armies of apes," he says, that's "five of us." Check out the video where you can watch his performance capture work.
http://www.dailyactor.com/2014/07/dawn-planet-apes-performance-capture-actor-terry-notary/
http://www.dailyactor.com/wp-content/uploads/2014/07/melissa-mccarthy-daily-show.jpg
Melissa McCarthy and John Stewart Talk About Terrible Commercial Auditions on 'The Daily Show'
Melissa McCarthy stopped by The Daily Show last week to plug about her new movie, Tammy. She talked about how she loved working with her husband, Ben Falcone (director of Tammy) and then segued into talking about some horrible working situations. The always hilarious McCarthy then started to tell host John Stewart about a particular [...]
http://www.dailyactor.com/2014/07/melissa-mccarthy-john-stewart-commercial-auditions-the-daily-show/