'Up All Night' Going on Hiatus to Convert to Multicamera Format with Live Studio Audience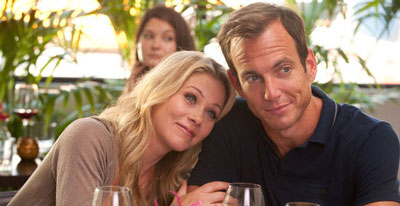 For most television shows a major change is adding or cutting a primary character.  Most television shows don't make a major production change in format, especially in the way the show is shot.  But NBC's Up All Night, which stars Christina Applegate and Will Arnett, is making a rare switch from its current single camera format to a multicamera format.
Next week Up All Night will shoot its final single camera episode on a closed set then shut down for three months as it converts to multicamera production.  Production will pick up again in February to shoot five additional episodes in multicamera episodes in front of a live studio audience.  The new episodes will air in the spring, meaning NBC now has a hole in its prime time schedule for a few months in 2013. 
NBC is likely hoping that the new format will "infuse the show with more energy," or, in other words, jumpstart the show's ratings, which haven't set the world on fire since the show debuted last season.  Series creator Emily Spivey is a veteran of Saturday Night Live and showrunner Tucker Cawley of Everybody Loves Raymond, so NBC feels comfortable making the switch.
While the move is rare, it isn't unprecedented: most famously, Happy Days permanently went from a single camera format with a laugh track to multicamera format with its third season.  The beloved sitcom eventually ran for eleven seasons and had several multicamera format sitcom spinoffs.  So yeah, the switch does have possibilities, but does Up All Night have the Fonz?
via Yahoo! News
http://www.dailyactor.com/wp-content/uploads/2016/05/Chris-Evans-Captain-America.jpg
Chris Evans on the Challenges of Being Captain America Outside of Acting
"It's part of the job, I've got to sell this thing. But it's just a gross feeling. It makes me insecure."
http://www.dailyactor.com/actors-on-acting/chris-evans-challenges-of-being-captain-america/
http://www.dailyactor.com/wp-content/uploads/2016/04/julia-louis-dreyfus-veep.jpg
Julia Louis-Dreyfus: "Opportunity for women in television has increased. It's because the landscape has widened"
"I did not come out of SNL as any kind of name. I didn't do anything particularly great when I was there. I didn't. It's fine. But I learned a tremendous amount."
http://www.dailyactor.com/actors-on-acting/julia-louis-dreyfus/
http://www.dailyactor.com/wp-content/uploads/2016/04/Tituss-Burgess-Unbreakable-Kimmy-Schmidt.jpg
Tituss Burgess on How He Landed His 'Unbreakable Kimmy Schmidt' Role
Burgess reveals how his role on 30 Rock led to 'Kimmy Schmidt' and whether or not he'd consider returning to Broadway.
http://www.dailyactor.com/actors-on-acting/tituss-burgess-unbreakable-kimmy-schmidt-role/
http://www.dailyactor.com/wp-content/uploads/2016/04/Christine-Baranski-The-Good-Wife.jpg
Christine Baranski on the End of 'The Good Wife' and Going Back to Theatre
The final episode of The Good Wife airs on May 8, and it's been several weeks since series star Christine Baranski shot the final episode with her co-stars. She spoke to The Hollywood Reporter about the end of the series she has spent the last seven years working on and what she plans to do […]
http://www.dailyactor.com/actors-on-acting/christine-baranski-the-good-wife-theatre/
http://www.dailyactor.com/wp-content/uploads/2016/04/jake-gyllenhaal-demolition.jpg
Jake Gyllenhaal on 'Demolition', Working with Chris Cooper and Directors Who Want Nothing to Do With Him
"I think storytelling is the most important part of movie-making over performance." - Jake Gyllenhaal
http://www.dailyactor.com/actors-on-acting/jake-gyllenhaal-demolition-chris-cooper/