Michael C. Hall on 'Dexter' and the Starring in the Web-Series, 'Ruth and Erica'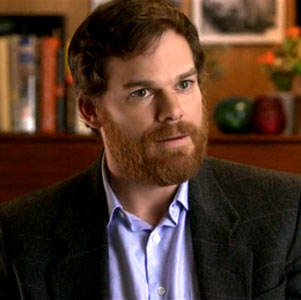 Michael C. Hall is taking a little break from playing homicidal Dexter Morgan on Showtime's Dexter.  The Golden Globe winner is currently starring in the Web series, Ruth and Erica, as Maura Tierney's ex-drug addict boyfriend and the actor says that he can see many benefits of forgoing hour-long dramas for YouTube storytelling.
"The format is unique and you can tell the story in much briefer sketches than in series TV," he told Yahoo! News.  "Each one is just five to seven minutes long, and I did three of them.  And then there's the amazing cast, the fact that it won't take over your life for five or more years if it's successful like a network show, and the writing [by Party of Five's Amy Lippman] was so strong and compelling."
However, Hall still found shooting an Internet show to be similar to making Dexter.  "It's pretty much the same process and we moved at a comparable pace—but with a smaller crew," he said.  "I'd definitely do it again. And after playing someone as remarkably capable as Dexter, it's nice to play someone who's anything but."
Hall was asked how it was decided his character should wear a beard.  "I just happened to have one when they called me about this, and Amy and I just decided it really fit the character," he said.
The actor has also been enjoying season seven of Dexter, since Dexter's sister learned he is a killer.  "It really has [energized the show], and we all feel so excited about it now the playing field has fundamentally changed," Hall said.  "All the relationships have also changed as a result, and to have that happen this late in a series is almost unheard of."
Dexter airs on Showtime, Sundays at 9 p.m., and Ruth and Erica is on WIGS on YouTube.
http://www.dailyactor.com/wp-content/uploads/2015/05/Caitriona-Balfe-Outlander.jpg
Outlander's Caitriona Balfe On The Emotional Toll of Filming Violent Scenes
"Having to put yourself in that place is tough. To sit in that emotional space, especially when you're doing it day after day." - Caitriona Balfe
http://www.dailyactor.com/2015/05/outlander-catriona-balfe-emotional-toll-of-filming-violent-scenes/
http://www.dailyactor.com/wp-content/uploads/2015/05/Chrissie-Fit.jpg
Chrissie Fit on How She Landed Her Role in 'Pitch Perfect 2′
"I remember getting the audition and being like, "This might not happen," just because it is such a massive movie." - Chrissie Fit
http://www.dailyactor.com/2015/05/chrissie-fit-on-how-she-landed-her-role-in-pitch-perfect-2/
http://www.dailyactor.com/wp-content/uploads/2015/05/Sam-Elliott.jpg
Sam Elliot on How he "F–ked" Himself Out of a Career as a Lead Actor
The rugged Sam Elliot has most often cast in character actor roles throughout his long career in film, though the 70 year-old Elliot thinks it wasn't always meant to be that way.
http://www.dailyactor.com/2015/05/sam-elliot-on-how-he-f-ked-himself-out-of-a-career-as-a-lead-actor/
http://www.dailyactor.com/wp-content/uploads/2015/05/Anna-Kendrick-Pitch-Perfect-2.jpg
Anna Kendrick Talks Hollywood and its Gender Bias
"As an actress you're perpetually about to be unemployed." - Anna Kendrick
http://www.dailyactor.com/2015/05/anna-kendrick-talks-hollywood-and-its-gender-bias/
http://www.dailyactor.com/wp-content/uploads/2015/05/tom-hardy-mad-max-fury-road.jpg
Tom Hardy on Fame, Acting School, and His 'Mad Respect' for Michael Fassbender
"Do what you love doing, do it well—everything should fit into place." - Tom Hardy
http://www.dailyactor.com/2015/05/tom-hardy-fame-acting-school-michael-fassbender/