GLAAD Reports Record Number of LGBT Characters on U.S. Television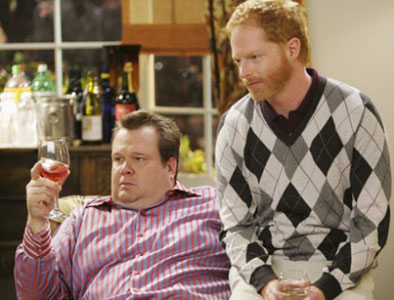 In major news that proves that television programming is more diversified than ever, gay rights group GLAAD is reporting that the current television season has a record number of gay, bisexual and transgender characters among its shows.  New shows like Partners, The New Normal and Go On and older shows like Modern Family bring the total number of LGBT characters on television to 111. 
The 31 LGBT characters on the five major networks amount to the highest percentage (4.4%) in the eight years GLAAD has counted of LGBT characters on network television a significant rise from last year's percentage (2.9%).  Of network shows, Fox's Glee is considered the most inclusive while True Blood is considered cable's most inclusive for their total respective amounts of LGBT characters.
On the increase, GLAAD President Herndon Graddick said in a statement, "More and more Americans have come to accept their LGBT family members, friends, coworkers, and peers, and as audiences tune into their favorite programs, they expect to see the same diversity of people they encounter in their daily lives."
Of course, it's important to note that the number of LGBT characters doesn't correspond to quality of characterization.  "Token" characters are counted along with the totals, so characters that might be considered stereotypes by members of the LGBT might not be a cause of celebration.  Regardless, it's clear that television audiences are demonstrating a more open acceptance of LGBT characters, opening television to a greater array of storytelling possibilities with compelling characters with different lifestyles.
via Yahoo!
Latest Videos
http://www.dailyactor.com/wp-content/uploads/2014/07/bill-hader.jpg
Bill Hader: "I kind of fell into acting" (video)
Bill Hader, starring in the soon to be released The Skeleton Twins, talks about the film and how he fell into acting and then got "crazy lucky" in this quick video from USA Today. Share on Tumblr
http://www.dailyactor.com/2014/07/bill-hader-fell-into-acting-video/
http://www.dailyactor.com/wp-content/uploads/2014/07/director-john-carney-narrates-a.jpg
Director John Carney Narrates a Scene from 'Begin Again' Starring Kiera Knightley and Mark Ruffalo
Director John Carney (Once) narrates a scene from his new film, Begin Again. Starring Keira Knightley and Mark Ruffalo, the scene shows the first time the two characters meet. I haven't seen it yet but I've heard it's great.
http://www.dailyactor.com/2014/07/begin-again-scene-director-john-carney-keira-knightley-mark-ruffalo/
http://www.dailyactor.com/wp-content/uploads/2014/07/holler-if-you-hear-me-gma.jpg
Watch the Cast of Broadway's 'Holler If You Hear Me' Perform 'California Love' on GMA
The cast of Broadway's newest musical, Holler If You Hear Me with music from Tupac Shakur, performed on Good Morning America this morning. Singing 'California Love', the cast (including the teriffic Christopher Jackson – read our interview here), show why they're the most energetic and inspiring group of actors on Broadway. Holler If Ya Hear [...]
http://www.dailyactor.com/2014/07/watch-cast-broadways-holler-hear-perform-california-love-gma/
http://www.dailyactor.com/wp-content/uploads/2014/07/behind-the-scenes-of-dawn-of-the.jpg
Behind the Scenes of 'Dawn of the Planet of the Apes' with Performance Capture Actor Terry Notary
Actor Terry Notary is 1 of 5 actors playing the apes in the new Dawn of the Planet of the Apes. "When you see armies of apes," he says, that's "five of us." Check out the video where you can watch his performance capture work.
http://www.dailyactor.com/2014/07/dawn-planet-apes-performance-capture-actor-terry-notary/
http://www.dailyactor.com/wp-content/uploads/2014/07/melissa-mccarthy-daily-show.jpg
Melissa McCarthy and John Stewart Talk About Terrible Commercial Auditions on 'The Daily Show'
Melissa McCarthy stopped by The Daily Show last week to plug about her new movie, Tammy. She talked about how she loved working with her husband, Ben Falcone (director of Tammy) and then segued into talking about some horrible working situations. The always hilarious McCarthy then started to tell host John Stewart about a particular [...]
http://www.dailyactor.com/2014/07/melissa-mccarthy-john-stewart-commercial-auditions-the-daily-show/