GLAAD Reports Record Number of LGBT Characters on U.S. Television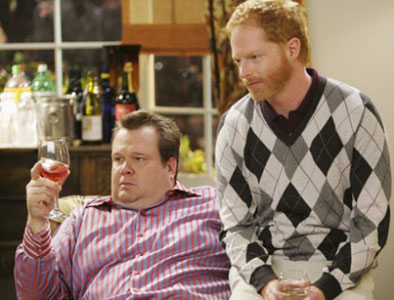 In major news that proves that television programming is more diversified than ever, gay rights group GLAAD is reporting that the current television season has a record number of gay, bisexual and transgender characters among its shows.  New shows like Partners, The New Normal and Go On and older shows like Modern Family bring the total number of LGBT characters on television to 111. 
The 31 LGBT characters on the five major networks amount to the highest percentage (4.4%) in the eight years GLAAD has counted of LGBT characters on network television a significant rise from last year's percentage (2.9%).  Of network shows, Fox's Glee is considered the most inclusive while True Blood is considered cable's most inclusive for their total respective amounts of LGBT characters.
On the increase, GLAAD President Herndon Graddick said in a statement, "More and more Americans have come to accept their LGBT family members, friends, coworkers, and peers, and as audiences tune into their favorite programs, they expect to see the same diversity of people they encounter in their daily lives."
Of course, it's important to note that the number of LGBT characters doesn't correspond to quality of characterization.  "Token" characters are counted along with the totals, so characters that might be considered stereotypes by members of the LGBT might not be a cause of celebration.  Regardless, it's clear that television audiences are demonstrating a more open acceptance of LGBT characters, opening television to a greater array of storytelling possibilities with compelling characters with different lifestyles.
via Yahoo!
http://www.dailyactor.com/wp-content/uploads/2016/06/jeff-bridges-hell-or-high-water.jpg
Jeff Bridges on Creating a Character, 'Hell or High Water' and Playing The Dude
"I use elements of myself—I see my parallels with a character—and find similar things in my own personality." - Jeff Bridges on Creating a Character
http://www.dailyactor.com/film/jeff-bridges-creating-a-character/
http://www.dailyactor.com/wp-content/uploads/2016/07/benjamin-bratt-actor.jpg
Benjamin Bratt: "For as limiting as the opportunities are for actors and actresses of color I've been very blessed"
"...it's dangerous to keep going down the same artistic path." - Benjamin Bratt
http://www.dailyactor.com/film/benjamin-bratt-ive-been-very-blessed/
http://www.dailyactor.com/wp-content/uploads/2016/07/watch-keegan-michael-key-explain.jpg
Watch: Keegan-Michael Key Explains Why "Improv actors are at war together"
Check out Key's points on why it's so important for improv actors to have each others' backs in the clip above.
http://www.dailyactor.com/videos/keegan-michael-key-improv-actors-at-war-together/
http://www.dailyactor.com/wp-content/uploads/2016/07/norman-reedus-actor.jpg
Norman Reedus on Acting: "If it's something you really want, you have to roll with the rejection"
Norman Reedus is a fan-favorite star on The Walking Dead and was in the cult favorite film The Boondock Saints. However, in the dozen years between those two gigs Reedus had experienced ups and downs in his career and in many cases he was cast in very small roles in big movies or lead roles […]
http://www.dailyactor.com/actors-on-acting/norman-reedus-acting-rejection/
http://www.dailyactor.com/wp-content/uploads/2016/07/frank-grillo.jpg
Frank Grillo on Being Typecast: "I welcome it"
"I hear actors pooh-pooh the idea... people might see them as a certain thing. I welcome it" - Frank Grillo on Typecasting
http://www.dailyactor.com/film/frank-grillo-on-typecasting/