Biography: Annette Bening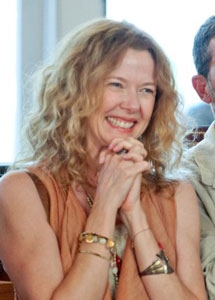 Two-time Golden Globe-winner Annette Bening was most recently seen in Focus Features' critical and commercial sensation The Kids Are All Right, in which she played opposite Julianne Moore and Mark Ruffalo. Her role as Nic earned her a Golden Globe and New York Film Critics Circle award, and Oscar, Screen Actors Guild, Critics Choice, and Independent Spirit nominations in the "Best Actress" category.
In 2010, Annette also starred in Sony Pictures Classics' Mother and Child for writer-director Rodrigo Garcia co-starring Naomi Watts. In 2008, she was seen on the big screen in writer-director Diane English's remake of The Women, starring alongside Meg Ryan, Eva Mendes and Jada Pinkett-Smith. Prior to that, She starred in the 2006 film Running With Scissors for which she was nominated for a Golden Globe Award.
Annette was Julia Lambert in Being Julia for Sony Pictures Classics, the role that earned the actress her third Oscar nomination. For that performance, she was also named the National Board of Review's "Best Actress," won the Golden Globe award for "Best Actress in a Motion Picture – Musical/Comedy," and received a SAG nomination for "Best Actress." She also starred in Mrs. Harris with Ben Kingsley for HBO, earning an Emmy, SAG, and Golden Globe nomination.
An award-winning stage actress, Annette has spent much of her time in front of the movie camera. She starred in the critically acclaimed film American Beauty, for which she received both an Academy Award nomination and a Golden Globe nomination for "Best Actress/Drama". Her performance in the film earned her a Screen Actors Guild Award and the BAFTA (British Academy) Award. Her other film credits include Neil Jordan's In Dreams, and The Siege, opposite Denzel Washington and Bruce Willis.
Annette has been honored at the Deauville, Boston, Palm Springs and Chicago Film Festivals with Lifetime Achievement Awards, as well as receiving the Donostia Prize at the San Sebastian International Film Festival. Most recently, Annette was honored with the "Actress of the Year" award at the Hollywood Film Festival and the American Riviera Award at this year's Santa Barbara Film Festival.
She received her first Academy Award nomination and was named "Best Supporting Actress" by the National Board of Review for her role in The Grifters. She also received a Golden Globe nomination for "Best Actress/Musical or Comedy" for her starring role in Rob Reiner's The American President, opposite Michael Douglas. Bening also had supporting roles in Tim Burton's Mars Attacks!, and in Sir Ian McKellen's film adaptation of Shakespeare's Richard III.
Her other film credits include: Love Affair with Warren Beatty; Barry Levinson's Bugsy, also opposite Beatty, for which she received a Golden Globe nomination for "Best Actress"; Regarding Henry with Harrison Ford and directed by Mike Nichols; Guilty By Suspicion, opposite Robert De Niro; Milos Forman's Valmont; and Postcards From The Edge. Bening made her feature film debut in the comedy The Great Outdoors, with Dan Aykroyd and the late John Candy.
Annette's theater credits include the Anton Chekhov play The Cherry Orchard at Los Angeles' Mark Taper Forum in 2006, and Alan Bennett's Talking Heads, at the Tiffany Theater in Los Angeles. She also played the title role in Henrik Ibsen's Hedda Gabler in March 1999 at Los Angeles' Geffen Playhouse. She has appeared on stage in Medea at UCLA, and in The Female of the Species, also at the Geffen Playhouse.
Born in Topeka, Kansas and raised in San Diego, Bening was enrolled at a local college when she got a job as a dancer in a pre-show presented outside of San Diego's famed Old Globe Theater. This led to a walk-on in a Shakespearean production and two plays with the San Diego Repertory Theater.
Annette graduated from San Francisco State University and was accepted by the American Conservatory Theater in San Francisco, where she trained until she joined the acting company. She also appeared in both summer Shakespearean festivals and regional productions until her career took her to New York. There, Annette received both a Tony® Award nomination and won the Clarence Derwent Award for most outstanding debut performance of the season for her role in Coastal Disturbances, originally at the Second Stage, then on Broadway.
Latest Videos
http://www.dailyactor.com/wp-content/uploads/2014/08/seth-rudetsky-reveals-the-5-wors.jpg
Seth Rudetsky Reveals the 5 Worst Musical Theater Audition Mistakes (video)
Seth Rudetsky, actor, musician and a host on SiriusXM's Broadway channel, has been teaching auditioning master classes this summer and he's seen his share of bad auditions lately. In this video, he reveals the 5 worst audition mistakes you can make in a musical theater audition and how to choose the perfect 16-bar audition song. [...]
http://www.dailyactor.com/2014/08/seth-rudetsky-5-worst-audition-mistakes/
http://www.dailyactor.com/wp-content/uploads/2014/07/sir-ben-kingsley-talks-about-the.jpg
Sir Ben Kingsley Talks about the Unique Way He Voiced His Character in the Animated Film, 'The Boxtrolls' (video)
I could listen to Sir Ben Kingsley talk about acting and.. well, I could listen to him talk about anything. He's starring in the new Laika stop-motion animated film, The Boxtrolls, and he and some of the cast (along with the director) joined in on a Comic-Con panel about the film. The Boxtrolls is about [...]
http://www.dailyactor.com/2014/07/sir-ben-kingsley-the-boxtrolls-comic-con/
http://www.dailyactor.com/wp-content/uploads/2014/07/bill-hader.jpg
Bill Hader: "I kind of fell into acting" (video)
Bill Hader, starring in the soon to be released The Skeleton Twins, talks about the film and how he fell into acting and then got "crazy lucky" in this quick video from USA Today.
http://www.dailyactor.com/2014/07/bill-hader-fell-into-acting-video/
http://www.dailyactor.com/wp-content/uploads/2014/07/director-john-carney-narrates-a.jpg
Director John Carney Narrates a Scene from 'Begin Again' Starring Kiera Knightley and Mark Ruffalo
Director John Carney (Once) narrates a scene from his new film, Begin Again. Starring Keira Knightley and Mark Ruffalo, the scene shows the first time the two characters meet. I haven't seen it yet but I've heard it's great.
http://www.dailyactor.com/2014/07/begin-again-scene-director-john-carney-keira-knightley-mark-ruffalo/
http://www.dailyactor.com/wp-content/uploads/2014/07/holler-if-you-hear-me-gma.jpg
Watch the Cast of Broadway's 'Holler If You Hear Me' Perform 'California Love' on GMA
The cast of Broadway's newest musical, Holler If You Hear Me with music from Tupac Shakur, performed on Good Morning America this morning. Singing 'California Love', the cast (including the teriffic Christopher Jackson – read our interview here), show why they're the most energetic and inspiring group of actors on Broadway. Holler If Ya Hear [...]
http://www.dailyactor.com/2014/07/watch-cast-broadways-holler-hear-perform-california-love-gma/