Interview: Elijah Wood Talks 'Wilfred' and Going Back to New Zealand for 'The Hobbit' (video)
Podcast: Play in new window | Download (Duration: 6:11 — 4.3MB)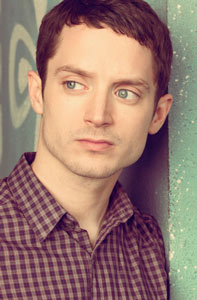 Comic-Con 2012: Season two of FX's Wilfred is underway and already this season, Wilfred (Jason Gann) has tormented Ryan (Elijah Wood) in some spectacular and hilarious ways. If you're a fan of the show like I am, then you can't wait to see what the rest of the season has in store for Wood, Gann and the rest of the cast.
I got a chance to talk with Elijah at Comic-Con and in this quick interview, he talks about the show, shooting scenes out-of-order and his time back in New Zealand filming The Hobbit.
Wilfred airs at 10pm on Thursdays on FX
For the full interview, click the audio link above or download it from iTunes or check out the video below!
What do you feel is the most important message that Wilfred has given to Ryan so far?  Honesty, dignity, which one?
Elijah Wood:  They're all pretty fundamentally important, you know?  Letting go is a big one.  Letting go.  You know, I think that Ryan holds onto to a lot of pain. I think Ryan holds on to a lot of his past, you know, his father, concerns about his mother and her mental health as it relates to him.  There are a lot of things.  A lot of baggage. 
Which was the most fun episode you've done, if you had to pick?
Elijah Wood:  Like an episode? This season was pretty out-of-order.  Most fun.  There are a lot of really good ones this season.  There is an episode that involves cats and we had a lot of fun with that episode.  The cat episode is pretty damn funny.  And there's an episode that was kind of challenging and it involves doggy dancing and that was a lot of fun too.
You guys are shooting out-of-order, and you also shoot films out-of-order, is either one more difficult?
Elijah Wood:  Well at least with a film you have a single script and you know it has a beginning, middle and an end.  Shooting these scripts out-of-order or getting them out-of-order – it's one thing to shoot them out-of-order, it's another thing entirely when you don't get them in order and you can actually see the arc. 
It was a little confusing because we shot Episode One, Three, Five, Seven, Nine and Six or something; it was super random, odd numbers and one even number.  So it's difficult then to see where things are going if you're missing parts of the story.  We didn't have the last scripts either.  So that makes it more complicated because if you are trying to see an arc and a sense of progression and you're missing large pieces of that puzzle it makes it a little bit more challenging, especially if you have relationships with certain characters. 
You'd be like, we'll we're at this stage here, but how do we get there?  There were a few moments like that this season that made it challenging.
When you're going back and watching yourself, do you ever think, "Oh Shit, I did that wrong?"  
Elijah Wood:  Yeah.  Once.  This season.  There is a scene where – it's actually in the first episode – where I wake up from when Bear's driving the van and we almost hit the wall.  Well, I did a number of takes in the office of waking up but not abruptly, just waking up slowly, which it needs an abruptness because I'm almost going to crash.  It's like having a nightmare and you suddenly wake up.  So I was in the editing room and I was like, fuck, we need to re-shoot that.  Like, I forgot that we were coming out of a major dream.
So, it happens.
How was your recent time in New Zealand and filming The Hobbit?
Elijah Wood:  I was there for a month. I was there in October of last year.  It was incredible.  Incredible to go back.  I never thought that I would ever play that character again and it was wonderful to see so many of the same crew members working on it that had worked on Rings and being shot at Stone Street.  I got to go Hobbiton again.  The last time I was in Hobbiton I was 19.  I'm 31 now, so it was pretty incredible to go back and get a chance to revisit that time in my life.  It was extraordinary.  I miss New Zealand.  It really still feels like a second home to me.
Latest Videos
Watch: Anna Gunn, Jacki Weaver and Virginia Kull on 'Gracepoint' and Strong Female Roles on TV
The actresses also speak candidly about how they feel about their characters in the series and why its important for TV to feature series with strong female leads.Check out the conversation above!
http://www.dailyactor.com/2014/10/watch-anna-gunn-jacki-weaver-virginia-kull-gracepoint-strong-female-roles-on-tv/
http://www.dailyactor.com/wp-content/uploads/2014/10/watch-cristin-milioti-talks-a-to.jpg
Watch: Cristin Milioti Talks 'A to Z', 'Once' and 'How I Met Your Mother'
Few actresses have the kind of rise as Cristin Milioti has had in the last few years. A virtual unknown in 2011, she became a bona fide Broadway star in the 2012 hit Once, appeared in a supporting role in the 2013 film The Wolf of Wall Street, and was featured as the titular mother […]
http://www.dailyactor.com/2014/10/watch-cristin-milioti-a-to-z-once-how-i-met-your-mother/
http://www.dailyactor.com/wp-content/uploads/2014/10/watch-bryan-cranstons-acting-adv.jpg
Watch: Bryan Cranston's Acting Advice
With Breaking Bad: The Complete Series Barrel being released on Blu-ray with all kinds of goodies today, it gives us yet another opportunity to reflect on the series' star Bryan Cranston and all of the incredible advice he has offered actors in the wake of his success. In a video he filmed in 2013 for […]
http://www.dailyactor.com/2014/10/bryan-cranston-acting-advice-video/
http://www.dailyactor.com/wp-content/uploads/2014/10/alex-sharp-curious-incident-of-the-dog.jpg
Alex Sharp Talks About His Broadway Debut in 'The Curious Incident of the Dog in the Night-Time' (video)
Alex Sharp went from working in a call-center and renovating houses to going to Julliard. And now, he's starring in one of the most talked about shows of the season, The Curious Incident of the Dog in the Night-Time. Check out this great, inspiring video!
http://www.dailyactor.com/2014/10/alex-sharp-broadway-debut-the-curious-incident-of-the-dog-in-the-night-time-video/
http://www.dailyactor.com/wp-content/uploads/2014/10/Its-only-a-play.jpg
Watch a Scene From Terrance McNally's, 'It's Only a Play', Featuring Nathan Lane and Micah Stock
Here's a quick scene from Terrance McNally's It's Only a Play, currently on Broadway at the Schoenfeld Theater. In this scene, Nathan Lane and Micah Stock meet for the first time. The show, about the opening night of a new play, also stars Matthew Broderick, Stockard Channing, F. Murray Abraham, Rupert Grint and Megan Mullally.
http://www.dailyactor.com/2014/10/watch-a-scene-terrance-mcnally-its-only-a-play-nathan-lane-micah-stock/