Interview: Elijah Wood Talks 'Wilfred' and Going Back to New Zealand for 'The Hobbit' (video)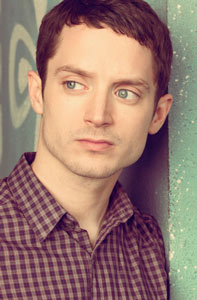 Comic-Con 2012: Season two of FX's Wilfred is underway and already this season, Wilfred (Jason Gann) has tormented Ryan (Elijah Wood) in some spectacular and hilarious ways. If you're a fan of the show like I am, then you can't wait to see what the rest of the season has in store for Wood, Gann and the rest of the cast.
I got a chance to talk with Elijah at Comic-Con and in this quick interview, he talks about the show, shooting scenes out-of-order and his time back in New Zealand filming The Hobbit.
Wilfred airs at 10pm on Thursdays on FX
For the full interview, click the audio link above or download it from iTunes or check out the video below!
What do you feel is the most important message that Wilfred has given to Ryan so far?  Honesty, dignity, which one?
Elijah Wood:  They're all pretty fundamentally important, you know?  Letting go is a big one.  Letting go.  You know, I think that Ryan holds onto to a lot of pain. I think Ryan holds on to a lot of his past, you know, his father, concerns about his mother and her mental health as it relates to him.  There are a lot of things.  A lot of baggage. 
Which was the most fun episode you've done, if you had to pick?
Elijah Wood:  Like an episode? This season was pretty out-of-order.  Most fun.  There are a lot of really good ones this season.  There is an episode that involves cats and we had a lot of fun with that episode.  The cat episode is pretty damn funny.  And there's an episode that was kind of challenging and it involves doggy dancing and that was a lot of fun too.
You guys are shooting out-of-order, and you also shoot films out-of-order, is either one more difficult?
Elijah Wood:  Well at least with a film you have a single script and you know it has a beginning, middle and an end.  Shooting these scripts out-of-order or getting them out-of-order – it's one thing to shoot them out-of-order, it's another thing entirely when you don't get them in order and you can actually see the arc. 
It was a little confusing because we shot Episode One, Three, Five, Seven, Nine and Six or something; it was super random, odd numbers and one even number.  So it's difficult then to see where things are going if you're missing parts of the story.  We didn't have the last scripts either.  So that makes it more complicated because if you are trying to see an arc and a sense of progression and you're missing large pieces of that puzzle it makes it a little bit more challenging, especially if you have relationships with certain characters. 
You'd be like, we'll we're at this stage here, but how do we get there?  There were a few moments like that this season that made it challenging.
When you're going back and watching yourself, do you ever think, "Oh Shit, I did that wrong?"  
Elijah Wood:  Yeah.  Once.  This season.  There is a scene where – it's actually in the first episode – where I wake up from when Bear's driving the van and we almost hit the wall.  Well, I did a number of takes in the office of waking up but not abruptly, just waking up slowly, which it needs an abruptness because I'm almost going to crash.  It's like having a nightmare and you suddenly wake up.  So I was in the editing room and I was like, fuck, we need to re-shoot that.  Like, I forgot that we were coming out of a major dream.
So, it happens.
How was your recent time in New Zealand and filming The Hobbit?
Elijah Wood:  I was there for a month. I was there in October of last year.  It was incredible.  Incredible to go back.  I never thought that I would ever play that character again and it was wonderful to see so many of the same crew members working on it that had worked on Rings and being shot at Stone Street.  I got to go Hobbiton again.  The last time I was in Hobbiton I was 19.  I'm 31 now, so it was pretty incredible to go back and get a chance to revisit that time in my life.  It was extraordinary.  I miss New Zealand.  It really still feels like a second home to me.
http://www.dailyactor.com/wp-content/uploads/2015/03/alec-baldwin.jpg
Alec Baldwin On Keeping SNL Fresh, His Daily Routine and His Ideal Role
Alec Baldwin is an ordinary guy. Well, that's what he said in a recent Reddit AMA, anyway. The actor took the chance to open up about what his average day was like, holding the public's interest and why he chooses not to do many films any more. "My average day is pretty ordinary," he says. […]
http://www.dailyactor.com/2015/04/alec-baldwin-snl-daily-routine-his-ideal-role/
http://www.dailyactor.com/wp-content/uploads/2015/03/steve-buscemi-boardwalk-empire.jpg
Steve Buscemi's "Ask Me Anything" Chat on Reddit: "I don't think you can point to any one character and say that that's 'me'"
"With any role I play, I only have myself" - Steve Buscemi
http://www.dailyactor.com/2015/03/steve-buscemi-ask-me-anything-chat-on-reddit/
http://www.dailyactor.com/wp-content/uploads/2015/03/sally-field-hello-my-name-is-doris.jpg
Sally Field On Improvisation, How She Chooses Her Roles and 'Hello, My Name is Doris'
"There's a dearth of roles for women. I turn down a lot of stuff because there's just nothing in it for me to do." – Sally Field Actress Sally Field put in an appearance at SXSW last week to promote her new film, Hello My Name is Doris. Michael Showalter has directed the movie […]
http://www.dailyactor.com/2015/03/sally-field-improvisation-roles-hello-my-name-is-doris/
http://www.dailyactor.com/wp-content/uploads/2015/03/Will-Ferrell-Get-Hard.jpg
Will Ferrell on His Comedy Roots, 'Get Hard' and His Favorite Roles to Play
Ferrell was on hand to take part in a Q&A and spoke more about how working with Hart came about. When asked if he chooses his projects based on who he wants to work with, or the script itself, Ferrell explained that each project was different.
http://www.dailyactor.com/2015/03/will-ferrell-on-his-comedy-roots-get-hard-and-his-favorite-roles-to-play/
http://www.dailyactor.com/wp-content/uploads/2015/03/daniel-dae-kim.jpg
Hawaii Five-0's Daniel Dae Kim Talks Directorial Debut: "The first day I had to yell action, it was kind of odd"
Hawaii Five-0's Daniel Dae Kim, who fans know best as Chin Ho Kelly, recently made his directorial debut on the CBS series. Kim shared his experience with The Hollywood Reporter, saying that his experience was "weird at first," as he had to direct his co-stars. "The first day I had to yell action, it was […]
http://www.dailyactor.com/2015/03/hawaii-five-0-daniel-dae-kim-directorial-debut/