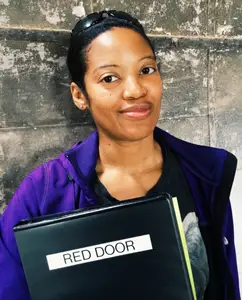 Bite-Size 6 with Diane Ademu-John

Diane Ademu-John, the super-talented TV writer/producer of  The Originals, Body of Proof and Medium talks writing, casting fresh faces and how the character can bring out the x-factor in an actor. 
Diane gives us 'the bite' on your 6 hot questions. 
You have a wealth of experience on stellar list of TV shows such as The Originals and Body of Proof. What inspires your projects and drives you through the writing process into production? 
Diane Ademu-John: Umm… It's different things on different shows. In general, what drives me, is seeing a caliber out there that I want to emulate or top. There are a lot of things I've seen on television that I think, 'I could do that' or 'I could do better'. Then there are things I think 'Oh my God! How did they do that? And who are these people?' It makes me want to get inside their brains and be like them. I want to be on that level where someone looks at my work and says 'How the heck did they come up with that?'
I guess I am just inspired by good work. That fuels me to want to make work that people can't quite decipher how we did it, but they love it.
Can you talk us through your involvement in the casting process? 
Diane Ademu-John: As far as being a writer on a show, I've had different inputs into the casting. On The Originals we have a lot of input from the very beginning, as we track the character on the page. Some of us have specific actors in mind or at least types in mind. So when we talk to the casting director, we say, "OK, I know you can't get us Meryl Streep but we want a Meryl Streep- ish."
Back in the old days, when I first started doing this, the writer would be in the room with the director and the casting team. And actors would come in and audition in a room full of live people. Now it's tapes. We all get a video of all the actors trying out for a role. All the writers, producers watch all the tapes. But specifically the writer of the episode and of course the executive producer of the show are the people who have the final say. If that actor isn't available then we move on to choice number two. So on The Originals the writer has lots of power. On other shows I've worked on, the writer is just 'hands on a script' and turns on the television three months later to see how it turned out.
Do feel it's important to cast unknown talent? 
Diane Ademu-John: I think it's good to have a mixture of both. For a couple of guest starring roles, it's nice to have that name or that face who can bring those followers and viewers to the show. But I think particularly for The Originals, we have many fresh faces, so when an audience member sees them, they don't say 'Oh that's the guy who played Johnny on Teenworld'. No it's a fresh face and the only person you associate them with is this new dynamic character that we are creating.
So I think, especially on The Originals not having a (long list of credits) will certainly not hurt. 90% of the people that we've cast in the show have come from nowhere, their credits are short, but they just blew us away. And case in point, two of our new cast members may have been in two other things before this. They went from actors who were just gonna come in for two episodes to actors who have been invited to being full time members for the upcoming season. So it's talent not what you've done before.
Can you describe the 'X Factor' quality that you are looking for in an actor who comes in to audition? 
Diane Ademu-John: Yeah, when we see it… I can't really qualify what it is, but there is a thing that glows about them. A good example is a couple actresses who are coming in this season. We had actually seen their reel and some things where they just didn't shine. But they turned something on when the right character or the right set of sides hit them. We can see what we had in our heads. We can see it shine through them. Who cares if they were the third person to the left who didn't shine in NCIS. For us if they glow speaking our words, then that's it. In that sense, I don't believe a person has an 'X factor' quality. I feel like the material can bring it out in you. And if that's our material then we notice you. We notice that more than how short or long your credits are.
So if you feel an actor is right for the part but the executive producer disagrees? How do you resolve this? 
Diane Ademu-John: Yes that happens all the time. There things that I see so clearly and I'm like 'That's the girl! That's the guy!' And Julie Plec who is the executive producer of The Originals is like 'You're crazy. I don't see that at all!' So rather than overrule everybody. She gets a consensus of the top 3 and we have callbacks. And if she still feels adamant about who she likes. She wins. So we can voice our opinions and she will take another look and I would say 50% of the time she is swayed and 50% of the time she isn't. But you always speak your mind and fight for the person you like. But the winner is the person who runs the shows.
If an actor found a clever way of contacting you to self-promote (so no emails, no calling or creepy stuff). Would you welcome it? 
Diane Ademu-John: Probably not, only because it's based on what we need at the time. I don't think I will be holding a person's face or abilities in my head, on the off chance that in the future they might fit something. I feel like throughout my writing career people have sent me headshots and reels but I don't go to that box of tapes when a role comes up. The casting director sends us tapes and if it's a huge role or a bit role, I am still just a small cog on who gets chosen. I feel like (actors) should really be reaching out to people that can help them as opposed to me.