Interview: Magic Mike's Mircea Monroe On Big Studio Films vs Indie's and Staying True to Yourself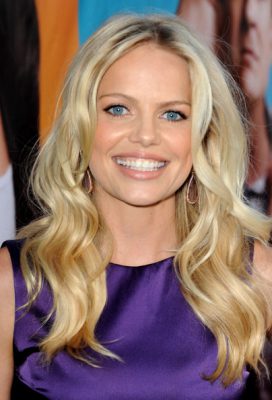 I recently had the chance to talk to actress Mircea Monroe about her experience in Hollywood.  As actors, and artists, we are always learning and growing.  It is sometimes helpful to look to others, currently working in Hollywood, for advice on carving your own path in the entertainment industry.  
Monroe is an example of a young actress who works hard to create her own opportunities in Hollywood.  She is young, determined, talented, and knows what she wants.  
Miss Monroe recently completed an independent feature film, "Three Days of Normal," in which she plays a reckless Hollywood starlet who meets a small town cop during a long weekend in rural New Hampshire.  Nikki Gold (Monroe) has escaped the bright lights and paparazzi of New York City, in an effort to avoid the chaos of another publicity scandal.  She embraces the anonymity of small town life with a few blissful days of normalcy.  
In addition to her work in independent fare, the actress also spoke of larger budget projects she was fortunate to be a part of, including "Magic Mike," in which she plays the girlfriend of Matthew Bomer's character.  Here's what she has to say about her experience in the world of film:
1. "Three Days of Normal" is the first film in which you both starred AND worked as a producer.  How did you first get started with this project?
My agents put me in touch with the people involved (Ishai Setton, Jared Parsons and Jace Mclean). I loved them. They are the kindest human beings and I loved their script. To do good work with good people is what it's all about for me. 
2. What qualities do you look for in a script which influence your decision to work on a project?
If it scares me, moves me, or makes me laugh. 
3. What is it like on set?  Can you describe the difference between working on an independent set, like "Three Days of Normal," versus a larger budget film, like "Magic Mike."
It's a wonderful tight knit family feel. Everyone is there because they want to be. Because they believe in the movie. Big movies are wonderful as well, but little movies give you a sense of camp, or film school. It's fun. With fewer resources you have to do whatever needs to be done to reach the finish line. I think it's really beautiful. 
4. You have quite a large number of films under your belt.  How did you get your start?  Did you always want to be an actress?
I was lucky enough to have people who believed in me and fought for me. I hope I do a lot of different things in my life, but acting has alway made my heart smile.
5. Do you like auditioning?  Do you ever get nervous at auditions?
Auditions are their own animal. It's a love/hate relationship. They can be so rewarding and so crushing. Exhilarating and depressing. Good or bad, they make me feel alive. Awake and alive.
6. Can you describe an audition experience in which you felt nervous?   How did you handle it?
I feel nervous every time. Every single time. I handle it by doing the work. If you do the work, you'll always be okay. 
7. What is your advice to actors?
To follow your heart. Be honest. Your path may look different than the one you've imagined. Be open. But be true. Be you.
Mircea Monroe has appeared in numerous films and television shows, including "Franklin & Bash," "The Change-Up," "Dating Rules from my Future Self," "Hart of Dixie," "Episodes," "Three Days of Normal," and her newest feature, "Magic Mike."  I expect big things from this young talent.

Heather Snow Clark is a lifetime member of the Actors Studio.  She holds her MFA in acting from the New School for Drama and her BFA in acting from East Carolina University.  Heather currently resides in Raleigh, North Carolina working as a professional actress and teaching beginner and professional actors the tools and techniques of the trade.  
Please see her website, www.heathersnowclark.com, for complete details on acting and voice classes, as well as private coaching sessions.
http://www.dailyactor.com/wp-content/uploads/2015/02/Larry-David.jpg
Larry David on Who he Wanted to Star in his Broadway Play 'Fish in the Dark': "Anybody but me"
"It's one of the reasons I didn't like acting. I don't like not being able to interject" – Larry David on acting with a script Who doesn't like Larry David? Well, to be honest, Larry David probably doesn't like Larry David. In fact, David didn't even want to cast himself in the lead of […]
http://www.dailyactor.com/2015/02/larry-david-on-who-he-wanted-to-star-broadway-play-fish-in-the-dark/
http://www.dailyactor.com/wp-content/uploads/2015/02/Helen-Mirren-The-Queen.jpg
Helen Mirren on Winning an Oscar: "It's an indescribable moment"
"It's hard to say, because you don't know what would have happened if you hadn't won" - Helen Mirren When Asked If Winning an Oscar Changed Her Career
http://www.dailyactor.com/2015/02/helen-mirren-on-winning-an-oscar/
http://www.dailyactor.com/wp-content/uploads/2015/02/anna-chlumsky-james-earl-jones.jpg
Anna Chlumsky on Her Broadway Debut: "For me, it was an opportunity to go in the direction that I hadn't played in a while"
"I think my personality lends itself to ensembles" - Anna Chlumsky
http://www.dailyactor.com/2015/02/anna-chlumsky-broadway-debut-ensemble/
http://www.dailyactor.com/wp-content/uploads/2015/02/joanne-froggatt-downton-abbey.jpg
'Downton Abbey' Star Joanne Froggatt on Creating Her Own Backstory and How She's "Not a Big-Budget Hollywood Type"
"They want the model type, classically beautiful, and I'm not" - Joanne Froggatt on Working in Hollywood
http://www.dailyactor.com/2015/02/downton-abbey-star-joanne-froggatt-character-backstory-hollywood/
http://www.dailyactor.com/wp-content/uploads/2015/01/al-pacino-the-humbling.jpg
Al Pacino on Acting: "It becomes such a part of your nature you rarely ever think about quitting"
After working infrequently in film over the last decade, Al Pacino appears in several films released in 2015, including The Humbling, an indie drama directed by Barry Levinson.
http://www.dailyactor.com/2015/02/al-pacino-on-acting-it-becomes-such-a-part-of-your-nature/