Sarah Silverman takes on drama in Sarah Polley's 'Take this Waltz'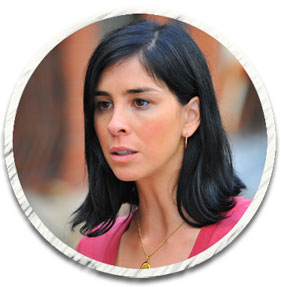 Those familiar with Sarah Silverman's envelope-pushing brand of comedy might be surprised to hear of her forays into drama. She might not seem the safest choice for playing Seth Rogen's wise sister in new comedy/drama "Take This Waltz," but Canadian actress/director Sarah Polley and casting director John Buchan were willing to take that risk.
"I'd never get read for a part like this," Silverman said in a news release. "Usually when I'm told that someone had me in mind for a part, it's vulgar and it has shit jokes and it's gross. It must be what I put out there, but I don't see myself like that. But when I read this, I got choked up because I couldn't believe someone would see me this way. I see myself able to play drama. But we put people in boxes and can't see outside of it, but Sarah did. It was so nice. And I'm so grateful for this."
Polley's colorful indie follows 28-year-old Margot (Michelle Williams) as she develops feelings for Daniel (Luke Kirby), a charismatic artist she meets by chance – who also happens to live next door to her and her husband Lou (Seth Rogen), a cookbook writer. Silverman plays Lou's sister Geraldine, a recovering alcoholic and Margot's confidante.
Silverman, who has played mostly comedic roles prior to "Waltz," was enthusiastic about working with Polley. "So many directors, great directors, directors I love, are fully socially retarded. Sarah actually isn't. She has a plan, knows exactly what she wants, and knows how to manipulate exactly how to get it in a way that makes you, the actors and me, feeling like 'oh my God, I'm amazing in this!' instead of shells of ourselves."
The director called Silverman her "favorite living performer" and praised her work: "The moment her name was suggested by John Buchan, it was all hands on deck to get her. As much as I knew she was going to be fantastic in this part, nothing could have prepared me for how complicated and nuanced and strange and beautiful her work was. It was such a joy to watch her work."
Silverman is not the only actor in "Waltz" to make the leap from comedy to dramedy. "To me, Seth Rogen is the marker of where comedy started being played very real," she said of her costar. "It was like the anti-Ace Ventura (which was great when it came out). It's just playing it real and letting the moments be funny. So watching Seth go from comedy to drama is seamless because he's just playing the lines very naturally in both cases. There's no difference."
"Take This Waltz" will have a limited release on June 29, but it is currently available on Video-On-Demand.
Latest Videos
http://www.dailyactor.com/wp-content/uploads/2014/09/audtion-tapes-robin-wright-and-h.jpg
Audition Tapes: Robin Wright and Haley Joel Osment Audition with Tom Hanks for 'Forrest Gump'
Check out Robin Wright auditioning for the role of Jenny from Forest Gump opposite Tom Hanks. Interestingly enough, Hanks doesn't quite have Gump's southern drawl down just yet while the other actors audition with him. In fact, Hanks would base Gump's voice on the voice of Michael Conner Humphreys, who played the young Forrest and […]
http://www.dailyactor.com/2014/09/audtion-tapes-robin-wright-haley-joel-osment-tom-hanks-forrest-gump/
http://www.dailyactor.com/wp-content/uploads/2014/08/bryan-cranston-emmy-award-speech.jpg
Watch: Bryan Cranston's Emmy Award Speech: "I love to act. It is a passion of mine and I will do it until my last breath."
The Emmy Awards weren't the most exciting awards show this year but with Bryan Cranston winning for Outstanding Actor in a Drama for Breaking Bad, we at least got to hear one heck of a fantastic acceptance speech. "I was a kid who always looked for the shortcut," he said. "I did happen to stumble […]
http://www.dailyactor.com/2014/08/watch-bryan-cranston-and-aaron-pauls-emmy-award-speeches/
http://www.dailyactor.com/wp-content/uploads/2014/08/audition-tapes-gerard-butler-aud.jpg
Audition Tapes: Gerard Butler Auditions for 'Dracula 2000′
Check out Gerard Butler auditioning for the role of Dracula in the movie, Dracula 2000. The film, about a group of thieves who break into a chamber expecting to find paintings, but instead find Dracula himself, also starred Christopher Plummer, Jonny Lee Miller and Nathan Fillion. Bulter has some sweet rock star hair, huh?
http://www.dailyactor.com/2014/08/audition-tapes-gerard-butler-dracula-2000/
http://www.dailyactor.com/wp-content/uploads/2014/08/interview-matt-dillon-and-carla.jpg
Interview: Matt Dillon and Carla Gugino Talk 'Wayward Pines'
FOX has a new limited-series that's got a terrific cast and interesting premise. It's called Wayward Pines and stars Matt Dillon, Carla Gugino, Melissa Leo, Toby Jones, Terrance Howard, Juliette Lewis, Tim Griffin and Shannyn Sossamon. The show, whose pilot was directed by M. Night Shyamalan, is about a Secret Service agent (Dillon) goes to […]
http://www.dailyactor.com/2014/08/interview-matt-dillon-carla-gugino-wayward-pines-comic-con/
http://www.dailyactor.com/wp-content/uploads/2014/08/interview-wayward-pines-stars-ti.jpg
Interview: 'Wayward Pines' Stars Tim Griffin and Shannyn Sossamon on the Show, Their Characters and More!
Griffin and Sossamonwere at Comic-Con where they sat in on some roundtable interviews to talk about the show.
http://www.dailyactor.com/2014/08/interview-wayward-pines-stars-tim-griffin-shannyn-sossamon-comic-con/