Movie Review: 'Prometheus'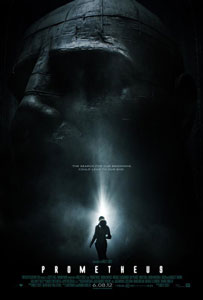 If you follow a lot of the online critics, then you probably already know how much Prometheus sucks.
It's awful! What was Ridley Scott thinking! Damon Lindelof (who wrote the film) is a hack! Too many plot holes! Blah, blah, blah. Complain, complain, complain.
Here's what I think: Prometheus is pretty damn good.
Set in the late 21st century, a pair of archaeologist's, Emily Shaw (Noomi Rapace) and Charlie Holloway (Logan Marshall-Green, who is a dead ringer for Tom Hardy), discover ancient cave paintings that seem to indicate a link between early man with a set of far off planets deep in the solar system.
Eager to see if their discovery will give them the answers to our evolution, they team up with the aging Peter Weyland (a heavily made-up Guy Pearce), who eagerly funds the mission. When the team of 17 crew members eventually get to their (final?) destination, they explore the strange world and guess what? What they find isn't in the brocheure. 
And that's all I'll say, you won't get any spoilers from me.
Scott has made a beautiful looking film that has plenty of scary, creepy moments and features some truly excellent performances. As the android David, Michael Fassbender puts on a clinic in quiet, cool confidence. He's all wires and computer parts but you can see his robot brain churning beneath the fake skin. Is his search for knowledge about the world they've landed on strictly because his creator has programmed that into hard drive or does he himself have a desire to learn and advance? Fassbender is all your eyes can focus on when he is on-screen and I feel sorry for anyone who has scenes with him.  Idris Elba, as the ship's pilot and only voice of reason in the film, brings some humor and a healthy dose of swagger to a role we've seen a zillion times in this type of film. And Rafe Spall, my new favorite actor, dials up to 10 what could have been a thankless role. He's got too little screen time but he once again made a big impression on me.  Charlize Theron, Repace and Marshall-Green are all fine and have some good moments in the film but for me Fassbender owns this movie.
So, why are people hating on this so much? First of all, you are never going to be able to please the core group of Alien fans. It can't happen. The expectations they have in their heads will forever exceed what is on the screen and I think that's a shame. 
Secondly, this film does ask questions about God and religion that are never answered. The filmmakers build up these questions in the first part of the film and abandons them as the film progresses. I can understand people being miffed about this, yes. But, this is a sci-fi film about Aliens. The movie was thoroughly entertaining and anytime a big budget mass-entertainment film like this is able to throw questions as heavy as religion, God or where we as a species came from, and can get us to talk about after the film is doing something right.
That, and Michael Fassbender rocks. I mentioned that, right?
Latest Videos
http://www.dailyactor.com/wp-content/uploads/2014/09/audtion-tapes-robin-wright-and-h.jpg
Audition Tapes: Robin Wright and Haley Joel Osment Audition with Tom Hanks for 'Forrest Gump'
Check out Robin Wright auditioning for the role of Jenny from Forest Gump opposite Tom Hanks. Interestingly enough, Hanks doesn't quite have Gump's southern drawl down just yet while the other actors audition with him. In fact, Hanks would base Gump's voice on the voice of Michael Conner Humphreys, who played the young Forrest and […]
http://www.dailyactor.com/2014/09/audtion-tapes-robin-wright-haley-joel-osment-tom-hanks-forrest-gump/
http://www.dailyactor.com/wp-content/uploads/2014/08/bryan-cranston-emmy-award-speech.jpg
Watch: Bryan Cranston's Emmy Award Speech: "I love to act. It is a passion of mine and I will do it until my last breath."
The Emmy Awards weren't the most exciting awards show this year but with Bryan Cranston winning for Outstanding Actor in a Drama for Breaking Bad, we at least got to hear one heck of a fantastic acceptance speech. "I was a kid who always looked for the shortcut," he said. "I did happen to stumble […]
http://www.dailyactor.com/2014/08/watch-bryan-cranston-and-aaron-pauls-emmy-award-speeches/
http://www.dailyactor.com/wp-content/uploads/2014/08/audition-tapes-gerard-butler-aud.jpg
Audition Tapes: Gerard Butler Auditions for 'Dracula 2000′
Check out Gerard Butler auditioning for the role of Dracula in the movie, Dracula 2000. The film, about a group of thieves who break into a chamber expecting to find paintings, but instead find Dracula himself, also starred Christopher Plummer, Jonny Lee Miller and Nathan Fillion. Bulter has some sweet rock star hair, huh?
http://www.dailyactor.com/2014/08/audition-tapes-gerard-butler-dracula-2000/
http://www.dailyactor.com/wp-content/uploads/2014/08/interview-matt-dillon-and-carla.jpg
Interview: Matt Dillon and Carla Gugino Talk 'Wayward Pines'
FOX has a new limited-series that's got a terrific cast and interesting premise. It's called Wayward Pines and stars Matt Dillon, Carla Gugino, Melissa Leo, Toby Jones, Terrance Howard, Juliette Lewis, Tim Griffin and Shannyn Sossamon. The show, whose pilot was directed by M. Night Shyamalan, is about a Secret Service agent (Dillon) goes to […]
http://www.dailyactor.com/2014/08/interview-matt-dillon-carla-gugino-wayward-pines-comic-con/
http://www.dailyactor.com/wp-content/uploads/2014/08/interview-wayward-pines-stars-ti.jpg
Interview: 'Wayward Pines' Stars Tim Griffin and Shannyn Sossamon on the Show, Their Characters and More!
Griffin and Sossamonwere at Comic-Con where they sat in on some roundtable interviews to talk about the show.
http://www.dailyactor.com/2014/08/interview-wayward-pines-stars-tim-griffin-shannyn-sossamon-comic-con/