Gene Wilder's Vintage Letter Explaining Willy Wonka's Character Through Wardrobe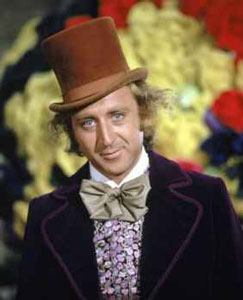 I love when stories about iconic films come out  that I didn't know before.  Case in point, this story from Letters of Note about Willy Wonka and the Chocolate Factory. 
Gene Wilder, who memorably played Wonka in the 1971 film, not only made several suggestions about how Wonka should act, but unlike most actors he also made several suggestions about what Wonka should wear. 
The letter is a fascinating read, as it shows that Wilder really thought deeply about the character:
Dear Mel,

I've just received the costume sketches. I'll tell you everything I think, without censoring, and you take from my opinion what you like.

I assume that the designer took his impressions from the book and didn't know, naturally, who would be playing Willy. And I think, for a character in general, they're lovely sketches.

I love the main thing — the velvet jacket — and I mean to show by my sketch the exact same color. But I've added two large pockets to take away from the svelt, feminine line. (Also in case of a few props.)

I also think the vest is both appropriate and lovely.

And I love the same white, flowing shirt and the white gloves. Also the lighter colored inner silk lining of the jacket.

What I don't like is the precise pin pointing in place and time as this costume does.

I don't think of Willy as an eccentric who holds on to his 1912 Dandy's Sunday suit and wears it in 1970, but rather as just an eccentric — where there's no telling what he'll do or where he ever found his get-up — except that it strangely fits him: Part of this world, part of another. A vain man who knows colors that suit him, yet, with all the oddity, has strangely good taste. Something mysterious, yet undefined.

I'm not a ballet master who skips along with little mincy steps. So, as you see, I've suggested ditching the Robert Helpmann trousers. Jodhpurs to me belong more to the dancing master. But once elegant now almost baggy trousers — baggy through preoccupation with more important things — is character.

Slime green trousers are icky. But sand colored trousers are just as unobtrusive for your camera, but tasteful.

The hat is terrific, but making it 2 inches shorter would make it more special.

Also a light blue felt hat-band to match with the same light blue fluffy bow tie shows a man who knows how to compliment his blue eyes.

To match the shoes with the jacket is fey. To match the shoes with the hat is taste.

Hope all is well. Talk to you soon.

All my best,

Gene
Well, I think "To match the shoes with the jacket is fey. To match the shoes with the hat is taste" has just become my go-to fashion advice.  Thanks, Mr. Wonka!
Latest Videos
Watch: Benedict Cumberbatch Film the Smaug Motion Capture for 'The Hobbit: The Desolation of Smaug'
Though Peter Jackson's movie adaptations of The Hobbit haven't received the same critical acclaim as his films based on the book's sequel, The Lord of the Rings (turning a 300 page book into 9+ hours of film tends to do that), fans are still eagerly anticipating the release of the final part of The Hobbit […]
http://www.dailyactor.com/2014/11/watch-benedict-cumberbatch-film-smaug-motion-capture-the-hobbit/
Watch: Daniel Radcliffe on the Differences Between American and British Theater Audiences
Though moviegoers can see Daniel Radcliffe in the fantasy film Horns, which opens today, Broadway fans will have to wait a bit longer. Radcliffe is an unapologetic fan of Broadway — he has starred in Equus, How to Succeed in Business Without Really Trying, and The Cripple of Inishmaan — but he hasn't yet made […]
http://www.dailyactor.com/2014/10/daniel-radcliffe-differences-between-american-british-theater-audiences/
http://www.dailyactor.com/wp-content/uploads/2014/10/watch-anna-gunn-jacki-weaver-and.jpg
Watch: Anna Gunn, Jacki Weaver and Virginia Kull on 'Gracepoint' and Strong Female Roles on TV
The actresses also speak candidly about how they feel about their characters in the series and why its important for TV to feature series with strong female leads.Check out the conversation above!
http://www.dailyactor.com/2014/10/watch-anna-gunn-jacki-weaver-virginia-kull-gracepoint-strong-female-roles-on-tv/
http://www.dailyactor.com/wp-content/uploads/2014/10/watch-cristin-milioti-talks-a-to.jpg
Watch: Cristin Milioti Talks 'A to Z', 'Once' and 'How I Met Your Mother'
Few actresses have the kind of rise as Cristin Milioti has had in the last few years. A virtual unknown in 2011, she became a bona fide Broadway star in the 2012 hit Once, appeared in a supporting role in the 2013 film The Wolf of Wall Street, and was featured as the titular mother […]
http://www.dailyactor.com/2014/10/watch-cristin-milioti-a-to-z-once-how-i-met-your-mother/
http://www.dailyactor.com/wp-content/uploads/2014/10/watch-bryan-cranstons-acting-adv.jpg
Watch: Bryan Cranston's Acting Advice
With Breaking Bad: The Complete Series Barrel being released on Blu-ray with all kinds of goodies today, it gives us yet another opportunity to reflect on the series' star Bryan Cranston and all of the incredible advice he has offered actors in the wake of his success. In a video he filmed in 2013 for […]
http://www.dailyactor.com/2014/10/bryan-cranston-acting-advice-video/