Gene Wilder's Vintage Letter Explaining Willy Wonka's Character Through Wardrobe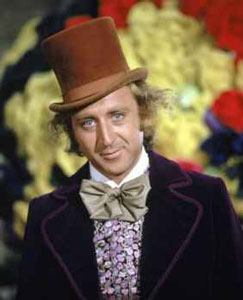 I love when stories about iconic films come out  that I didn't know before.  Case in point, this story from Letters of Note about Willy Wonka and the Chocolate Factory. 
Gene Wilder, who memorably played Wonka in the 1971 film, not only made several suggestions about how Wonka should act, but unlike most actors he also made several suggestions about what Wonka should wear. 
The letter is a fascinating read, as it shows that Wilder really thought deeply about the character:
Dear Mel,

I've just received the costume sketches. I'll tell you everything I think, without censoring, and you take from my opinion what you like.

I assume that the designer took his impressions from the book and didn't know, naturally, who would be playing Willy. And I think, for a character in general, they're lovely sketches.

I love the main thing — the velvet jacket — and I mean to show by my sketch the exact same color. But I've added two large pockets to take away from the svelt, feminine line. (Also in case of a few props.)

I also think the vest is both appropriate and lovely.

And I love the same white, flowing shirt and the white gloves. Also the lighter colored inner silk lining of the jacket.

What I don't like is the precise pin pointing in place and time as this costume does.

I don't think of Willy as an eccentric who holds on to his 1912 Dandy's Sunday suit and wears it in 1970, but rather as just an eccentric — where there's no telling what he'll do or where he ever found his get-up — except that it strangely fits him: Part of this world, part of another. A vain man who knows colors that suit him, yet, with all the oddity, has strangely good taste. Something mysterious, yet undefined.

I'm not a ballet master who skips along with little mincy steps. So, as you see, I've suggested ditching the Robert Helpmann trousers. Jodhpurs to me belong more to the dancing master. But once elegant now almost baggy trousers — baggy through preoccupation with more important things — is character.

Slime green trousers are icky. But sand colored trousers are just as unobtrusive for your camera, but tasteful.

The hat is terrific, but making it 2 inches shorter would make it more special.

Also a light blue felt hat-band to match with the same light blue fluffy bow tie shows a man who knows how to compliment his blue eyes.

To match the shoes with the jacket is fey. To match the shoes with the hat is taste.

Hope all is well. Talk to you soon.

All my best,

Gene
Well, I think "To match the shoes with the jacket is fey. To match the shoes with the hat is taste" has just become my go-to fashion advice.  Thanks, Mr. Wonka!
Latest Videos
http://www.dailyactor.com/wp-content/uploads/2014/07/bill-hader.jpg
Bill Hader: "I kind of fell into acting" (video)
Bill Hader, starring in the soon to be released The Skeleton Twins, talks about the film and how he fell into acting and then got "crazy lucky" in this quick video from USA Today. Share on Tumblr
http://www.dailyactor.com/2014/07/bill-hader-fell-into-acting-video/
http://www.dailyactor.com/wp-content/uploads/2014/07/director-john-carney-narrates-a.jpg
Director John Carney Narrates a Scene from 'Begin Again' Starring Kiera Knightley and Mark Ruffalo
Director John Carney (Once) narrates a scene from his new film, Begin Again. Starring Keira Knightley and Mark Ruffalo, the scene shows the first time the two characters meet. I haven't seen it yet but I've heard it's great.
http://www.dailyactor.com/2014/07/begin-again-scene-director-john-carney-keira-knightley-mark-ruffalo/
http://www.dailyactor.com/wp-content/uploads/2014/07/holler-if-you-hear-me-gma.jpg
Watch the Cast of Broadway's 'Holler If You Hear Me' Perform 'California Love' on GMA
The cast of Broadway's newest musical, Holler If You Hear Me with music from Tupac Shakur, performed on Good Morning America this morning. Singing 'California Love', the cast (including the teriffic Christopher Jackson – read our interview here), show why they're the most energetic and inspiring group of actors on Broadway. Holler If Ya Hear [...]
http://www.dailyactor.com/2014/07/watch-cast-broadways-holler-hear-perform-california-love-gma/
http://www.dailyactor.com/wp-content/uploads/2014/07/behind-the-scenes-of-dawn-of-the.jpg
Behind the Scenes of 'Dawn of the Planet of the Apes' with Performance Capture Actor Terry Notary
Actor Terry Notary is 1 of 5 actors playing the apes in the new Dawn of the Planet of the Apes. "When you see armies of apes," he says, that's "five of us." Check out the video where you can watch his performance capture work.
http://www.dailyactor.com/2014/07/dawn-planet-apes-performance-capture-actor-terry-notary/
http://www.dailyactor.com/wp-content/uploads/2014/07/melissa-mccarthy-daily-show.jpg
Melissa McCarthy and John Stewart Talk About Terrible Commercial Auditions on 'The Daily Show'
Melissa McCarthy stopped by The Daily Show last week to plug about her new movie, Tammy. She talked about how she loved working with her husband, Ben Falcone (director of Tammy) and then segued into talking about some horrible working situations. The always hilarious McCarthy then started to tell host John Stewart about a particular [...]
http://www.dailyactor.com/2014/07/melissa-mccarthy-john-stewart-commercial-auditions-the-daily-show/