Aubrey Plaza on Her Unique Characterization(s), Recent Success and Upcoming Steps In Her Career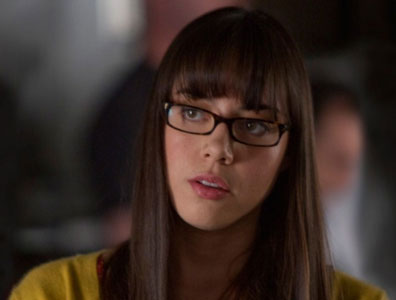 Aubrey Plaza's rise in the comedy sphere has been marked by a distinct flavor, all her own. Demonstrating her incredible dead pan humor as "Julie Powers" in Scott Pilgrim Vs. The World,  "April Ludgate" in "Parks and Recreation," and even as a snarky bookstore customer in the Fred Armisen/Carrie Brownstein half-hour single cam comedy "Portlandia," Plaza has indeed established herself as a (hilarious) member of the next comedy generation. Plaza also stars in the new Colin Trevorrow film, Safety Not Guaranteed.
PopcornBiz recently talked with Plaza about her unique characterization(s), recent success, and upcoming steps in her career.
Even though Plaza recognizes the legacy she has built for herself in comedy, her characterization wasn't necessarily something she tried to typecast herself within. "I wasn't thinking, 'Oh, people think that I'm this thing. I have to keep this going.' It was just kind of that those were the parts that I was offered and that I took." However, some elements of comedy haven't always come easy to Plaza. "I did have moments when I was doing stand-up a couple of years ago for 'Funny People,' when I did kind of have to very quickly create a persona … that's half the challenge of being a stand-up [comedian], having good material, but also creating a persona onstage that people respond to." Plaza goes on to explain that stand-up was new to her, at the time. "I'd never done stand-up before. I'm sure that because I hadn't done it before and I was so scared and awkward about it, like, that somehow was infused [into] my delivery or something."
Plaza's sarcastic characters also reach further than the television screen. Because her characters are so distinctly "Audrey Plaza," many people believe they represent her true persona. "I think it's funny because sometimes I feel like people are intimidated by me for that reason, and they think that I'm going to be mean or something."
However, Plaza enjoys the seemingly "negative" attention. "[I]t's kind of fun for me. I don't have a problem with it. I kind of embrace it. It's more interesting than if I was just kind of like everyone else[,] or something."
Plaza has certainly established herself in film and television with a unique brand but, she says that she would like to continue branching out. "I'll do anything! I want to do it all. I just want to play really good characters." Plaza's interest in playing entirely different kinds of characters goes beyond her normal genre. "It doesn't matter if it's a horror movie or an action movie. I could be a fish in a Pixar movie. I don't care. I just want to do interesting things."
Latest Videos
http://www.dailyactor.com/wp-content/uploads/2014/08/seth-rudetsky-reveals-the-5-wors.jpg
Seth Rudetsky Reveals the 5 Worst Musical Theater Audition Mistakes (video)
Seth Rudetsky, actor, musician and a host on SiriusXM's Broadway channel, has been teaching auditioning master classes this summer and he's seen his share of bad auditions lately. In this video, he reveals the 5 worst audition mistakes you can make in a musical theater audition and how to choose the perfect 16-bar audition song. [...]
http://www.dailyactor.com/2014/08/seth-rudetsky-5-worst-audition-mistakes/
http://www.dailyactor.com/wp-content/uploads/2014/07/sir-ben-kingsley-talks-about-the.jpg
Sir Ben Kingsley Talks about the Unique Way He Voiced His Character in the Animated Film, 'The Boxtrolls' (video)
I could listen to Sir Ben Kingsley talk about acting and.. well, I could listen to him talk about anything. He's starring in the new Laika stop-motion animated film, The Boxtrolls, and he and some of the cast (along with the director) joined in on a Comic-Con panel about the film. The Boxtrolls is about [...]
http://www.dailyactor.com/2014/07/sir-ben-kingsley-the-boxtrolls-comic-con/
http://www.dailyactor.com/wp-content/uploads/2014/07/bill-hader.jpg
Bill Hader: "I kind of fell into acting" (video)
Bill Hader, starring in the soon to be released The Skeleton Twins, talks about the film and how he fell into acting and then got "crazy lucky" in this quick video from USA Today.
http://www.dailyactor.com/2014/07/bill-hader-fell-into-acting-video/
http://www.dailyactor.com/wp-content/uploads/2014/07/director-john-carney-narrates-a.jpg
Director John Carney Narrates a Scene from 'Begin Again' Starring Kiera Knightley and Mark Ruffalo
Director John Carney (Once) narrates a scene from his new film, Begin Again. Starring Keira Knightley and Mark Ruffalo, the scene shows the first time the two characters meet. I haven't seen it yet but I've heard it's great.
http://www.dailyactor.com/2014/07/begin-again-scene-director-john-carney-keira-knightley-mark-ruffalo/
http://www.dailyactor.com/wp-content/uploads/2014/07/holler-if-you-hear-me-gma.jpg
Watch the Cast of Broadway's 'Holler If You Hear Me' Perform 'California Love' on GMA
The cast of Broadway's newest musical, Holler If You Hear Me with music from Tupac Shakur, performed on Good Morning America this morning. Singing 'California Love', the cast (including the teriffic Christopher Jackson – read our interview here), show why they're the most energetic and inspiring group of actors on Broadway. Holler If Ya Hear [...]
http://www.dailyactor.com/2014/07/watch-cast-broadways-holler-hear-perform-california-love-gma/