How Actress Maria Olsen is Making Her Way on Horror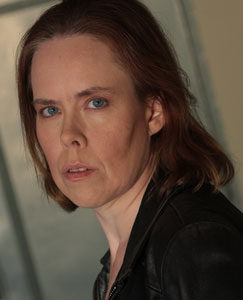 Maria Olsen is a Los Angeles based actress who is impressively making great strides with acting work in the horror industry.  She is currently attached to fifteen various film projects! Fifteen!
With her newly minted company, MOnsterworks 66, she is ensuring even more parts come her way from writers and directors all over the world.  
Daily Actor has the exclusive on how this character actress is paving her own way in the horror genre and how you can too!
Meoli:  What has been your approach with establishing yourself in the horror genre and why horror?
Olsen: When I was starting out in film, I didn't really have a clear idea of what my on-screen presence was going to be; and on-screen presence can be VERY different from real-life presence.  After I saw my first few projects on screen, though, I realized that I was naturally extremely intense, which possibly comes from my habit of focusing my energy as though I was giving a stage performance.  I figured that I should put my intensity to good use, and started trying out for roles in horror.  I haven't looked back since, and I love growing in the horror industry – it's truly like a family – and making new connections every day.  Horror is, also, I believe, a very misunderstood genre.  It's not just there for blood & gore and T&A, but it explores the unknown and tries to shed light on mankind's deepest fears.  If we're brave, we always try to understand what frightens us, don't we? I don't, of course, only work in horror – although it is my favorite genre – and I'm also known for my outings in fantasy "Percy Jackson & The Olympians: The Lightning Thief" comedy "Folklore," science fiction "Embers of the Sky" and the drama "Blue Like The Morning."
Meoli: Can you include 1-2 stories of examples of how you are growing in the horror industry?
Olsen: I think the most obvious indication to me that my reputation in the horror industry is growing is that I'm now being asked to attach myself to projects without having to audition.  I was, for instance, thrilled that this recently happened to me for both Jose Prendes' film "The Haunting of Whaley House," which we shot during April and which will be released in July – and another film in a well-known horror franchise that I can't yet publicize.
The most unusual of my attachments, though, came from my merely walking around in Hollywood Hills…  I was waiting on a street corner for a friend who didn't know the area to find me and go to a function when a strange car stopped in front of me and a fellow actress/producer I had met a few years ago leaned out of the window, said I would be perfect for her friend's film and offered me a role on the spot.  All in all, I guess, it's not always either what you know or who you know but rather where you happen to be standing…
Meoli: Tell us at Daily Actor, is there an actor's career out there you would like to follow or admire and why?
Olsen: I don't really follow anyone or try to model my life or career on anyone else's.  I'm horribly independent – and often very stubborn – and I usually figure things out for myself and then plan an appropriate course of action.
MOnsterworks66 (MO66) is the production liaison company I founded about a year ago that I now head up with my business partner, Angel Corbin.  We specialize in aligning people together to get movies made, and this involves making good and solid use of our vast network of personal contacts, figuring out what it is that people do best and realizing where to put them to the best use.  Need an artist descended from Rembrant van Rijn? We have one.  Need a production team in the Philippines? We have one of those too.  Need an actress so talented that she booked the lead in a trilogy of movies from a random YouTube video? Most definitely have that!
Meoli:  Okay, can you share some examples of festivals or an inspiration of how you connected with a writer and how the relationship grew?
Olsen: I absolutely adore discovering new writers and giving them the chance to see their scripts come to life on the big screen.  I connect with writers from all over the world through social media like Twitter, Stage32 and Facebook, and, at the moment, I'm liaising with writers from, among other places, the UK, France, Italy, South Africa and Australia in order to eventually have their projects produced.
About a year ago, I became Twitter friends with a writer in the UK – Graeme Parker – and, to cut a long story short, last week we wrapped the shoot for Graeme's first ever short film, "Life's a Lottery."  Graeme, Angel Corbin and I are now developing several short films and at least two features, and we're hoping to bring more of Graeme's works to the screen in the years to come.
Another project currently in development is a David Lynchian feature and short film written by the talented newcomer, Robbie Coburn, who hails from Australia.  After seeing my reel on IMDB, Robbie wrote a screenplay especially for me.  The film will probably turn out to be more Lynchian than Lynch himself at his best, and I can't wait to get this cult-classic-in-the-making into production.
Finally, I was also responsible for connecting Alabama-based screenwriter, Mike McLarty, with LA-based filmmaker, Sam Benavides of ISO Films, and the result of that day's work was the optioning of Mike's horror feature screenplay "Southbound."  The film is currently in development, and production will hopefully begin later this year.  Again, Twitter was responsible for this connection, as Mike was one of the writers I had randomly followed on that site about a year ago.
I think the bottom line must very definitely be: Never underestimate the power of social networking.
Meoli: What is the best way you would suggest for actors to get involved in horror films?
Olsen: Submit and audition for as many horror films as you can, both shorts and features.  Make friends with everyone you can in the horror industry – we're all over the place at conventions and film festivals and keep in contact with people.  Cultivate friendships with horror writers; if they see what you can do – and if you're good at what you do – they will start writing for you.
Latest Videos
http://www.dailyactor.com/wp-content/uploads/2014/09/watch-david-mamet-in-the-1976-sh.jpg
Watch: David Mamet in the 1976 Short Documentary 'The Playwright Directs'
Though David Mamet is best known for his distinctive writing style in his scripts for the stage and screen, he has also directed theater and film. The 1976 short documentary titled The Playwright Directs depicts Mamet directing actors through several scenes at an almost frantic pace, dispensing pearls of wisdom throughout, like his thoughts on […]
http://www.dailyactor.com/2014/09/watch-david-mamet-1976-documentary-the-playwright-directs/
http://www.dailyactor.com/wp-content/uploads/2014/09/watch-marvels-agents-of-s-h-i-e.jpg
Watch: Marvel's Agents of S.H.I.E.L.D. Season 1 Bloopers
Forgetting lines? Corpsing? Delivering lines in Spanish? Unruly props? All in a day's work on the set of Marvel's Agents of S.H.I.E.L.D, apparently. Clark Gregg, Ming-Na Wen, and the rest of the cast find plenty of humor while playing super-serious secret agents in the Marvel Universe. While you're waiting for season 2 of the series […]
http://www.dailyactor.com/2014/09/watch-marvels-agents-of-s-h-i-e-l-d-season-1-bloopers/
http://www.dailyactor.com/wp-content/uploads/2014/09/audtion-tapes-robin-wright-and-h.jpg
Audition Tapes: Robin Wright and Haley Joel Osment Audition with Tom Hanks for 'Forrest Gump'
Check out Robin Wright auditioning for the role of Jenny from Forest Gump opposite Tom Hanks. Interestingly enough, Hanks doesn't quite have Gump's southern drawl down just yet while the other actors audition with him. In fact, Hanks would base Gump's voice on the voice of Michael Conner Humphreys, who played the young Forrest and […]
http://www.dailyactor.com/2014/09/audtion-tapes-robin-wright-haley-joel-osment-tom-hanks-forrest-gump/
http://www.dailyactor.com/wp-content/uploads/2014/08/bryan-cranston-emmy-award-speech.jpg
Watch: Bryan Cranston's Emmy Award Speech: "I love to act. It is a passion of mine and I will do it until my last breath."
The Emmy Awards weren't the most exciting awards show this year but with Bryan Cranston winning for Outstanding Actor in a Drama for Breaking Bad, we at least got to hear one heck of a fantastic acceptance speech. "I was a kid who always looked for the shortcut," he said. "I did happen to stumble […]
http://www.dailyactor.com/2014/08/watch-bryan-cranston-and-aaron-pauls-emmy-award-speeches/
http://www.dailyactor.com/wp-content/uploads/2014/08/audition-tapes-gerard-butler-aud.jpg
Audition Tapes: Gerard Butler Auditions for 'Dracula 2000′
Check out Gerard Butler auditioning for the role of Dracula in the movie, Dracula 2000. The film, about a group of thieves who break into a chamber expecting to find paintings, but instead find Dracula himself, also starred Christopher Plummer, Jonny Lee Miller and Nathan Fillion. Bulter has some sweet rock star hair, huh?
http://www.dailyactor.com/2014/08/audition-tapes-gerard-butler-dracula-2000/