Broadway Continues to Turn to Movies For New Musicals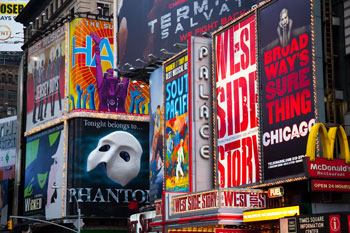 It used to be that a Broadway show would be a hit on stage, then be made as a movie. But as anyone who has followed Broadway in the last twenty years knows, with the success of Disney Theatrical Group and the the success of Mel Brooks' The Producers at the turn of the twenty-first century, that trend has been mostly reversed — hit movies are now becoming Broadway shows, with a significant amount of Broadway shows of the last dozen years being based on popular movies.
This trend is more evident than ever, with Newsies, Once, Leap of Faith, Ghost: The Musical, Sister Act and Priscilla Queen of the Desert all currently on the Great White Way.  And in the works are Broadway shows based on movies that one would likely never suspect of making a good musical: Rocky, Back to the Future, and Animal House.
Though movies-to-musicals like The Producers, Hairspray, Spamalot, and Billy Elliot became big hits, each winning the Tony Award for Best Musical — with The Producers and Hairspray being such big hits that they were even being remade as musical movies — a movie turned musical isn't always a major success.   Adaptations of Young Frankenstein, Shrek, Elf, High Fidelity, Urban Cowboy, Saturday Night Fever, and Catch Me If You Can were met with little critical or financial success, and in many cases lacked both.  Some only lasted weeks, not months, before closing.
Yet Broadway producer Ken Davenport argues that the success rate for movies-turned-musicals isn't any worse than original musicals, point out, "Only 20 to 30 percent of Broadway shows return their investment.  Totally original musicals that aren't based on anything are unbelievably rare, and have a big failure rate. I look for source material that will make a great musical, and I don't care if it's from a book, a movie or a postcard!"
One of the major motivating factors includes audience recognition, with producers hoping that fans of the original film will make the trip to Broadway.  Producer Manny Azenberg says, "A hit film is a brand, and it gives you that recognition factor," though he admits, "It takes some of the creativity and originality out of the process."
The New York Post
features a lengthy list of musicals currently in the works for Broadway.  They range from "I can totally see that" with shows based on
Flashdance
to "Really?" with shows like
Sleepless in Seattle
.  Whether any of them will make it to Broadway is anyone's guess, but it does show that producers are not giving up on this trend anytime soon.
Latest Videos
http://www.dailyactor.com/wp-content/uploads/2014/07/sir-ben-kingsley-talks-about-the.jpg
Sir Ben Kingsley Talks about the Unique Way He Voiced His Character in the Animated Film, 'The Boxtrolls' (video)
I could listen to Sir Ben Kingsley talk about acting and.. well, I could listen to him talk about anything. He's starring in the new Laika stop-motion animated film, The Boxtrolls, and he and some of the cast (along with the director) joined in on a Comic-Con panel about the film. The Boxtrolls is about [...]
http://www.dailyactor.com/2014/07/sir-ben-kingsley-the-boxtrolls-comic-con/
http://www.dailyactor.com/wp-content/uploads/2014/07/bill-hader.jpg
Bill Hader: "I kind of fell into acting" (video)
Bill Hader, starring in the soon to be released The Skeleton Twins, talks about the film and how he fell into acting and then got "crazy lucky" in this quick video from USA Today.
http://www.dailyactor.com/2014/07/bill-hader-fell-into-acting-video/
http://www.dailyactor.com/wp-content/uploads/2014/07/director-john-carney-narrates-a.jpg
Director John Carney Narrates a Scene from 'Begin Again' Starring Kiera Knightley and Mark Ruffalo
Director John Carney (Once) narrates a scene from his new film, Begin Again. Starring Keira Knightley and Mark Ruffalo, the scene shows the first time the two characters meet. I haven't seen it yet but I've heard it's great.
http://www.dailyactor.com/2014/07/begin-again-scene-director-john-carney-keira-knightley-mark-ruffalo/
http://www.dailyactor.com/wp-content/uploads/2014/07/holler-if-you-hear-me-gma.jpg
Watch the Cast of Broadway's 'Holler If You Hear Me' Perform 'California Love' on GMA
The cast of Broadway's newest musical, Holler If You Hear Me with music from Tupac Shakur, performed on Good Morning America this morning. Singing 'California Love', the cast (including the teriffic Christopher Jackson – read our interview here), show why they're the most energetic and inspiring group of actors on Broadway. Holler If Ya Hear [...]
http://www.dailyactor.com/2014/07/watch-cast-broadways-holler-hear-perform-california-love-gma/
http://www.dailyactor.com/wp-content/uploads/2014/07/behind-the-scenes-of-dawn-of-the.jpg
Behind the Scenes of 'Dawn of the Planet of the Apes' with Performance Capture Actor Terry Notary
Actor Terry Notary is 1 of 5 actors playing the apes in the new Dawn of the Planet of the Apes. "When you see armies of apes," he says, that's "five of us." Check out the video where you can watch his performance capture work.
http://www.dailyactor.com/2014/07/dawn-planet-apes-performance-capture-actor-terry-notary/