Broadway Continues to Turn to Movies For New Musicals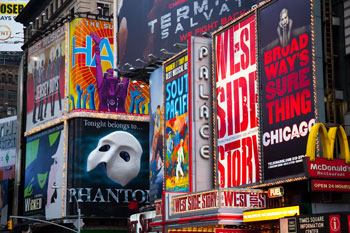 It used to be that a Broadway show would be a hit on stage, then be made as a movie. But as anyone who has followed Broadway in the last twenty years knows, with the success of Disney Theatrical Group and the the success of Mel Brooks' The Producers at the turn of the twenty-first century, that trend has been mostly reversed — hit movies are now becoming Broadway shows, with a significant amount of Broadway shows of the last dozen years being based on popular movies.
This trend is more evident than ever, with Newsies, Once, Leap of Faith, Ghost: The Musical, Sister Act and Priscilla Queen of the Desert all currently on the Great White Way.  And in the works are Broadway shows based on movies that one would likely never suspect of making a good musical: Rocky, Back to the Future, and Animal House.
Though movies-to-musicals like The Producers, Hairspray, Spamalot, and Billy Elliot became big hits, each winning the Tony Award for Best Musical — with The Producers and Hairspray being such big hits that they were even being remade as musical movies — a movie turned musical isn't always a major success.   Adaptations of Young Frankenstein, Shrek, Elf, High Fidelity, Urban Cowboy, Saturday Night Fever, and Catch Me If You Can were met with little critical or financial success, and in many cases lacked both.  Some only lasted weeks, not months, before closing.
Yet Broadway producer Ken Davenport argues that the success rate for movies-turned-musicals isn't any worse than original musicals, point out, "Only 20 to 30 percent of Broadway shows return their investment.  Totally original musicals that aren't based on anything are unbelievably rare, and have a big failure rate. I look for source material that will make a great musical, and I don't care if it's from a book, a movie or a postcard!"
One of the major motivating factors includes audience recognition, with producers hoping that fans of the original film will make the trip to Broadway.  Producer Manny Azenberg says, "A hit film is a brand, and it gives you that recognition factor," though he admits, "It takes some of the creativity and originality out of the process."
The New York Post
features a lengthy list of musicals currently in the works for Broadway.  They range from "I can totally see that" with shows based on
Flashdance
to "Really?" with shows like
Sleepless in Seattle
.  Whether any of them will make it to Broadway is anyone's guess, but it does show that producers are not giving up on this trend anytime soon.
Latest Videos
http://www.dailyactor.com/wp-content/uploads/2014/04/director-david-gordon-greene-nar.jpg
Director David Gordon Green Narrates a Scene From 'Joe'
Director David Gordon Green narrates a sequence from his new film, Joe, featuring Nicolas Cage and Tye Sheridan. In the video, he mentions his reasons why he likes to hire non-traditional actors. He likes people who have real skill-sets and not actors who have the skills on their resume. He also talked about this in […]
http://www.dailyactor.com/2014/04/director-david-gordon-green-narrates-a-scene-from-joe/
http://www.dailyactor.com/wp-content/uploads/2014/04/david-gordon-green-joe.jpg
Director David Gordon Green: "I find actors in unusual places"
I keep missing screenings of director David Gordon Greene's new film, Joe. I hear it's really good so I'm looking forward to catching it at some point. Joe stars Nicholas Cage as ex-con Joe Ransom, who isn't the greatest of role models until he meets a 15-year-old boy (Mud's Tye Sheridan). In this featurette, Green […]
http://www.dailyactor.com/2014/04/director-david-gordon-green-i-find-actors-in-unusual-places/
http://www.dailyactor.com/wp-content/uploads/2014/04/judy-greer-i-dont-know-why-you-know-me-from.jpg
Please Don't Say These Things To Judy Greer (video)
Judy Greer - who we love here at Daily Actor – has a new book called, I Don't Know What You Know Me From (Confessions of a Co-Star), a series of essays about her life as an actress, friend and someone who everyone thinks they might know. Here's a blurb about the book: "Want to […]
http://www.dailyactor.com/2014/04/please-dont-say-these-things-to-judy-greer-video/
http://www.dailyactor.com/wp-content/uploads/2014/04/Captain-America-SamuelNick-Fury.jpg
How Samuel L. Jackson Learns His Lines for the Marvel Movies (video)
Samuel L. Jackson stopped by Good Morning America earlier this week to talk about Captain America: The Winter Soldier – which is terrific, by the way – and he told Robin Roberts that for the first Cap film, he had trouble learning his lines. "I sat at home and I did all my studying, and […]
http://www.dailyactor.com/2014/04/how-samuel-l-jackson-learns-his-lines-for-the-marvel-movies-video/
http://www.dailyactor.com/wp-content/uploads/2014/04/andy-karl-margot-seibert-rocky.jpg
Andy Karl and Margo Seibert Talk 'Rocky: The Musical' on 'Today'
Andy Karl and Margo Seibert, the stars of Rocky: The Musical, talked to Today's Matt Lauer about the new Broadway musical. Karl talks about the final fight and taking on the iconic role. This is Seibert's Broadway debut and she's asked about her callbacks (9 in all!) and more. Check it out!
http://www.dailyactor.com/2014/04/andy-karl-and-margo-seibert-talk-rocky-the-musical-on-today/