What should the producers of a show do when it has already been savaged by Stephen Sondheim, New York Times theater critic Ben Brantley, and Bloomberg theater critic Jeremy Gerard before it has even made its planned debut on Broadway?
That's the current dilemma facing The Gershwins' Porgy and Bess, a musical adaptation of the George and Ira Gershwin and DuBose Heyward opera Porgy and Bess currently in Boston as the producers and the estates of the original authors weigh the consequences of such bad press.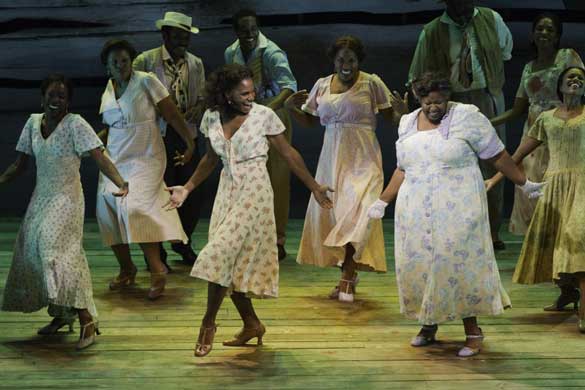 Porgy and Bess, originally performed in 1935, had a torrid relationship with the opera community for decades since many did not consider the work legitimate opera based on its non-traditional songs that were influenced by African-American folk songs.  More recently the opera has been praised as a masterpiece, which led Sondheim to have a negative outlook on the new Boston rendition when director Diane Paulus and writer Suzan-Lori Parks made significant changes to the opera, explaining that they felt the characters were "underwritten" and that they desired to make the work easier to understand for modern audiences.  Sondheim wrote a scathing letter to the New York Times criticizing the pair and their approach, which were followed by the negative reviews by Brantley and Gerard.  Normally it is very uncommon for Broadway critics to review a show while it is still in out-of-town tryouts, but Sondheim's letter seems to have opened the floodgates of criticism early.
 Of course, early bad reviews won't always sink a show — sure it's a totally different type of entertainment, but Spider-Man: Turn Off the Dark still sells plenty of tickets despite mostly negative reviews — but when Sondheim and influential critics attack the show as borderline sacrilegious it certainly worries the estates of the show's authors and anyone backing the show financially. 
Other Broadway producers believe that backing down to the whims of the critics would be the wrong move.  A veteran producer tells the New York Post, "[By not going on with the show] They'll do real harm to the title.  If the estates do not approve the Broadway run, they're basically saying Steve Sondheim is right and the only way to do Porgy and Bessis to do the original — a full-length opera."  Another producer agrees, saying, "OK — it's not my money — but if they close, they're giving the critics way too much power.  And we've finally gotten to a point where the critics don't necessarily have make-or-break power in New York anymore."
The Gershwins' Porgy and Bess is currently scheduled to open at the Richard Rodgers Theatre in January, but whether it actually gets there is a question that is very difficult to answer right now.