Interview: Nia Vardalos Talks Acting: "What is underneath the words is more than what you are saying"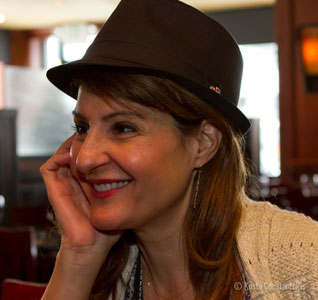 Interviewed by Sofia Gian
It's not often you run into an accomplished actress and ask them for 5 minutes of their time and they respond by saying "I'll give you 15".
That's exactly what happened when I haphazardly bumped into Nia Vardalos at Sundance. I knew she was in town for the film fest, but the odds of formally getting a sit-down interview were next to nil.
So how could I pass up this random, once-in-a-lifetime, opportunity to chat about her acting career?
Sofia Gian: I want to go back to the beginning and really understand what you did to propel your career forward?
Nia Vardalos: This is something I talk about all the time at the Screen Actor's Guild, about why I wrote My Big Fat Greek Wedding.  I wrote it out of complete desperation because I couldn't get a job in Hollywood.  So I wrote a screenplay about the experience of my husband being baptized, thinking that maybe I could play a bridesmaid. Then I couldn't get that screenplay read so I thought that I would do it as a one-person show, thinking that maybe I'll get an agent.
By doing a one-woman show, I didn't care if I was getting on film because I was being heard on stage every night. Ultimately when Rita Wilson and Tom Hanks came to the show and said that this should be a movie, the joke we always say is that I handed them the screenplay so fast that their hair flew back. That wasn't the culmination of it all it was just another step.  I didn't wait for the phone to ring, anymore, I created my own work in Hollywood, and I got on stage and did my own show. So what I learned was that the goal was to get the screenplay made, but the experience of it made me creatively satisfied.
Sofia Gian: What did doing that one-woman show teach you?
Nia Vardalos: Just the other day, I was pitching a script to a studio and someone came into the room, grabbed one of the executives because she had to leave, the other executive you could see was completely rattled by it. The pitch was going so well. The one-woman show taught me what to do in the middle of a performance when something happens.  So I just kept going until I drew him back in.  I learned so much from that one-woman show.  So sure I got to make the movie and I got to be in it but the experience sometimes outweighs it all, I learned to stay in the moment.
Sofia Gian: Do you believe that making it as an actor is about luck or is it a combination of luck and hard work?
Nia Vardalos: It is absolutely luck meeting preparation.  If I had not had that screenplay written who would have known where Tom and Rita's minds would have been in six months. If they had said this should be a movie and then I got it to them six months later, maybe they would have moved on to a different project, or found another Greek project, or had been gone or hard to reach. The fact that I had the screenplay with me made a difference.  I tell people all the time, take your acting classes, get your headshots ready, have one in the car all the time, you don't know when you are going to run into Quentin Tarantino.
Sofia Gian: If you could go back and give yourself some advice when you were first starting out what would it be?
Nia Vardalos: I think I should have had more patience, not to be so worried, but I think that is who I am, I'm very driven. Sometimes you aren't sure why things are taking so long but if you keep your eyes open, there is obviously something better waiting for you.  So if I had gotten parts in LA right away, like my husband (Ian Gomez), I probably wouldn't have written that screenplay.  So sometimes you have to tell yourself that the frustration that you are going through is because sometimes there is something bigger around the corner.  So don't get down and keep your mind open.
Sofia Gian: Tell me a bit about your film "For a Good Time Call…"
Nia Vardalos: The reason how I'm in it was I got an award at the Writers Guild, because I mentor young female writers.  At the awards ceremony I had to do a speech and the speech that I gave was basically on – Doesn't matter how many no's you get, you only need one yes. We are a room of optimists and we get films made against all odds, even after the success of My Big Fat Greek Wedding, all I ever heard was "no, no, no."
These two girls were in the audience, Lauren Miller and Katie Anne Naylon. They had a script and they tried to shop it around to studios, and had gotten a lot of "no's", and so they decided to make the script by themselves. One of the writers is starring in it, so it was just like my experience.  When they were trying to get their project made they called up my agent and asked me to be in it.  At that time I was finishing a movie and starting another and my agent said, we can work this out so that you can shoot a day in Los Angeles. He said do you want to do this movie? – I said Absolutely!
Sofia Gian: So as we work on different roles, we grow as an actor, what did you learn on this film?
Nia Vardalos: I learned that what is underneath the words is more then what you are saying. So I thought the director did a very good job of allowing us to just be in the moment with each other. Also I've never played a person with such power, usually I play the dorky girl next door, who gets to kiss the guy who is way out of my league (laughs) but this is the first time I played someone that was so manipulative and powerful. 
Sofia Gian: For your own personal growth, is there any type of role that you would want to take on next?
Nia Vardalos: I have a couple of scripts in development and I always think to myself, What do I want to play and then I go out and write it.
So with that final question, I handed Nia Vardalos my actor's card – once upon a time she was just like me, trying to make it in what seems like an impossible industry to break into. Most importantly, it's that with hard work and determination, you can make it in this industry (or any industry your heart desires); just keep hacking away – it's "luck meeting preparation", as Nia said. I couldn't have said it better myself
Sofia Gian does one thing each day to reach her goal of becoming a leading lady. In this process she interviews industry professionals and learns tricks and tips which actors can use to move their careers forward.
Follow her daily quest on www.ActressConfessions.com
http://www.dailyactor.com/wp-content/uploads/2015/01/watch-al-pacino-talks-the-humbli.jpg
Watch: Al Pacino Talks 'The Humbling' and His Extraordinary Career
In this conversation with Al Pacino talks about his role in The Humbling -- including working with Greta Gerwig -- and his historic acting career
http://www.dailyactor.com/2015/01/watch-al-pacino-extraordinary-career/
http://www.dailyactor.com/wp-content/uploads/2015/01/watch-oscar-nominee-steve-carell.jpg
Watch: Oscar Nominee Steve Carell Talks Improv, Auditioning for 'The Office' and 'Foxcatcher'
Carell talks about his entire career as an actor, including his background in improv, how he landed the Michael Scott role on The Office, and Foxcatcher
http://www.dailyactor.com/2015/01/oscar-nominee-steve-carell-improv-auditioning-for-the-office-foxcatcher/
http://www.dailyactor.com/wp-content/uploads/2015/01/ethan-hawke-ellar-coltrane-boyhood.jpg
Ethan Hawke Calls 'Boyhood' the "most special endeavor of my life"
Ethan Hawke is riding high with his fourth Oscar nomination for the Richard Linklater-directed Boyhood. In a recent "Ask Me Anything" on Reddit, the 44-year-old actor gave some thoughtful insight into his career and the 12-year creative endeavor that became the biggest film of the Oscar season. When asked what was the most difficult thing about […]
http://www.dailyactor.com/2015/01/ethan-hawke-boyhood-reddit-amaife/
http://www.dailyactor.com/wp-content/uploads/2015/01/martha-plimpton-a-delicate-balance.jpg
Martha Plimpton Takes a Refreshing Approach to a Long-Lasting Career
Martha Plimpton is an actress who enjoys the work, she's not in it for the fame. The proof is in her continually excellent work that she is doing on-screen and on the stage. She's currently starring in A Delicate Balance on Broadway. It's the audience who gives her the ultimate thrill. "I try to get […]
http://www.dailyactor.com/2015/01/martha-plimpton-long-lasting-career/
http://www.dailyactor.com/wp-content/uploads/2015/01/watch-michael-keaton-talks-candi.jpg
Watch: Michael Keaton Talks Candidly About His Career and His Approach to Acting in 'Birdman'
In this nearly 90 minute conversation, Michael Keaton is his usual affable self but is also remarkably candid about his career and his approach to acting.
http://www.dailyactor.com/2015/01/michael-keaton-career-approach-to-acting-birdman/