Dog Who played 'Sandy' Cut from Australian Production of 'Annie' Because of Stage Fright?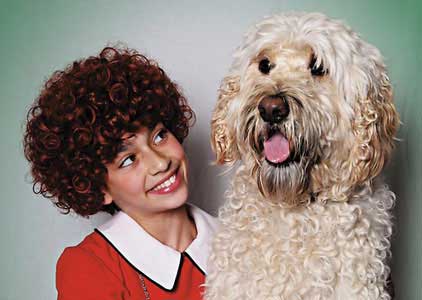 "Never work with children or animals," one said early film comedian W.C. Fields.  As far as the current Australian version of the musical Annie is concerned, the second part of that quote might have something to it. 
The Sydney Morning Herald reports that during opening night of the latest production of Annie at the Lyric Theatre in Sydney, the dog playing Annie's loyal companion Sandy — Coogee, a one-year-old groodle — didn't cooperate as planned. 
The problem?  Stage fright!
"As soon as he saw the audience and heard them, he looked really uncomfortable and nervous," says production assistant Fritha Truscott. "He had his tail between his legs and he looked scared. We didn't want to put him through that night after night."   To avoid future problems, Coogee has been cut from the production with an "understudy," Mickey, taking Coogee's place along with various other dogs (of various breeds) belonging to the cast and crew to fill in the second dog role in the musical — that of a stray.  Currently Chino, a Maltese-shitzsu owned by actress Chloe Dallimore is playing the role of the stray while Mickey continues to be the top dog.  Nonetheless, the production is looking for a permanent, full-time lead dog.
Of course, the biggest problem was breaking the news of Coogee's "firing" to the cast — a great of deal of which is made up of children under ten.  Truscott explains that the children were told that Coogee "resigned," but "Some of the girls were really sad, especially the seven and eight-year-olds."
Latest Videos
http://www.dailyactor.com/wp-content/uploads/2014/07/bill-hader.jpg
Bill Hader: "I kind of fell into acting" (video)
Bill Hader, starring in the soon to be released The Skeleton Twins, talks about the film and how he fell into acting and then got "crazy lucky" in this quick video from USA Today. Share on Tumblr
http://www.dailyactor.com/2014/07/bill-hader-fell-into-acting-video/
http://www.dailyactor.com/wp-content/uploads/2014/07/director-john-carney-narrates-a.jpg
Director John Carney Narrates a Scene from 'Begin Again' Starring Kiera Knightley and Mark Ruffalo
Director John Carney (Once) narrates a scene from his new film, Begin Again. Starring Keira Knightley and Mark Ruffalo, the scene shows the first time the two characters meet. I haven't seen it yet but I've heard it's great.
http://www.dailyactor.com/2014/07/begin-again-scene-director-john-carney-keira-knightley-mark-ruffalo/
http://www.dailyactor.com/wp-content/uploads/2014/07/holler-if-you-hear-me-gma.jpg
Watch the Cast of Broadway's 'Holler If You Hear Me' Perform 'California Love' on GMA
The cast of Broadway's newest musical, Holler If You Hear Me with music from Tupac Shakur, performed on Good Morning America this morning. Singing 'California Love', the cast (including the teriffic Christopher Jackson – read our interview here), show why they're the most energetic and inspiring group of actors on Broadway. Holler If Ya Hear [...]
http://www.dailyactor.com/2014/07/watch-cast-broadways-holler-hear-perform-california-love-gma/
http://www.dailyactor.com/wp-content/uploads/2014/07/behind-the-scenes-of-dawn-of-the.jpg
Behind the Scenes of 'Dawn of the Planet of the Apes' with Performance Capture Actor Terry Notary
Actor Terry Notary is 1 of 5 actors playing the apes in the new Dawn of the Planet of the Apes. "When you see armies of apes," he says, that's "five of us." Check out the video where you can watch his performance capture work.
http://www.dailyactor.com/2014/07/dawn-planet-apes-performance-capture-actor-terry-notary/
http://www.dailyactor.com/wp-content/uploads/2014/07/melissa-mccarthy-daily-show.jpg
Melissa McCarthy and John Stewart Talk About Terrible Commercial Auditions on 'The Daily Show'
Melissa McCarthy stopped by The Daily Show last week to plug about her new movie, Tammy. She talked about how she loved working with her husband, Ben Falcone (director of Tammy) and then segued into talking about some horrible working situations. The always hilarious McCarthy then started to tell host John Stewart about a particular [...]
http://www.dailyactor.com/2014/07/melissa-mccarthy-john-stewart-commercial-auditions-the-daily-show/