David Strathairn on acting: "I tend to think there has to be a baseline of confidence in order to be an actor. Otherwise it's too scary"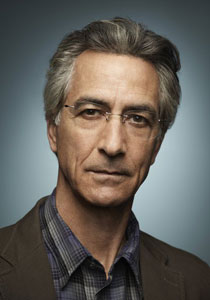 David Strathairn says he loves to act because with each new role he feels he is forever learning something new. "If I'm fortunate enough to get involved in a project that has some pretty good legs under it, people have given thought to it, you're going to learn something."
The actor has tackled parts spanning various genres from Edward R. Murrow to a child abuser. "In theater I've always learned something about the particular world that the play is about – whether it's 1906 outside of Moscow in a Chekhov play, or an Arthur Miller play. Of course, Shakespeare is extraordinary."
Having experienced a spectrum of roles in theater, film and television, and having costarred in such blockbuster's as "The Bourne Ultimatum" and award winning films "L.A. Confidential" and "Temple Grandin," Strathairn has become the "go-to" supporting actor in Hollywood.
"Often I wonder, why am I still doing this?," he says. "Why don't I just go back to my garden and chickens and dogs and family and just hunker down? But there are a lot of questions I haven't answered, and being involved in this discipline keeps me answering them."
Strathairn stars in the Syfy series, "Alphas," which premiers July 11, and he says he was intrigued by the challenge of playing neurologist Dr. Lee Rosen, a scientist in charge of a government project that locates individuals with singular abilities. "It's something I've never explored, developing a character that could have mutations anywhere along the road that would be embraced or not. It's a real wide landscape of character development. Then I really liked what they're trying to do with the series, which is to explore people who have these neurological anomalies that are very plausible."
Despite having such respected bodies of work as "Good Night, and Good Luck," "The Sopranos," "A League of Their Own" and "Brother from Another Planet" on his resume, Strathairn admits he still experiences moments of doubt, "To a certain extent each part I approach I think, 'Am I going to be able to do this?' A lot comes with what you're given the opportunity to do. Sometimes they cast people to get the project financed. I always have that little moment when I think, 'Am I up to this?' I tend to think there has to be a baseline of confidence in order to be an actor. Otherwise it's too scary," he says.
After a moment the actor adds, "You have to have the confidence that you'll be able to hit the nail at least three times out of 10. You've gotta have that kind of confidence."
via The Kansas City Star

Latest Videos
http://www.dailyactor.com/wp-content/uploads/2014/07/bill-hader.jpg
Bill Hader: "I kind of fell into acting" (video)
Bill Hader, starring in the soon to be released The Skeleton Twins, talks about the film and how he fell into acting and then got "crazy lucky" in this quick video from USA Today. Share on Tumblr
http://www.dailyactor.com/2014/07/bill-hader-fell-into-acting-video/
http://www.dailyactor.com/wp-content/uploads/2014/07/director-john-carney-narrates-a.jpg
Director John Carney Narrates a Scene from 'Begin Again' Starring Kiera Knightley and Mark Ruffalo
Director John Carney (Once) narrates a scene from his new film, Begin Again. Starring Keira Knightley and Mark Ruffalo, the scene shows the first time the two characters meet. I haven't seen it yet but I've heard it's great.
http://www.dailyactor.com/2014/07/begin-again-scene-director-john-carney-keira-knightley-mark-ruffalo/
http://www.dailyactor.com/wp-content/uploads/2014/07/holler-if-you-hear-me-gma.jpg
Watch the Cast of Broadway's 'Holler If You Hear Me' Perform 'California Love' on GMA
The cast of Broadway's newest musical, Holler If You Hear Me with music from Tupac Shakur, performed on Good Morning America this morning. Singing 'California Love', the cast (including the teriffic Christopher Jackson – read our interview here), show why they're the most energetic and inspiring group of actors on Broadway. Holler If Ya Hear [...]
http://www.dailyactor.com/2014/07/watch-cast-broadways-holler-hear-perform-california-love-gma/
http://www.dailyactor.com/wp-content/uploads/2014/07/behind-the-scenes-of-dawn-of-the.jpg
Behind the Scenes of 'Dawn of the Planet of the Apes' with Performance Capture Actor Terry Notary
Actor Terry Notary is 1 of 5 actors playing the apes in the new Dawn of the Planet of the Apes. "When you see armies of apes," he says, that's "five of us." Check out the video where you can watch his performance capture work.
http://www.dailyactor.com/2014/07/dawn-planet-apes-performance-capture-actor-terry-notary/
http://www.dailyactor.com/wp-content/uploads/2014/07/melissa-mccarthy-daily-show.jpg
Melissa McCarthy and John Stewart Talk About Terrible Commercial Auditions on 'The Daily Show'
Melissa McCarthy stopped by The Daily Show last week to plug about her new movie, Tammy. She talked about how she loved working with her husband, Ben Falcone (director of Tammy) and then segued into talking about some horrible working situations. The always hilarious McCarthy then started to tell host John Stewart about a particular [...]
http://www.dailyactor.com/2014/07/melissa-mccarthy-john-stewart-commercial-auditions-the-daily-show/