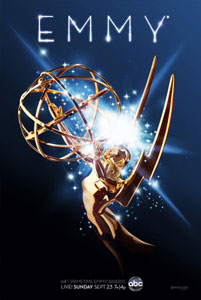 The Emmy Nominations came out this morning while I was fast asleep and based on presenter Jimmy Kimmel's early morning wardrobe (see the video below), he wanted to be doing the same.
Kimmel and his co-presenter Kerry Washington read the nominations this morning and to my delight (yeah, I just wrote that), some of my favorite shows and actors were shown Emmy love.
American Horror Story and Mad Men both received 17 nominations, Downton Abbey and Hatfields & Mccoys got 16 and the HBO movie Hemingway & Gellhorn was given 15.
At 14 nominations were Modern Family and Saturday Night Live, 13 for Breaking Bad, Sherlock: A Scandal In Belgravia (Masterpiece) and 30 Rock and 12 were handed out to Boardwalk Empire and the HBO film, Game Change.
On the acting front, I was happy to see that Louis C.K. was nominated again. I'll also have my fingers crossed for both Lena Dunham (Girls) and Bill Hader (SNL).
Check out the full list and video of the announcements below.
Best Comedy Series
"The Big Bang Theory"
"Curb Your Enthusiasm"
"Girls"
"Modern Family"
"30 Rock"
"Veep"
Best Actress in a Comedy Series
Zooey Deschanel, "New Girl"
Lena Dunham, "Girls"
Edie Falco, "Nurse Jackie"
Tina Fey, "30 Rock"
Julia Louis-Dreyfus, "Veep"
Melissa McCarthy, "Mike and Molly"
Amy Poehler, "Parks and Recreation"
Best Actor in a Comedy Series
Alec Baldwin, "30 Rock"
Don Cheadle, "House of Lies"
Louis C.K., "Louie"
Jon Cryer, "Two and a Half Men"
Larry David, "Curb Your Enthusiasm"
Jim Parsons, "The Big Bang Theory"
Supporting Actor, Comedy Series
Ed O'Neill, "Modern Family"
Jesse Tyler Ferguson, "Modern Family"
Ty Burrell, "Modern Family"
Max Greenfield, "New Girl"
Bill Hader, "Saturday Night Live"
Supporting Actress, Comedy Series
Mayim Bialik, "The Big Bang Theory"
Kathryn Joosten, "Desperate Housewives"
Julie Bowen, "Modern Family"
Sofia Vergara, "Modern Family"
Merritt Wever, "Nurse Jackie"
Kristen Wiig, "Saturday Night Live"
Best Drama Series
"Boardwalk Empire"
"Breaking Bad"
"Downton Abbey"
"Game of Thrones"
"Homeland"
"Mad Men"
Best Actress in a Drama Series
Kathy Bates, "Harry's Law"
Glenn Close, "Damages"
Claire Danes, "Homeland"
Michelle Dockery, "Downton Abbey"
Julianna Margulies, "The Good Wife"
Elisabeth Moss, "Mad Men"
Best Actor in a Drama Series
Hugh Bonneville, "Downton Abbey"
Steve Buscemi, "Boardwalk Empire"
Bryan Cranston, "Breaking Bad"
Michael C. Hall, "Dexter"
Jon Hamm, "Mad Men"
Damian Lewis, "Homeland"
Supporting Actor, Drama Series
Aaron Paul, "Breaking Bad"
Giancarlo Esposito, "Breaking Bad"
Brendan Coyle, "Downton Abbey"
Peter Dinklage, "Game of Thrones"
Jared Harris, "Mad Men"
Supporting Actress, Drama Series
Anna Gunn, "Breaking Bad"
Maggie Smith, "Downton Abbey"
Joanne Froggatt, "Downton Abbey"
Archie Panjabi, "The Good Wife"
Christina Hendricks, "Mad Men"
Best Miniseries or Movie
"American Horror Story"
"Game Change"
"Hatfields & McCoys"
"Hemingway and Gellhorn"
"Luther"
"Sherlock"
Best Actress Miniseries or Movie
Connie Britton, "American Horror Story"
Ashey Judd, "Missing"
Nicole Kidman, "Hemingway and Gellhorn"
Julianne Moore, "Game Change"
Emma Thompson, "The Song of Lunch"
Best Actor in a Miniseries or Movie
Kevin Costner, "Hatfields & McCoys"
Beneditch Cumberbach, "Sherlock"
Idris Elba, "Luther"
Woody Harrelson, "Game Change"
Clive Owen, "Hemingway and Gellhorn"
Bill Paxton, "Hatfields & McCoys"
Supporting Actor, Miniseries or Movie
Denis O'Hare, "American Horror Story"
Ed Harris, "Game Change"
Tom Berenger, "Hatfields & McCoys"
David Strathairn, "Hemingway & Gellhorn"
Martin Freeman, "Sherlock: A Scandal in Belgravia (Masterpiece)"
Supporting Actress, Miniseries or Movie
Frances Conroy, "American Horror Story"
Jessica Lange, "American Horror Story"
Sarah Paulson, "Game Change"
Mare Winningham, "Hatfields & McCoys"
Judy Davis, "Page Eight (Masterpiece)"
Outstanding Host: Reality-Competition Program
Tom Bergeron, "Dancing With the Stars"
Cat Deeley, "So You Think You Can Dance"
Phil Keoghan, "The Amazing Race"
Ryan Seacrest, "American Idol"
Betty White, "Betty White's Off Their Rockers"
Reality-Competition Program
"The Amazing Race"'
"Dancing swith the Stars"
"Project Runway"
"So You Think You Can Dance"
"Top Chef"
"The Voice"
Reality Program
"Antiques Roadshow"
"Jamie Oliver's Food Revolution"
"MythBusters"
"Undercover Boss"
"Who Do You Think You Are?"
Variety Series
"The Colbert Report"
"The Daily Show with Jon Stewart"
"Jimmy Kimmel Live!"
Late Night With Jimmy Fallon"
"Real Time With Bill Maher"
"Saturday Night Live"
Children's Program
"Degrassi"
"Good Luck Charlie"
"iCarly"
""Victorious"
"Wizards Of Waverly Place"