Mackenzie Crook, "Jerusalem" and Stage-Struck Turtles
"I inherited a pair of turtles when I was 13," explains Mackenzie Crook, "They had been in the family at that point for at least 60 years…That's 25 years ago, so these things are in their eighties.  Every year they produce a clutch of eggs, and I hatch them out."
Crook, who has made a name for himself playing off-beat character parts in the "Pirates of the Caribbean" movies and the UK sitcom "The Office," received a Tony nomination for his work in Jez Butterworth's hit play "Jerusalem," which moved from the West End to Broadway this season.  "Jerusalem" takes its name from William Blake's stirring poem and tells the story of former daredevil Johnny 'Rooster' Byron (played by Mark Rylance), the squatter cum bard of a Wiltshire woodland.  Byron and his band of followers—led by Ginger (Mackenzie Crook)—are a menace to the peaceful and increasingly sterile inhabitants of the English countryside.  They are today's eccentrics, armed with cocaine, teenage lovers…and one stage-struck turtle, in the arms of its proud owner.
Crook has an unmistakable, unlikely kind of brilliance. With impeccably timed artlessness, he is at once the creation of this moment and an endearing, enduring oddity in the vein of Rowan Atkinson or Peter Sellers.  Crook even happens to live in Sellers's former London house. "It was just a coincidence" Crook admits, "I'd just finished filming my couple of days on 'The Life and Death of Peter Sellers,' the Geoffrey Rush movie…We went to look round this house, decided it was perfect for us, and then the woman who was selling it told us on the way out that Peter Sellers lived there in the fifties…That was the icing on the cake…."
But Crook did not always find himself in such exalted surroundings.  Though he professes to know little about the theater (having arrived at the West End when he was already in his thirties), Crook spent a decade performing in variety and stand-up comedy shows.  "I wasn't a straight stand-up—as in it was just me and a microphone. I always did a character, and had costume, make-up, and whatever went with that character. Though I used to perform in stand-up comedy clubs, it was very much more a monologue, a character monologue that could be interrupted and switched around…."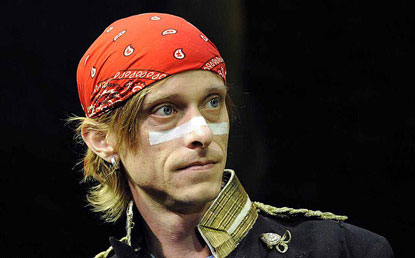 Television parts soon followed, but those characters served Crook well when he was hosting the "11 O'clock Show" (a kind of British "Saturday Night Live"), where he met Ricky Gervais, co-writer and director of "The Office."  A year later, Crook was offered the quirky role of Gareth Keenan, which became Dwight Schrute (played by Rainn Wilson) when the sitcom was brought to America.
Though Crook's popularity further escalated following his portrayal of Ragetti, the one-eyed pirate in three of the "Pirates of the Caribbean" movies, the stage still beckoned.  This time, it was not stand-up comedy, but Chekhov. In 2008, he played Konstantin in Ian Rickson's production of "The Seagull" alongside Kristin Scott Thomas, which earned him a nomination from The Evening Standard Theatre Awards.  The production was transferred from the West End to Broadway, and became Crook's first theatrical transatlantic transplant.
This season finds Crook on Broadway again in "Jerusalem," a play which was already an enormous success in the West End.  Unlike "The Office," which changed everything (including its cast) on the journey to the New World, "Jerusalem" was adapted very little between the West End and Broadway.  "We purposefully didn't want to change an awful lot of it…It would be patronizing to change too much of it, and so we kept it in tact and American audiences seem to be getting it…Gags that never landed in London are landing in America…Americans pick up on different ones than the English do, and the reception at the end has been just as rapturous, if not more so."
It may well be that English and American audiences are cheering for different reasons.  For the English, "Jerusalem" provides a specific message about changes in the heart of their country; for Americans, it is a contemporary declaration of Englishness, one which Broadway is only too happy to celebrate. What we forget stateside is that the English are just as interested in us as we are in them.  "I think it goes both ways," Crook muses, "…I get the feeling that for Americans there is a romance about England, like it's the homeland or something. It's this magical quaintness about English culture."
At the same time, it is a great feather in the cap of any British company to succeed on Broadway, especially in a play as patriotic as this.  Blake's poem (set to music by Sir Hubert Parry), Crook explains, is an "unofficial national anthem, the one that rouses people…more so than 'God Save Queen.' …[There is] something about the mythical quality of it—it talks about the land…and conjures up what people want England to be like."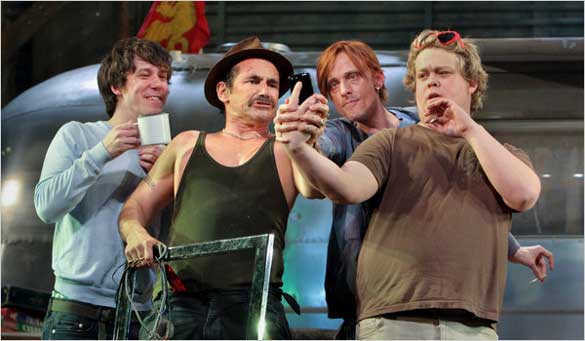 And what does Mackenzie Crook miss most about England? Cups of Tea?  Double-decker buses?  No. "My house, my garden, my woods, my family." he says, ever so slightly wistful.   A few years ago, Crook bought his own plot in the Essex countryside, which he shares with his wife and two young children.  "I run away there on the weekends… When I go there I hardly ever see anyone. My woodland is a conservation area…but I had poachers in there.  That was a strange quandary: what to do about these poachers who cut my fences?"
Crook's solution?  "I actually just repaired the fences and hoped they wouldn't come back…."  Fans of "The Office" and "Pirates" may well be surprised to find a devoted family man and nature lover who is markedly different from his rather peculiar characters onscreen.
At the end of its Broadway run this summer, "Jerusalem" may, with luck, return to the West End—and Mackenzie Crook with it.  New York will have had the opportunity of seeing the latest incarnation of the British theater it so admires, and a company of actors dedicated to its craft.  "I've got no real ambitions other than to carry on working, and doing as many different things as I can. I've got no ladders to climb, I don't feel. Whatever comes along. I've had the most amazing 10 years since 'The Office'…if I can just carry on in the same vein, I'm happy."
Humility and versatility may indeed be the recipe for longevity, though only the turtles know for sure.
Latest Videos
http://www.dailyactor.com/wp-content/uploads/2014/08/interview-matt-dillon-and-carla.jpg
Interview: Matt Dillon and Carla Gugino Talk 'Wayward Pines'
FOX has a new limited-series that's got a terrific cast and interesting premise. It's called Wayward Pines and stars Matt Dillon, Carla Gugino, Melissa Leo, Toby Jones, Terrance Howard, Juliette Lewis, Tim Griffin and Shannyn Sossamon. The show, whose pilot was directed by M. Night Shyamalan, is about a Secret Service agent (Dillon) goes to [...]
http://www.dailyactor.com/2014/08/interview-matt-dillon-carla-gugino-wayward-pines-comic-con/
http://www.dailyactor.com/wp-content/uploads/2014/08/interview-wayward-pines-stars-ti.jpg
Interview: 'Wayward Pines' Stars Tim Griffin and Shannyn Sossamon on the Show, Their Characters and More!
Griffin and Sossamonwere at Comic-Con where they sat in on some roundtable interviews to talk about the show.
http://www.dailyactor.com/2014/08/interview-wayward-pines-stars-tim-griffin-shannyn-sossamon-comic-con/
http://www.dailyactor.com/wp-content/uploads/2014/08/interview-m-night-shyamalan-talk.jpg
Interview: M. Night Shyamalan Talks 'Wayward Pines' and Why He Expanded a Young Actors Role on the Show
I talked to Shyamalan at Comic-Con in a roundtable interview where he talked about the cast, what he learned from working in TV and how young actor Charlie Tahan started out with a small part but as the story grew, so did his role.
http://www.dailyactor.com/2014/08/interview-m-night-shyamalan-wayward-pines-comic-con/
http://www.dailyactor.com/wp-content/uploads/2014/08/interview-wayward-pines-producer.jpg
Interview: 'Wayward Pines' Producers and Writer Talk Casting and the 10-Episode Format
FOX's upcoming limited series Wayward Pines looks very cool. The show is supposed to be very Twin Peaks-ish in tone which, just hearing that, definitely sparks my interest. The pilot was directed by M. Night Shyamalan and stars Matt Dillon, Carla Gugino, Melissa Leo, Toby Jones, Terrance Howard and Juliette Lewis and is about a [...]
http://www.dailyactor.com/2014/08/interview-wayward-pines-creators-comic-con/
http://www.dailyactor.com/wp-content/uploads/2014/08/interview-clark-gregg-on-agents.jpg
Interview: Clark Gregg on 'Agents of S.H.I.E.L.D' and Only Needing to Know as Much as His Character in "Any Given Scene" (video)
When asked if he likes to know in advance what's going to happen to his character, he said that he "can't act it as well if he knows too much." He goes on to say that he "needs to know as much as Phil Coulson knows in any given scene."
http://www.dailyactor.com/2014/08/interview-clark-gregg-agents-of-shield-comic-con/