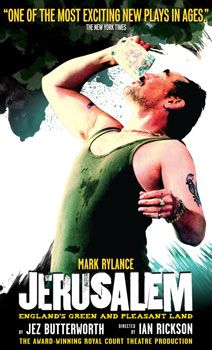 There is a quiet revolution afoot. In an idyllic corner of the English countryside, motorcyclist Rooster Byron lives in a rusty old trailer, much to the horror of the town council which is more than willing to purge him from the landscape. Equally damaging is his drug-ridden family and protégés, who kick up a rumpus at the slightest provocation.
Jez Butterworth's new play, Jerusalem, may not portray the England of Brideshead Revisited, but it does suggest a world equally in flux. City Money and postcard preservation have long since overrun the countryside, and are steadily eradicating the eccentricity and Romanticism which are its hallmarks. Rooster Byron, a rebel in the true sense, displays those qualities in peculiar abundance, and is under siege from every side. Jerusalem, which takes its name from a poem by William Blake, seeks a new answer to an old question, 'Who will inherit England?'
And who will inherit Broadway? After a smash hit in London and good buzz surrounding the New York previews, Jerusalem may well be the Brit hit that crosses the Pond intact. The play's star, Mark Rylance, seems to have persevered after his ill-fated run in La Bête, which not only shares the same producer with Jerusalem, but also the same theater.  When Jerusalem opens Thursday night, New York will no doubt find a fresh and able cast directed by Ian Rickson, including Mackenzie Crook (star of the BBC's version of The Office), John Gallagher, Jr., and Max Baker, ready to offer unusually bright theater in the Broadway main ring.
Jerusalem opens Thursday, April 21st at The Music Box Theatre, 239 West 45th Street.