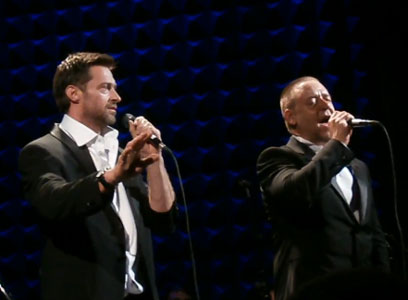 This weekend, Russell Crowe had a show at Joe's Pub in New York City, calling it "Russell Crowe and Alan Doyle present the Indoor Garden Party."
Who was the special guest? Friend in real-life and mortal enemy on-screen, Hugh Jackman.
In the videos below, shot by a fan who then posted them to YouTube, Jackman and Crowe sing 'The Confrontation' from Les Miserables. It looks like they are both having a ton of fun… how cool would it have been to be there?
In the second video, Jackman and sings the Box Tops 1967 hit song, The Letter.
Check it out below!