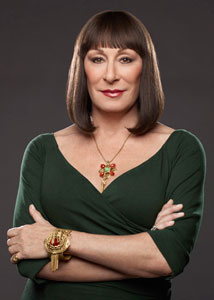 It was only a matter of time before Anjelica Huston ended up singing on NBC's backstage drama Smash. 
In an interview with The New York Times Arts Beat, Huston admitted she wasn't really expecting to be asked to sing.  She said, "I was firmly in the role of producer, so none of that was going to come my way.  I had an inkling that, maybe if pressed, I might do a dance step or two, but certainly not vocalize."
But producers were able to convince the Academy Award-winning actress to sing "September Song," a tune that was made famous when her grandfather, Walter Huston, sang it in the 1938 Broadway musical Knickerbocker Holiday. 
Despite the song's personal association, Huston was still scared.  She said, "I was a bit trepidatious, as you can imagine.  When Marc [Shaiman] and Scott [Wittman] suggested this to me, I was really scared silent for a bit.  And then they said, 'If you feel like it, you could come on down to our recording studio and we'll see how we get it along.  If you like it, good, and if you hate it, we'll scrap it.'  And of course they couldn't get me to stop once I started.  It's very empowering, singing."
However, Huston discloses that she doesn't know exactly how the scene turned out.  She said, "I haven't seen it.  I've spared myself, so I think I'll see it in real time and hopefully I'll be OK with it.  I received a lot of support—everyone was really, really nice.  But we've had a lot of great moments like that on Smash.  The power of music, it's a curative power."
Viewers can see Smash on NBC, Mondays at 10 PM.