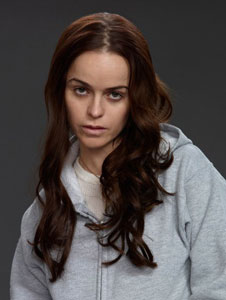 Netflix's Orange Is the New Black is an instant hit for the burgeoning network and one reason for its success is actress Taryn Manning. She plays Tiffany Doggett AKA "Pennsatucky," the religious former meth addict who uses the prison's cafeteria to perform her modern day miracles.
The 34-year-old actress is the classic example of someone who has been typecast in Hollywood for playing characters who are rough around the edges. However, Manning is using this to her full advantage to advance her career and dive into some challenging roles.
She talked to Vulture about what it is like to be typecast in particular roles.
Manning said, "I tend to get cast as the more troubled — I like to call them colorful or layered — characters. In my twenties, I fought that for so long. I was so upset by what I thought was me getting terribly typecast. I was like, Wow, I've fallen."
"You know what the breakdowns are? At least ten times in my career an agent has called me and been like, "Hey, in the breakdowns today they're looking for a Taryn Manning type." I'm like, Is that a compliment or is that …," shared the Netflix star. "And I ended up sort of just accepting it, and I find it to be a compliment. I find that I've carved kind of my own, like, niche."
Taking on roles where the characters are broken has led her to find more depth in the people that she portrays. They are more than just one-dimensional figures on a page. This was especially true when Manning was researching what makes a personality like Pennsatucky tick. 
The former Sons of Anarchy star shared, "I can honestly tell you this character for me is super different from what I've played before. She's probably one of the most outrageous and over-the-top — in the religious factor, the way she pushes it on people. That's not me at all. I have so many friends who are actors who are like, "I'd kill to play what you play." And I'm like, "I'd kill to play what you play!" It's like, the grass is always greener."
Playing someone who is rooted in religion also required a bit of research for Manning. She told Vulture where she found of her inspiration.
"I watched several YouTubes of faith healing. A lot of evangelistic ceremonies. I mean, night after night after night I would have to look up Southern Baptist [videos]but I had to dig deep to find the the white southern — anti-gay, racist — stuff. There's so many moral conflicts in her character. She's so religious and yet she goes against everything Jesus said," revealed Manning.
In addition to figuring out how to shape Pennsatucky emotionally, the actress also had to figure out what she was like physically including whether her character wears makeup in jail.
Manning confided, "I don't wear a stitch of makeup. It's TV so some of the girls put on some concealer — they'll cover up a zit or something. For my character, if anything, they made my eyes a little darker under them. So I snuck just a dab of mascara."
That little bit of mascara got her in trouble with the makeup artist who caught her and promptly wiped it off.
There's no vanity in a show like Orange Is the New Black, only great character work.