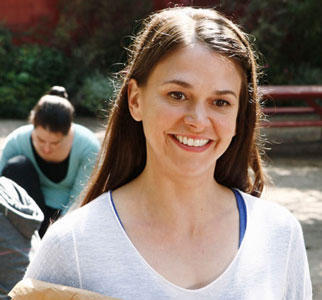 Broadway darling Sutton Foster is content with leaving the stage behind for now.
Despite winning two Tonys, Foster was ready for something different.  She told The Los Angeles Times that starring in the hit production of Anything Goes was wearing her out.  "I did 300 performances," she said.  "Doing the same thing every night.  I had to overcome a lot personally and professionally.  I needed something new.  I was thinking maybe I should take a year off and move to San Diego and work in a taco shack."
Luckily, Foster was offered the lead role in Amy Sherman-Palladino's new ABC Family show Bunheads.  Although the actress notes the change has been "strange and surreal," she admitted, "This is kind of awesome.  I started working professionally in the theater at 17, and it's all I've known.  I was ready for a brand-new challenge and a new chapter in my life."
Foster is quick to acknowledge that there are major adjustments to make when switching between mediums, namely the long TV shooting schedules.  "I worked four hours a day when I was on a show, maybe seven hours if there were two shows that day," she said. 
She's also gaining a brand new audience. "In some circles, I've made it, but Craig [Ferguson, host of Late Late Show] was like 'What did you win your Tony for?'  But that's OK.  When I decided to be an actor, I never thought about celebrity or fame."
But fans of Foster's stage work shouldn't worry that she won't return to Broadway at some point.  "I feel so separated from the theater because I'm in the vortex of this world," she said.  "I don't have anything against the stage; I can't wait to get back.  But this is it for now."
Bunheads airs Mondays at 9 PM, on ABC Family.