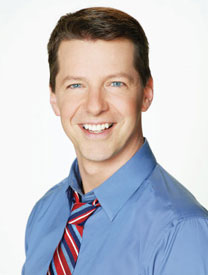 Okay, so I haven't watched an episode of Sean Hayes' new NBC series, Sean Saves the World.  Apparently I'm not alone: with an average of 3.4 million viewers for its first several episodes, Sean Saves the World is already in cancellation territory, or, at the very least, won't be renewed. 
Though reviews have been pretty bad and the show airs opposite popular shows Glee (Fox), Grey's Anatomy (ABC), and the new Robin Williams series The Crazy Ones (CBS), in an interview with The TV Page Hayes lays the blame on NBC and the channel's overall lack of viewers.
One thing Hayes recognizes is that NBC isn't the hit-maker it was when Hayes' previous sitcom, Will & Grace, was one of NBC's biggest hits.  He claims, "To me, [the show] is working.  It's just the struggle of the elephant in the room which is 'how do you get viewers to NBC?' NBC programs great shows, it just doesn't have the eyeballs CBS does."  In fact, he insists that the show is one of the best sitcoms on television, adding, "Even if I wasn't on the show, it'd be the funniest sitcom, to me, on the air right now. I watch it and go, 'Well, this is really f–king funny.' I wouldn't change anything right now, I think it's all working."
Even bad reviews can't convince him otherwise (the show has a 22% rating on Rotten Tomatoes).  In response he says, "Yeah, but Will & Grace got those. Big Bang Theory got those. Friends got those. They all did. Seinfeld got horrible reviews… I think critics like to associate themselves with cool, hip things and multi-cams feel retro to them. To me, whatever's funny is funny. So if they don't think it's funny, that's one thing. But I think they get nervous because they want their name on something new and hip and cool, and a lot of times they associate that with single-cam shows because those are the du jour format. This format isn't that so they get scared."
On the prospect of converting the show to a single-camera format, Hayes points out that historically multi-camera shows are the dominant hits. He explains, "To me [multi-camera shows] ones that live on forever. The only hit single-cam show in the history of television that is a big hit, is Modern Family. Did The Office do well? Yes, but that's it. But you and I can stand here and say, 'Name 50 multi-cams that have been successful…' So I wanted to be a part of success."
Which all comes back to Hayes'  one fear about going back to television: "Just, 'Will people watch?' Finding an audience. It's the same fear any producer has for their own show. 'Will it work? Will it find an audience?' But we have the full support of the network behind us so we're in that fortunate position. In the beginning I was worried, 'God, is this funny? Are these characters going to mesh?' Now, I can wipe my brow knowing that's accomplished. Finally we're seeing the relationships work and getting a little deeper into them."
Well, we probably won't go much deeper.  At this point, it would take a television miracle for the show to get renewed for a second season, and NBC has been out of those for a few years.