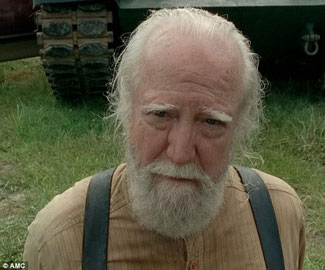 [Warning: Spoilers Ahead!]
For fans of AMC's The Walking Dead, the Season 4 midseason finale was a shocker last Sunday. The moral center of the zombie show, Hershel Greene was the final victim of The Governor after being held hostage in a failed coup over the prison.
Hershel's end was bloody, but for actor Scott Wilson, it was the end of a great run on the hit cable show. He talked to The Hollywood Reporter about how he sensed his character was about to meet his demise even before showrunner Scott Gimple gave him the news.
"It was something that I sensed before the conversations took place — like in episode 403, with the speech he has about the risk of being alive in that postapocalyptic world. In episode 405, when he had so much to do, I knew it wasn't a good sign for him," he said. "After that episode, Scott Gimple called me in and told me that I'd be written out. It's a tough position for him to be in because he has a genuine concern for all the actors. It was my turn. And you know that going in, that at some point you'd have that day."
The 71-year-old actor shared his thoughts about his character's end with Gimple because he didn't want to leave the show.
Wilson explained, "I told Scott, 'I think you're making a big mistake, but it's yours to make and I'm not going to try to talk you out of it.' I also empathize with the position he was in when he told me where he visualized the show going. I didn't have that much to say. It was a two-and-a-half-season run that was very fun and I'm not really used to working on a character for that time frame. You start reading lines and thinking it may pay off down the road, and quite often it did."
The Governor, played by David Morrissey, makes a decision in that final episode to kill Hershel instead of Michonne. The former CSI: Crime Scene Investigation star praised his co-star's work on the show.
"David did a wonderful job; the more villainous he is, the stronger it made Hershel's death. It's wonderful to watch an actor do something that the audience will not respond well to, and David did a wonderful job. I'll miss working with the actors, writers and crew who all put so much into the show," he said.
In the end, Wilson treasures his time working on such a fan-centric project and he knows that his character's death pretty spectacular, too.
Wilson joked,"If you're going to go, you might as well go with something traumatic like that. It was fun and I have nothing to regret."